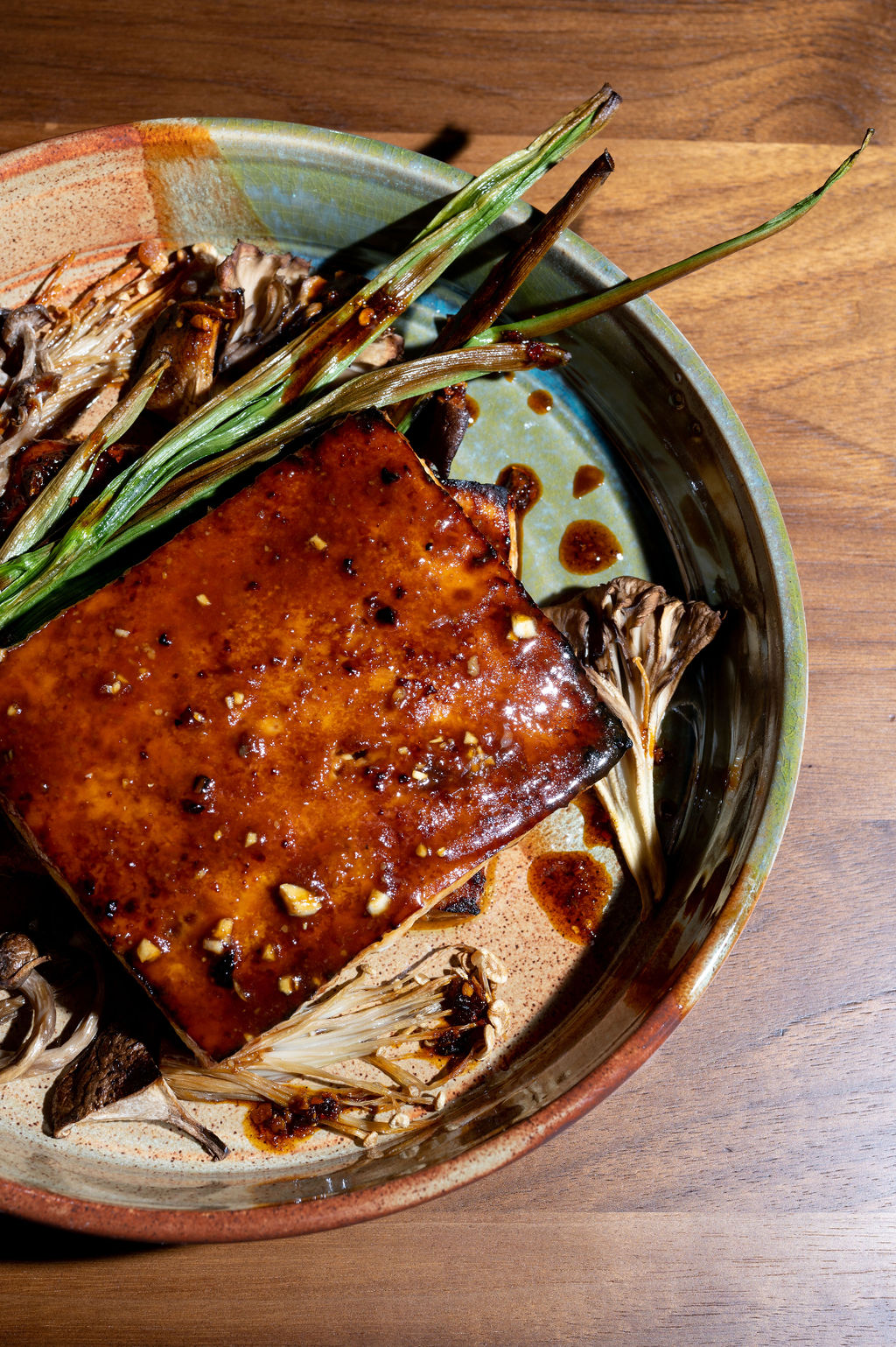 Teriyaki Tofu with Chile Crisp, Roasted Scallions and Mushrooms
Recipe courtesy of Tiffani Thiessen
Ingredients
2 blocks firm tofu, sliced in half lengthwise

Cooking spray  

2 pints mixed mushrooms such as oyster, enoki, shiitake, or maitake, broken into small clusters

1 bunch scallions 

Kosher salt, to taste 

1 cup teriyaki sauce 

Chile crisp, to taste
Directions
Lay the tofu onto a paper towel lined tray and top with more paper towel and another sheet tray. Weigh down the top of the sheet tray with a few cans and press the tofu for at least 30 minutes to remove as much excess water as possible. Remove the tofu from the towels and set aside. 
Preheat the oven to the highest broiler setting with an oven rack about 6-8-inches from the broiler. Line two baking sheets with foil and spray with cooking spray. Set aside.
To one sheet tray add the scallions to one side and the mushrooms to the other. Season with salt and spray again lightly with cooking spray. Broil the scallions and mushrooms until tender, crispy and beginning to char in spots, about 5-6 minutes. Remove from the oven and set aside. 
Add the tofu steaks to the other sheet tray and generously brush all sides with the teriyaki sauce. Broil the tofu steaks for 8-10 minutes or until warmed through and the teriyaki sauce is deeply caramelized and coating the tofu. Remove from the oven. 
Serve the tofu steaks with the broiled mushrooms and scallions and garnish with chile crisp to taste.
Serves 4
Photography by Rebecca Sanabria