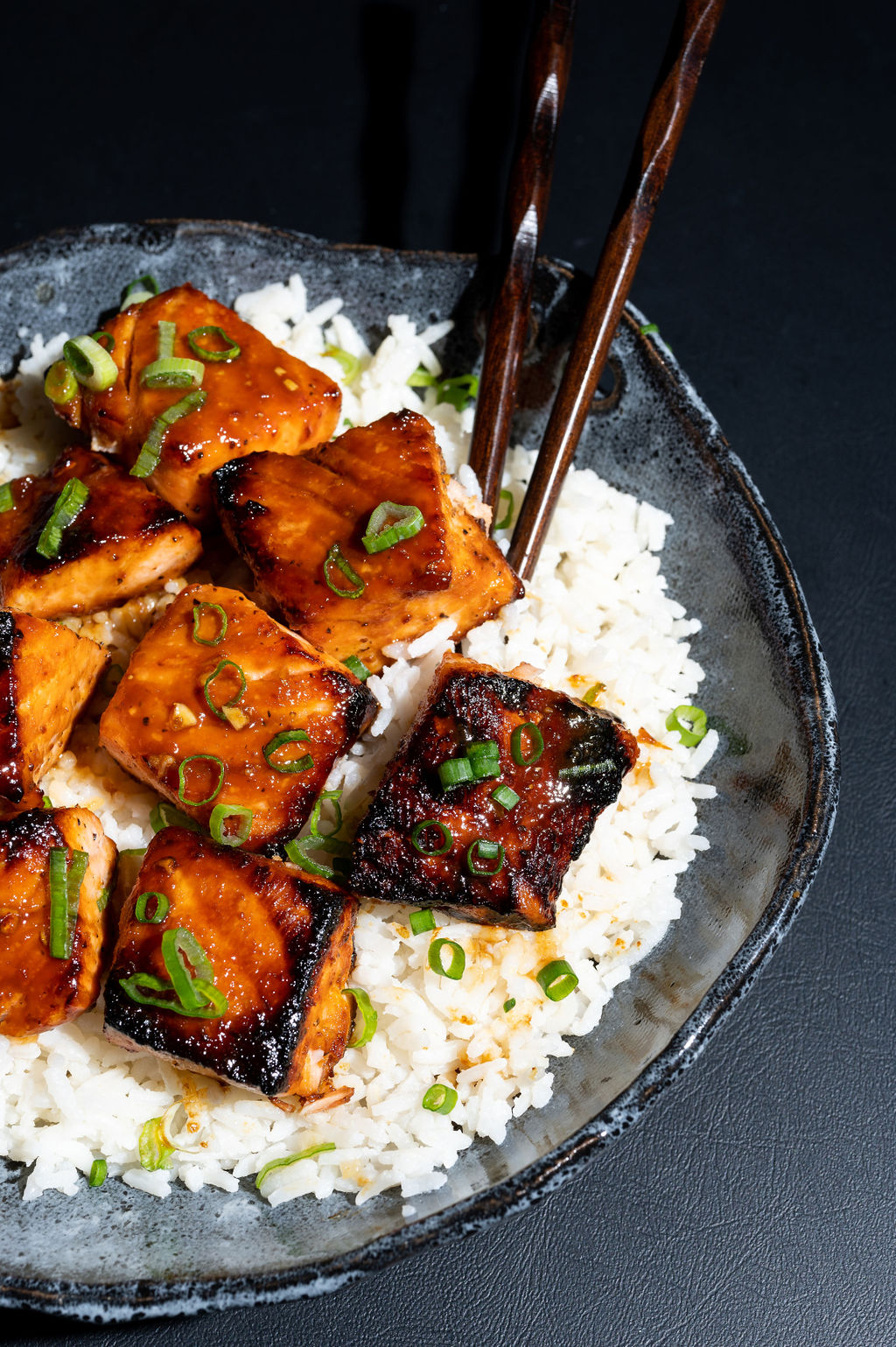 Miso Honey Salmon Skewers with Coconut Rice 
Recipe courtesy of Tiffani Thiessen
Ingredients
Cooking spray 

1/2 cup honey 

2 tablespoons freshly squeezed lime juice 

2 tablespoons red miso 

2 tablespoons soy sauce 

4 cloves garlic, minced 

4 skinless filets of salmon, about 1 ½-pounds – cut into 2-inch cubes 

3 scallions, finely chopped 

Coconut rice, to serve
Directions
If using bamboo or wooden skewers, soak the skewers in water for 2 hours prior to using. 
Preheat oven to the highest broiler setting with an oven rack about 6-8-inches from the broiler. Line a baking sheet with foil and spray with cooking spray. Set aside. 
In a medium bowl whisk together the honey, lime juice, miso, soy sauce, and garlic until evenly combined. Thread 4-5 pieces of salmon on soaked wooden skewers or metal skewers and place on the prepared sheet tray. Brush the salmon pieces all over with the miso glaze. 
Place in the preheated oven and broil for 6-8 minutes, or until the salmon is just cooked through and the glaze has caramelized onto the salmon pieces and is beginning to char in spots. 
Serve the salmon skewers with the coconut rice and chopped scallions.
Serves 4
Coconut Rice
Recipe courtesy of Tiffani Thiessen
Ingredients
1 1/2 cups jasmine rice, rinsed 

1 ½  cups unsweetened coconut milk 

1  cup water 

1 4-inch piece lemongrass
Directions
Add the rinsed rice, coconut milk, water and lemongrass to a medium sauce pot. Bring the liquid to a boil, reduce to a simmer and cover with a lid. Cook for 15 minutes or until all the liquid is absorbed the rice is cooked through. 
Remove the lid, fluff the rice with a fork and serve immediately.
Serves 4
Photography by Rebecca Sanabria