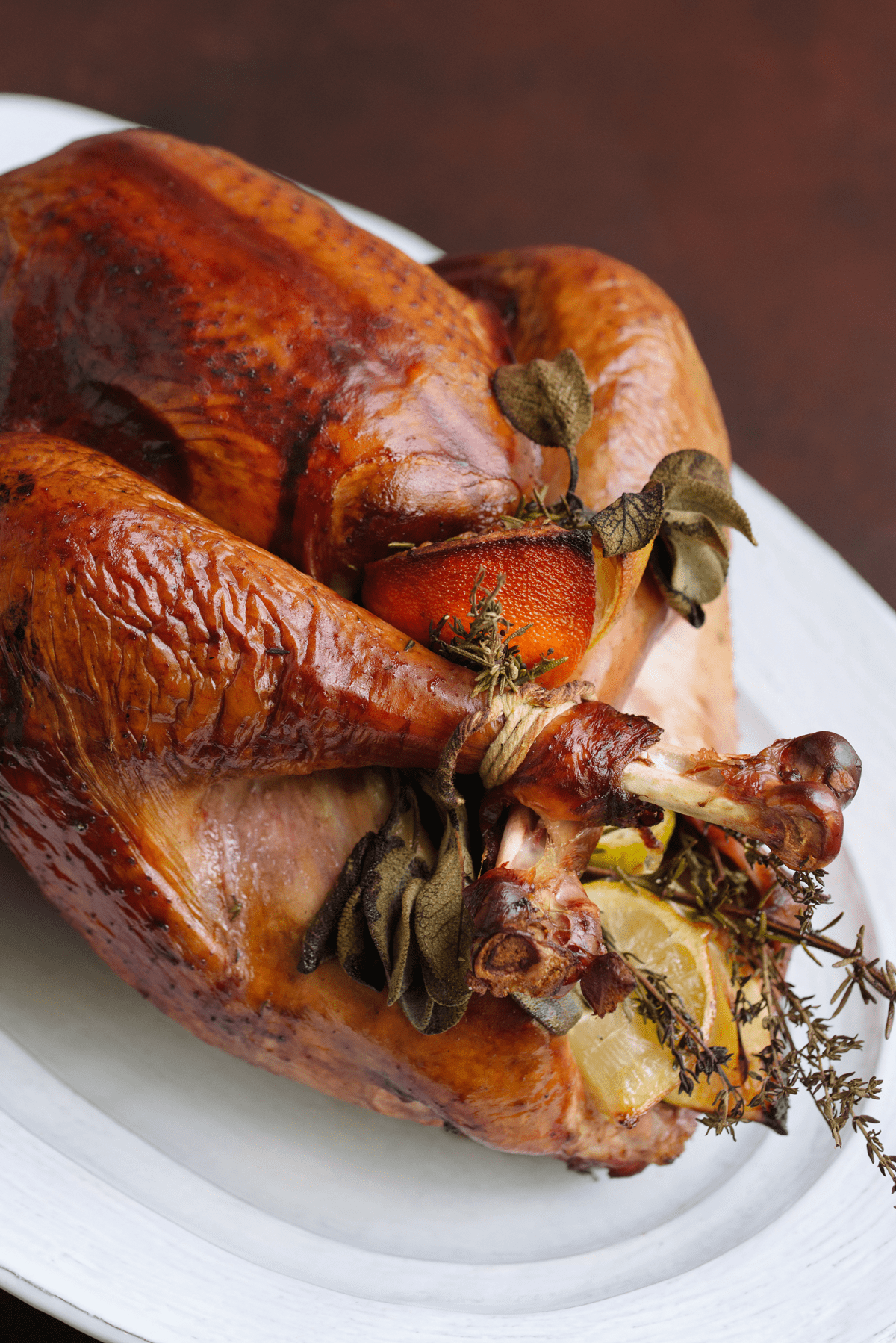 Smoked Turkey
Recipe courtesy of Tiffani Thiessen
Ingredients
2 1/2 cups apple cider vinegar
3/4 cup coarse sea salt
20 fresh thyme sprigs
15 fresh rosemary sprigs
3 dried bay leaves
1 head garlic, halved
4 sage sprigs
1 orange
1 lemon
One 12- to 14-pound turkey
Directions
Special equipment: a smoker; 2 to 3 pounds applewood chips, soaked in water overnight.
In a pot large enough to submerge the turkey, combine 1 1/2 to 2 gallons water, 1 cup of the vinegar, the salt, 10 of the thyme sprigs, 5 of the rosemary sprigs, and the bay leaves and garlic. Bring the mixture to a boil over high heat and cook until the salt has completely dissolved, 8 to 10 minutes. Remove from the heat and let cool to room temperature, about 30 minutes. Add the turkey to the brine, completely submerging it. Cover and refrigerate for at least 12 hours and up to 24 hours.
Light the charcoal in a smoker. Heat the smoker to between 200 and 220 degrees F. Scatter the soaked wood chips and 5 sprigs each thyme and rosemary on top of the charcoal; the chips will smolder. Fill a drip pan with 1 1/2 cups water and the remaining 1 1/2 cups vinegar; place the pan in the smoker.
Remove the turkey from the brine, pat it dry with paper towels and let rest at room temperature for 30 minutes; discard the brine. Put the remaining 5 sprigs thyme, rosemary, 4 sage sprigs, 1 orange, and 1 lemon in the cavity. Put the turkey in the smoker over the charcoal and wood chips and smoke until a thermometer inserted in the thickest part of the thigh reads 165 degrees F, 3 1/2 to 4 hours. Rest for at least 30 minutes before slicing and serving.
Serves 6-8

Photography by Rebecca Sanbria