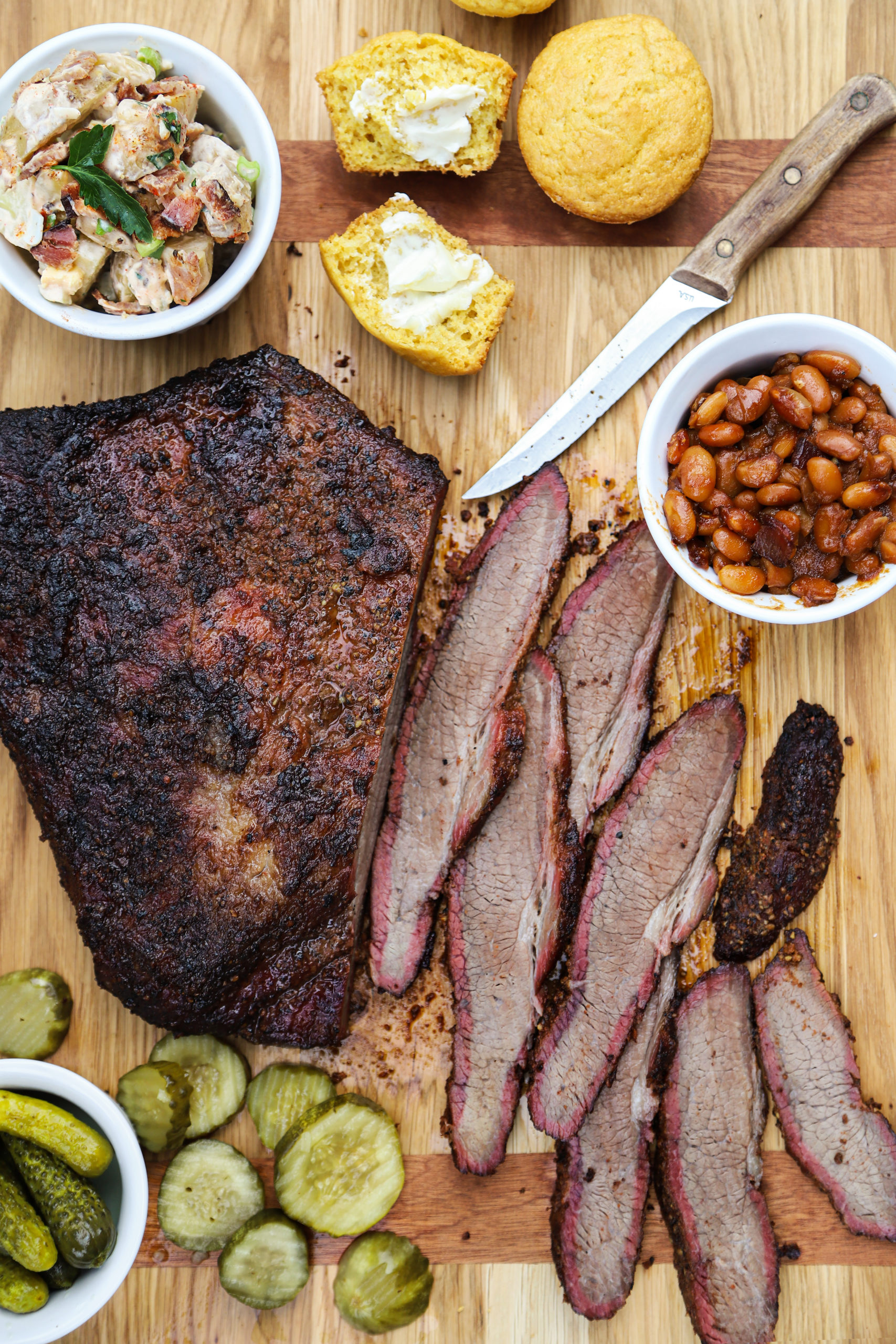 Smoked Brisket with Barbecue Sauce
Recipe courtesy of Tiffani Thiessen
Ingredients
1 1/2 tablespoon chili powder
1 1/2 tablespoons dark brown sugar
3/4 tablespoon garlic powder
3/4 tablespoon onion powder
1 1/2 teaspoons cayenne pepper
1 1/2 teaspoons cumin
kosher salt coarsley ground black pepper
6 pound beef brisket, trimmed
1 cup apple juice
Directions
For the brisket: In a small bowl, combine the chili powder, brown sugar, garlic powder, onion powder, cayenne and cumin, 1 1/2 tablespoons salt and 1 1/2 tablespoons pepper. Rub the dry mixture all over the brisket and then tightly wrap it in plastic wrap. Refrigerate at least 6 hours or overnight.
Unwrap the brisket and let it come to room temperature while you set up the smoker. Prepare a smoker with charcoal and soaked wood chips according to the manufacturer's instructions. Heat it to 190 to 225 degrees F. Place a disposable loaf pan filled with the apple juice and some water inside of the smoker to help maintain a moist environment. Place the room-temperature brisket off of the direct heat, close the lid, and cook, regularly checking the fire and adding additional chips if needed. Do not move or poke the meat with a fork except to check the internal temperature. Cook until the meat is tender and an instant-read thermometer inserted into the center of the brisket registers an internal temperature of 180 to 185 degrees F, 4 to 5 hours.
Remove the brisket from the smoker and let rest for 30 minutes before slicing and serving with barbecue sauce.
My Barbecue Sauce
Recipe courtesy of Tiffani Thiessen
Ingredients
1/4 cup plus 2 tablespoons dark brown sugar
1/2 teaspoon garlic powder
1/4 teaspoon cayenne pepper
1/4 teaspoon crushed red pepper flakes
3 cups ketchup
1 1/2 cups apple cider vinegar
1 teaspoon Worcestershire sauce
kosher salt
Directions
Put the sugar, garlic powder, cayenne and red pepper flakes in a medium saucepan. Mix well together to break up any lumps. Stir in the ketchup, cider vinegar, Worcestershire sauce and 1/2 teaspoon salt and bring to a simmer over medium heat. Cook, stirring occasionally, until the sugar is melted and the sauce thickens slightly, about 5 minutes.