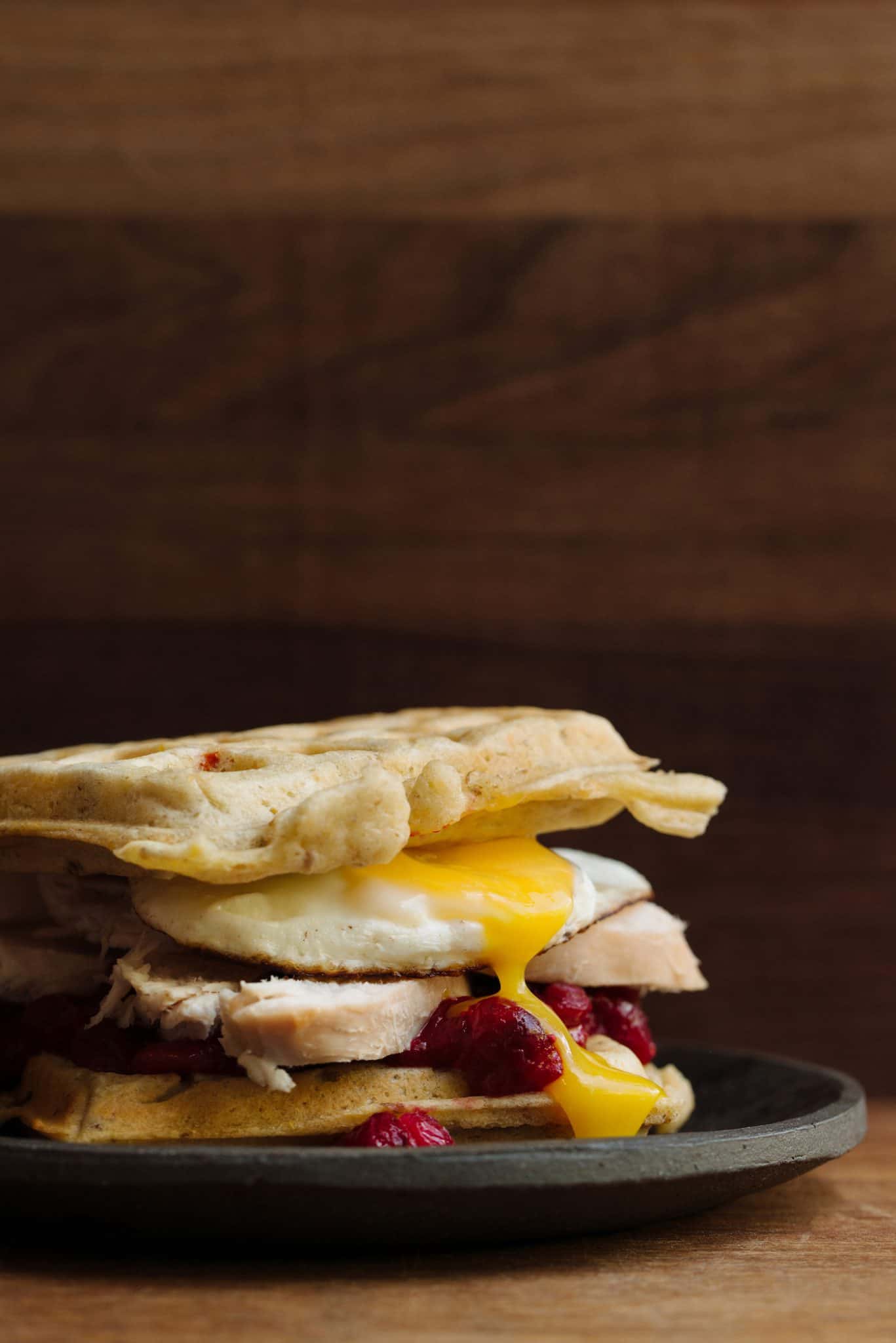 Savory Waffles
Recipe courtesy of Tiffani Thiessen
Ingredients
Nonstick cooking spray for the waffle iron
2 cups all-purpose flour
2 tablespoons fine yellow cornmeal
1 tablespoon sugar
1 teaspoon Kosher salt
3/4 teaspoon baking soda
2 large eggs, separated, plus 5 eggs
1 1/2 cups buttermilk
1 teaspoon vanilla extract
4 tablespoons unsalted butter, melted, plus 2 tablespoons butter
1 cup ice-cold club soda
1 1/2 cups leftover stuffing, lightly chopped
10 slices leftover cooked turkey
1 1/4 cups leftover cranberry sauce
Maple syrup, to serve
Directions
Preheat a waffle iron on low and spray with cooking spray. I am using a rectangular waffle iron that makes four waffles, but you can use any waffle iron you have!
Whisk the flour, cornmeal, sugar, salt and baking soda together in a large bowl; set aside.
In the bowl of a stand mixer, beat the 2 egg whites until soft peaks form. In a large bowl, whisk the 2 egg yolks, buttermilk and vanilla until combined, then slowly drizzle in the 4 tablespoons melted butter while whisking. Using a rubber spatula, gently fold the egg whites into the yolk mixture until just combined. Gently stir in the club soda. Pour the mixture over the dry ingredients and fold until just combined (there should still be plenty of lumps). Add the stuffing and mix just to combine.
Spoon about 2 cups of batter onto the waffle iron, gently spreading until the batter almost touches the edges. Close the iron and cook until golden brown, 5 to 6 minutes. You can open up the waffle iron towards the end of cooking to check on the waffle. When cooked, transfer the waffle to a plate, or keep warm on a rack in a 200 degree F oven. Repeat with the remaining batter.
Melt the 2 tablespoons butter in a large nonstick skillet over medium heat. Fry the 5 eggs, sunny-side up, until the whites are set but the yolk is still runny.
To serve lay 2 slices of turkey on a waffle square. Top the turkey with 1/4 cup cranberry sauce, a fried egg and another waffle square. Drizzle with maple syrup and serve.
Makes 5 sandwiches
Photography by Rebecca Sanbria