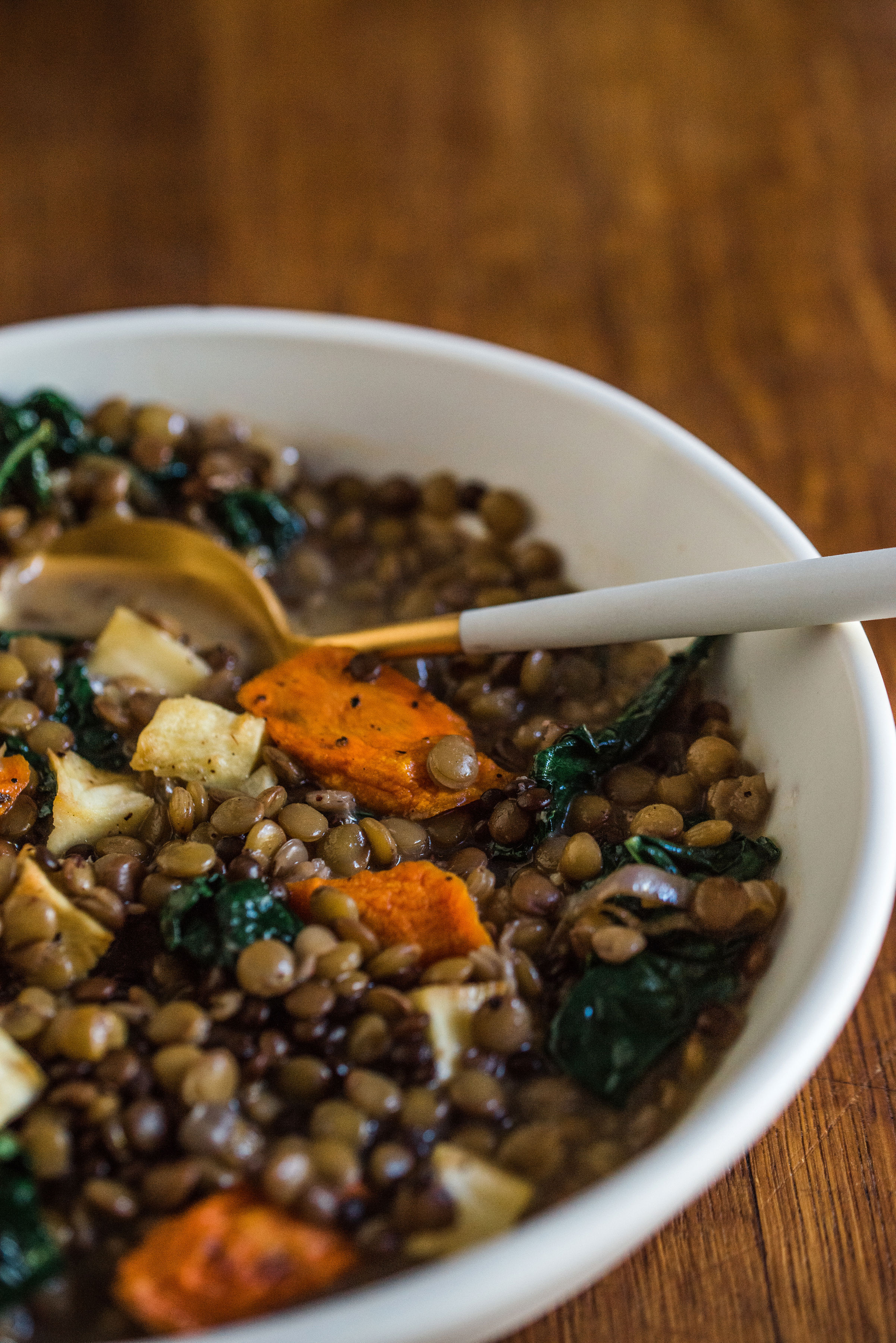 Savory Lentils
Recipe courtesy of Tiffani Thiessen
Ingredients:
4 tablespoons olive oil, divided
2 carrots, thinly sliced on the bias
2 parsnips, diced
2 shallots, thinly sliced
2 cloves garlic, minced
1 bunch Tuscan kale, ribs removed and roughly chopped
1 teaspoon sumac
6 cups vegetable stock
2 cups brown lentils
1/2 cup coconut milk
Kosher salt, to taste
Ground black pepper, to taste
Directions:
Preheat oven to 400 degrees F.
Toss the carrots and parsnips with 2 tablespoons olive oil and salt and pepper. Roast for 30-35 minutes or until tender and caramelized around the edges. Remove from oven.
In a medium sauce pan, heat the remaining 2 tablespoons olive oil. When the oil is hot add the shallots and saute about 2-3 minutes or softened. Next stir in the garlic and cook an additional minute, or until the garlic is fragrant. Stir in the sumac and toast for a minute then add the kale and cook another 2-3 minutes or until the kale is soft but still bright green. Season with salt and pepper.
In a dutch oven, bring the vegetable stock to a simmer, add the lentils, cover and cook according to package instructions or until the lentils are tender. Just know there will still be some vegetable stock left in the pot. When lentils are tender, stir in the coconut milk. Add in the roasted vegetables and kale, season to taste and serve immediately.
Photography by Rebecca Sanbria