We are currently working on another big house project and that of course makes me think of how much we have already done to slowly transform this house, making it our own. Last year we redid our bedroom which was something I had been looking forward to doing since we had moved in. This was the room that was soon to be both mine and Brady's sanctuary. My good friend Deboriah Dupree, the set designer for Dinner At Tiffani's, helped us in creating this transformation, so we found it only fitting to pick her brain a bit on her process.
Before:
1. What is your favorite type of challenge when it comes to designing?  
To remember every room has a mood or personality, so enjoy the process, and trust your instincts.
2. Where do you start when taking on a new room? Is there a place you like to build off of?
Honestly I just kinda jump in! along with my trusted "Debo list" … create a cozy but functional floor plan – create focal points that draw your eyes to the edges of the room – (when possible) bring the California outdoors inside – add color, texture and pattern to a neutral palette – make sure the space has flattering light and light fixtures – and make sure the space reflects the time you live in.
  
3. How did the layout of this specific room effect how you planned going about the remodel?
 Well, you always have to respect the architecture and the location of the remodel. Tiffani's room was filled with bright, friendly light that charged up its impressive vaulted ceilings. The room just felt California natural. I wanted to give it a deserving clean, crisp palette with colors that say casual and contemporary. A restful space to relax, that would be easy on the eye.
After: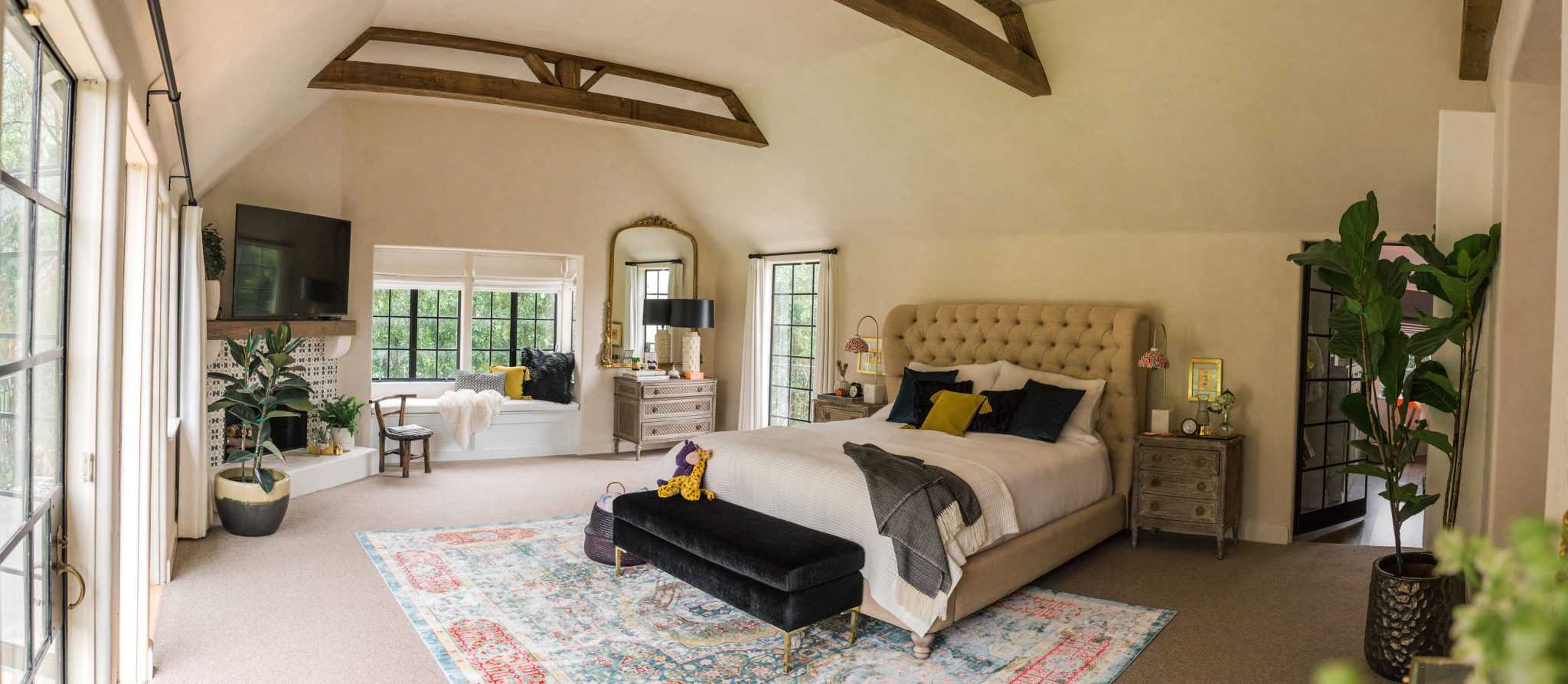 Tile around the fireplace – Ann sacks, Mattress – Naturepedic and Blanket – The Citizenry
4. What was your favorite part of this project and why?
For me, the show stopper was the reclaimed beams we added to the vaulted ceilings. The high ceilings were grand when you first entered the room – but adding the beams gave the space the WOW! and immediately "hit refresh" in the room.
Finish the sentence: Every room needs _______.
Something black. It anchors the eye.
5. What are some of the things that are worth investing in?
I guess I could go with the obvious and say area rug or sofa, but I'm gonna jump off page and say a Mirror. I've always been fascinated with mirrors, I find them so glam and cool. It's my favorite way to add character to a room – Plus, they're a great way to expand a space.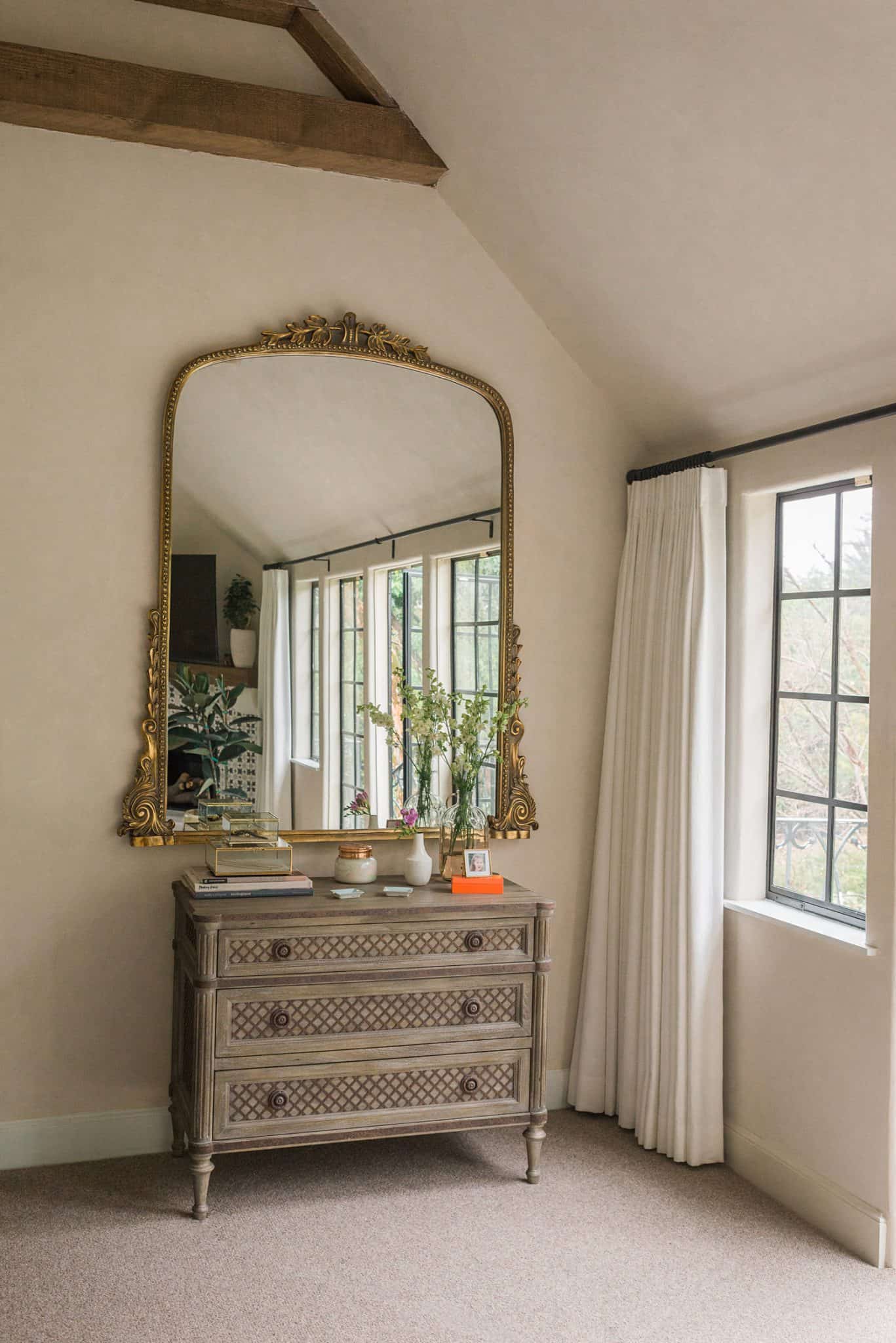 Gold Mirror – Anthropologie, Dresser – Restoration Hardware
6. How often are you on Pinterest?
I start every morning with coffee and Pinterest
7. What was the the overarching goal of the Master bedroom design?
As soon as you step foot inside Tiffani's home you know she's a tastemaker. She has impeccable style and design instincts. But she is also a wife and working mom who who shares space with her husband and two small children. I knew right off the bat the room needed to make a statement, but also needed to convert to a destination wanderlust for the entire family. I guess my overall plan was to create a comfy atmosphere that reflected the easy going vibe of the family…which I hope I succeeded at!
8. Is it hard to combine a couples individual personalities and needs in a shared space?
You always want to create something that revs the imagination of both in a shared space – but I got lucky with these two. They are the best creative mix of high octane wit, and fun understated grace. Heck the room basically decorated itself…because you know nothing softens a lonely corner in a big room like a loving couple.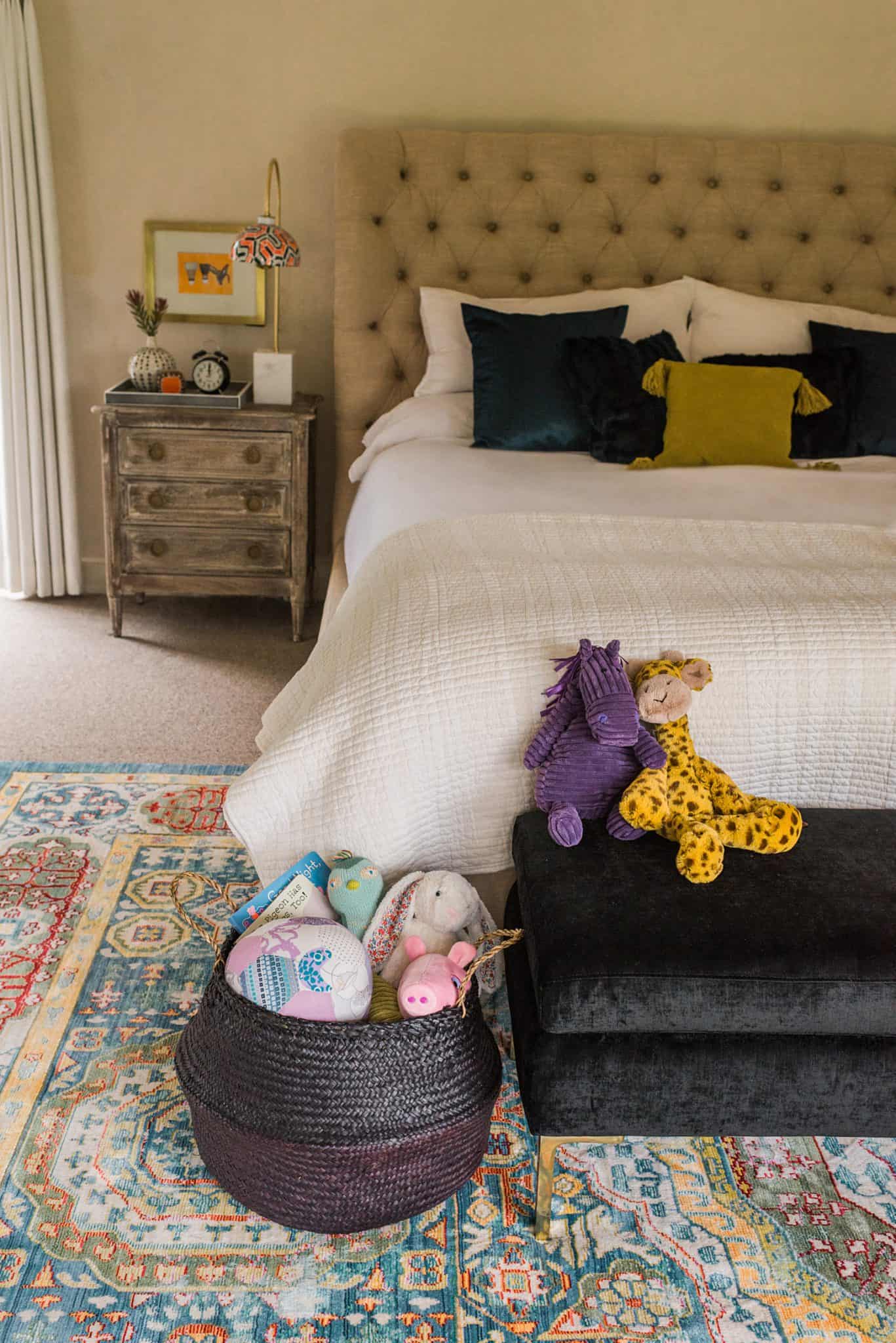 Table Lamps, Ottoman, Bed Frame, Nightstand and Rug – Anthropologie and Pillows – West Elm
Photography by Rebecca Sanabria