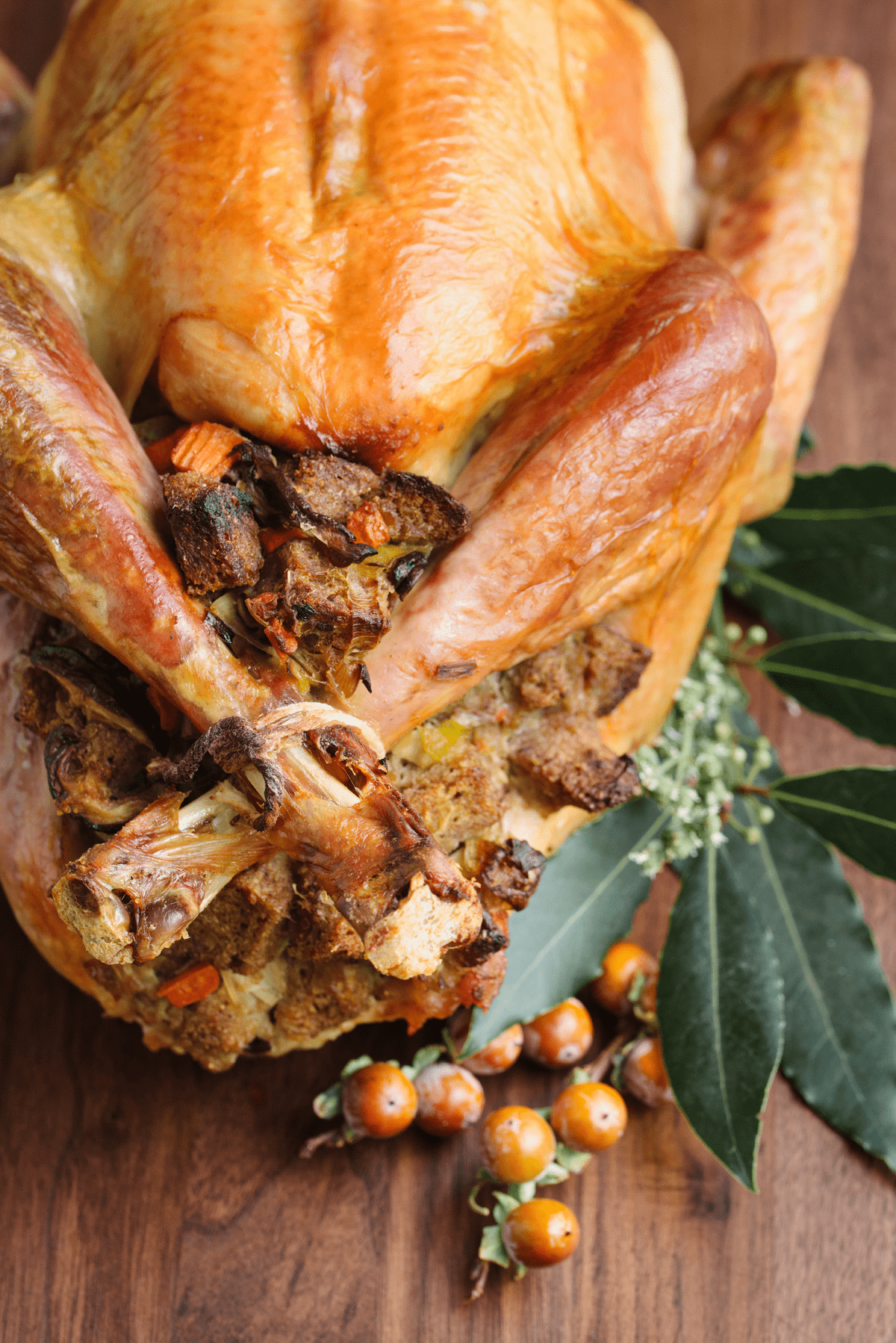 Roasted Turkey
Recipe courtesy of Tiffani Thiessen
Wild Mushroom and Rye Stuffing
2 tablespoons unsalted butter
2 medium shallots, minced
4 leeks, cut into 1/2-inch slices and then thoroughly washed and dried
1 pound wild mushrooms, stemmed and sliced
3 cloves garlic, minced
1/2 cup dry white wine, (I use Sauvignon Blanc)
2 cups vegetable stock, plus a little extra if needed
1 teaspoon Kosher salt
1/2 teaspoon freshly ground black pepper
4 sprigs thyme, leaves removed
6 cups cubed, toasted rye bread, crusts removed
Roasted Turkey
1 (13-pound) whole turkey, giblets removed
Extra-virgin olive oil
Kosher salt
Freshly ground black pepper
1 quart warm chicken broth
Directions
To make the stuffing: In a large saute pan over medium heat melt the butter. Saute the shallots and leeks for 4 minutes or until softened. Add in the mushrooms and cook 3-4 minutes or until the excess liquid evaporates and the mushrooms begin to brown. Stir in the garlic and cook 1 additional minute until fragrant. Deglaze the pan with white wine and cook 1 minute. Next add in the stock, salt, pepper, and thyme sprigs. Heat the mixture through. Meanwhile place the toasted rye bread cubes in a large bowl. When the liquid is heated through pour it over the bread and toss to coat. Let the stuffing stand 5 minutes, stirring occasionally to ensure the bread absorbs the liquid. Reserve the stuffing.
To make the roasted turkey: Preheat your oven to 425 degrees F. Tuck the wings of your turkey behind the turkeys back. Pat the turkey completely dry, this will ensure an even, crispy brown skin. Put the stuffing inside the turkey, making sure to press it all in. Tie the turkey legs together with kitchen twine. Place the turkey on a rack over a roasting pan. Generously coat the turkey skin with olive oil and season with salt and pepper. Roast the turkey in the oven for 30 minutes, rotating the pan half way through cooking. Turn the temperature down to 350 degrees F and baste the turkey with some of the warm chicken broth. Continue to cook the turkey another 2 to 2 and half hours, basting every 30 minutes, until a thermometer reaches 165 degrees in the thickest part of the breast.
Remove from the oven and cover the turkey with foil. Let rest about 1 hour prior to carving.
Serves 8-10
Photography by Rebecca Sanbria