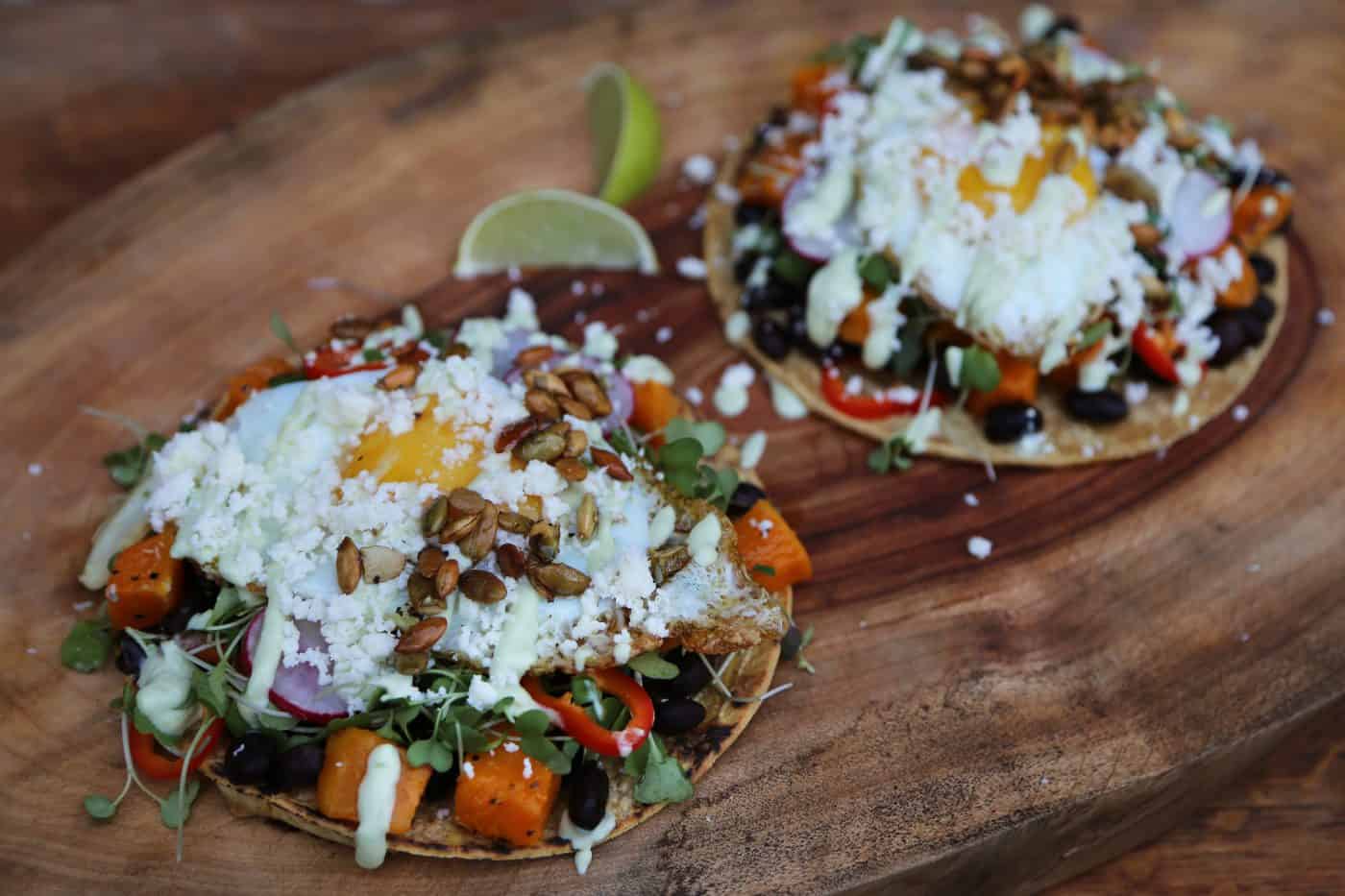 Roasted Squash Breakfast Tacos
Recipe courtesy of Tiffani Thiessen
Ingredients
1 1/2 pounds squash, peeled & cut into 1/2-inch cubes (1 medium squash)
3 tablespoons olive oil
4 corn tortillas
4 eggs
1 cup black beans; cooked
2 radishes, thinly sliced
2 mini sweet peppers, thinly sliced
2-3 handfuls of micro-greens
avocado crema (recipe below)
1/4 cup cotija cheese; crumbled
3 tablespoons pepita seeds; toasted
lime wedge for garnish
Directions
Preheat the oven to 425 degrees F. Line a baking sheet with parchment paper.

In a medium bowl, toss the squash with 1 tablespoon of the olive oil and season with salt and pepper. Spread in a single layer on the prepared baking sheet and roast until golden and caramelized at the edges, stirring at least once, 40 to 55 minutes.
In a fry pan over medium heat, coat pan with olive oil, about 2 tablespoons. Once the oil is heated crack your eggs evenly around the pan. Season with salt and pepper. Cook till the tops of the whites are set and done but the yolk is still runny; about 2-3 minutes. While your eggs are cooking take your corn tortillas and place them over low flame on the stop top and cook till slightly charred on both sides.
To build the taco, place the toasted tortilla down and add the squash, back beans, radishes, peppers and micro greens in the center of the tortilla. Top each tortilla with one of your sunny side up eggs and drizzle with avocado crema. Then garnish with cotija cheese and toasted pepitas. Finish with a squeeze of fresh lime juice and serve!
Serves 2 (4 tacos)
Avocado Crema
Courtesy of Tiffani Thiessen
Ingredients
1 medium avocado, cut in half lengthwise, peel and pit removed
1/4 cup coarsely chopped fresh cilantro
1/4 cup crema
2 tablespoons freshly squeezed lime juice
1/2 teaspoon kosher salt
1/4 teaspoon ground cumin
Directions
Put all ingredients into a food processor and blend until smooth. Serve immediately or cover with plastic wrap directly on top of the mixture and refrigerate up to 3 hours before serving.
Photography by Jen Lover