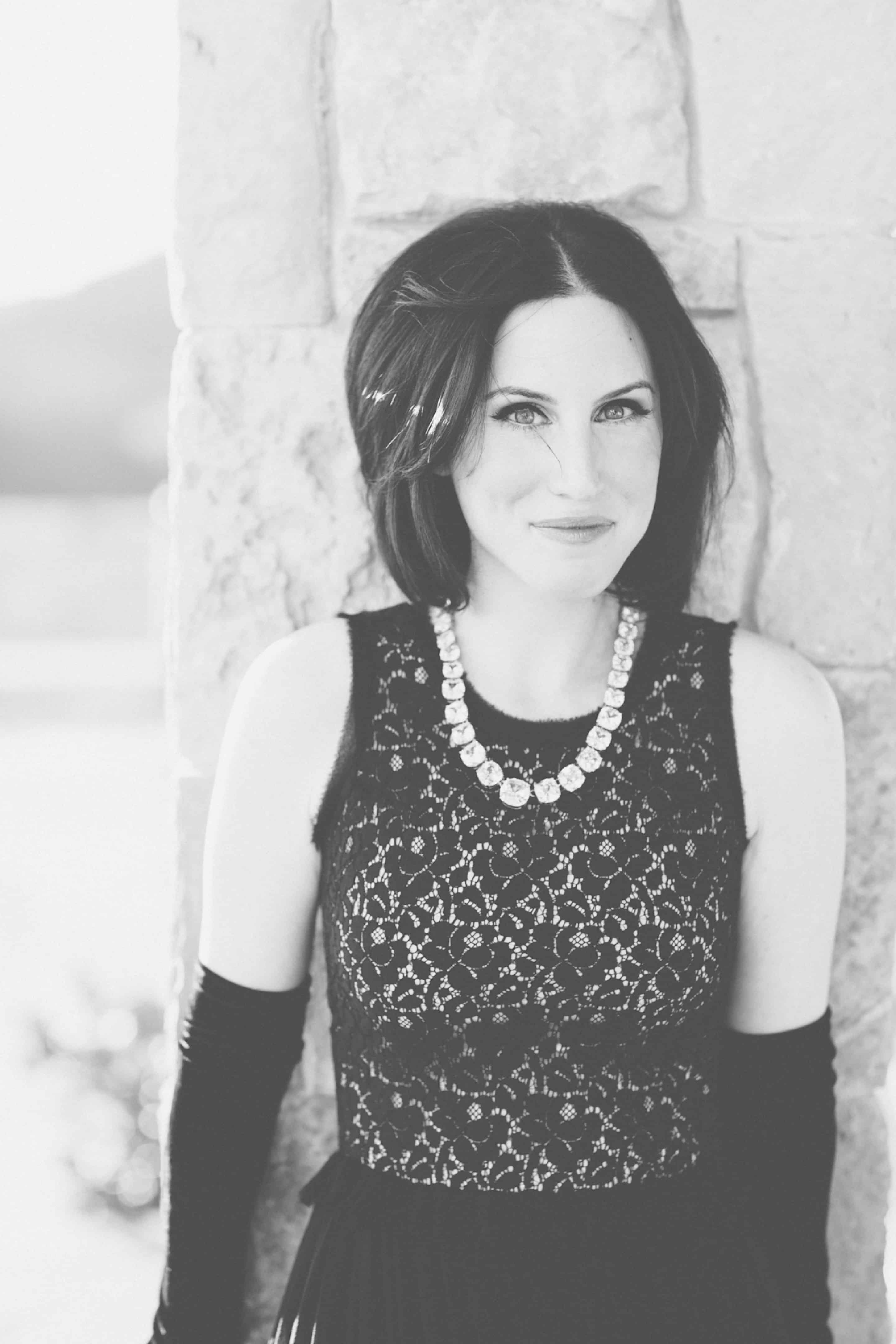 Master Class with Diana Perrin of Casa de Perrin.
Masterclass, where I will feature the best of the best each month. People who have expert knowledge and skills in their chosen field. And I am lucky enough to call them my friends! I got together with this creative, fun and inspiring lady to talk all about the holidays and setting the perfect table.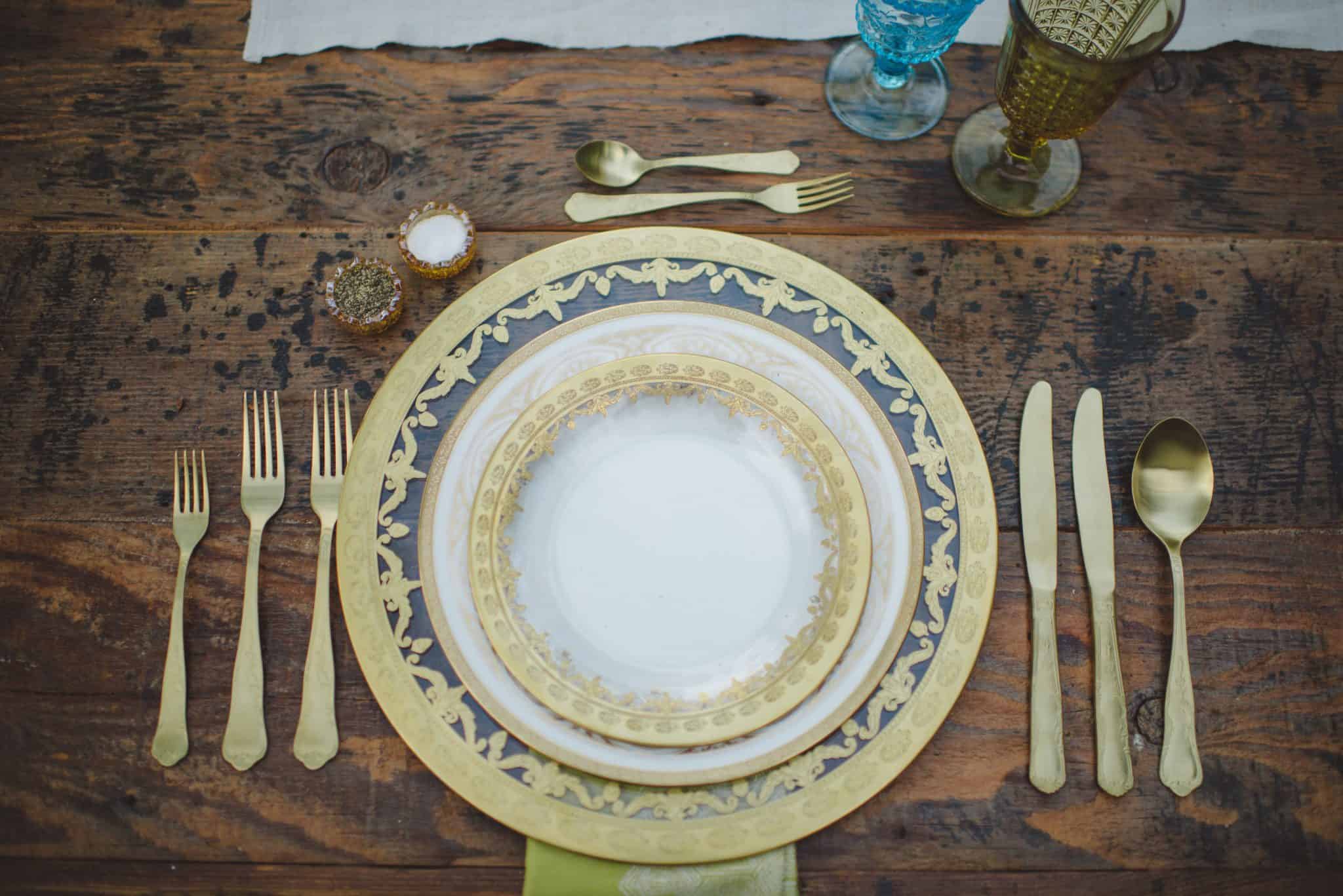 1. Can you give us your best tips for setting a beautiful Thanksgiving table?
My number one tip for setting a Thanksgiving table is to steer away from the cliche. You don't have to incorporate oranges/reds/yellows to create a beautiful Fall table that feels special. Thanksgiving is about being grateful, so setting a table that's unique to your personal style and speaks to what you are grateful for (family, friends, loved ones) can come in a variety of colors and decorations. 
2. What inspires you?
Personally, I am inspired by nature, fashion, art, texture, colors.. Sometimes I'm inspired by a watercolor Monet or a California cotton candy sunset (which will translate into an ombre of vintage colored glassware on a bar..) and sometimes it can be as simple as one piece that speaks to me the most, such as a specific vintage plate, and then I will base the rest of the table decor around colors and textures that complement and best speak to that one piece.
For this Thanksgiving table, I was inspired by a bohemian/Missoni-esque color palette, and incorporated that vision by tying in glassware that is most reminiscent of the Missoni fashion label: ambers, amethysts, aquas, pinks… a vibrantly colorful nod to the 70's, while still working in a Fall palette that felt "Thanksgiving" to me.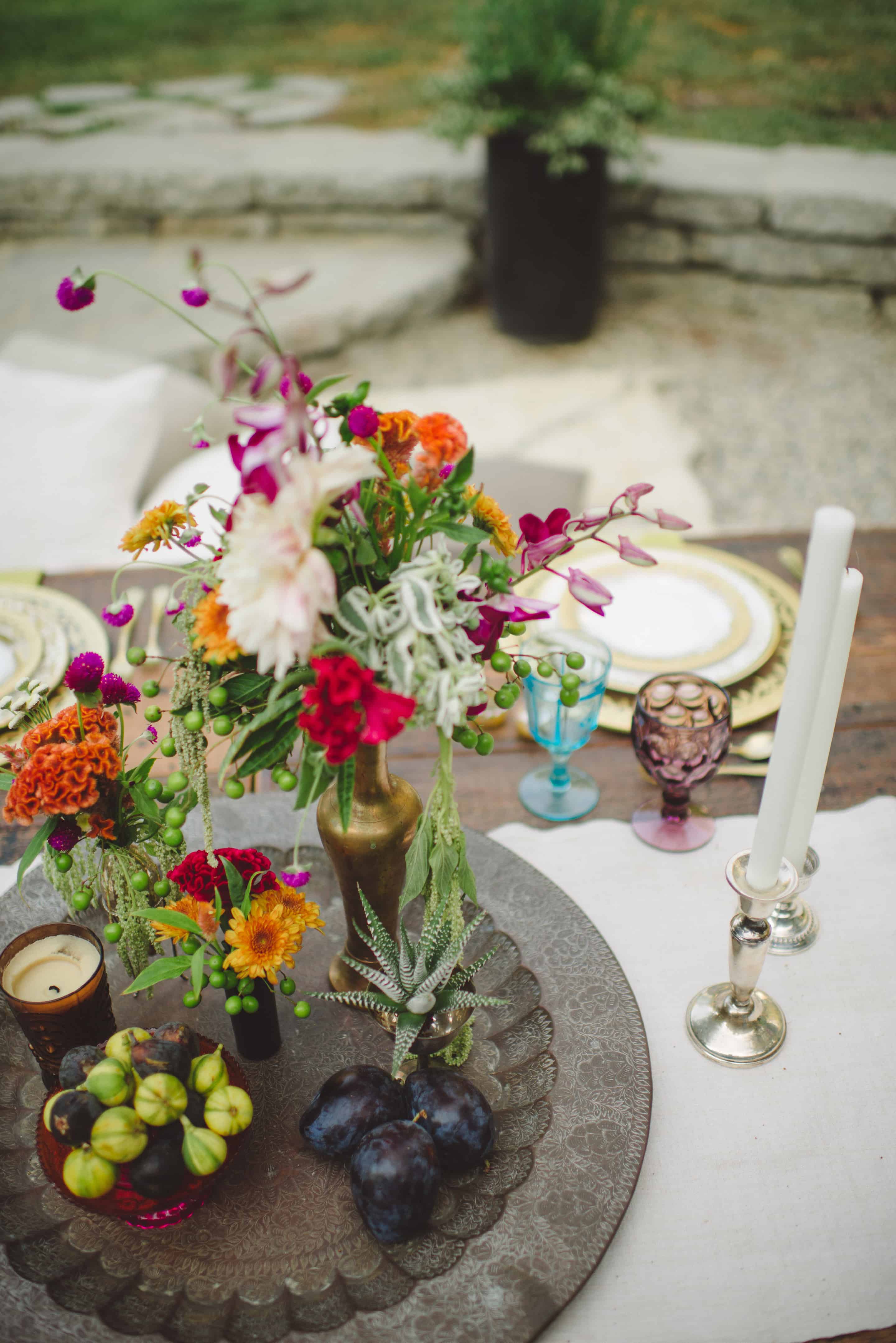 3. How do you decide what to collect?
Josh and I started collecting pieces for our own wedding. I had my heart set on collecting enough vintage mismatched antique silver flatware for our 5 course dinner reception, so we spent the majority of weekends during our 13 month engagement at various flea markets, estate sales, antique malls, etc. until we had collected enough. Afterwards, and once we started Casa de Perrin, our selections have been based off of our personal styles, what's lacking in the event rental + design market, and what really creates the most impact on a table.
While our tastes are usually in sync, Josh and I really do both have to truly love and agree upon something to incorporate it into our inventory. I'm not going to lie, sometimes we battle it out a bit while making big decisions, but the upside to that is that CdP inventory is really thoroughly thought out, and not invested in on a whim, and our end-result choices usually reflect both ends of the spectrum: trendy vs. timeless, masculine vs. feminine.. 
4. Did you always love table settings as a child or was this a new passion?
Both Josh and I have always loved collecting, in general. While Josh lived in Russia, he collected various textiles and rugs. Table settings weren't necessarily on my radar until a bit later in life, but once I get my heart set on a specific idea or collection, my brain works like crazy trying to "complete the puzzle"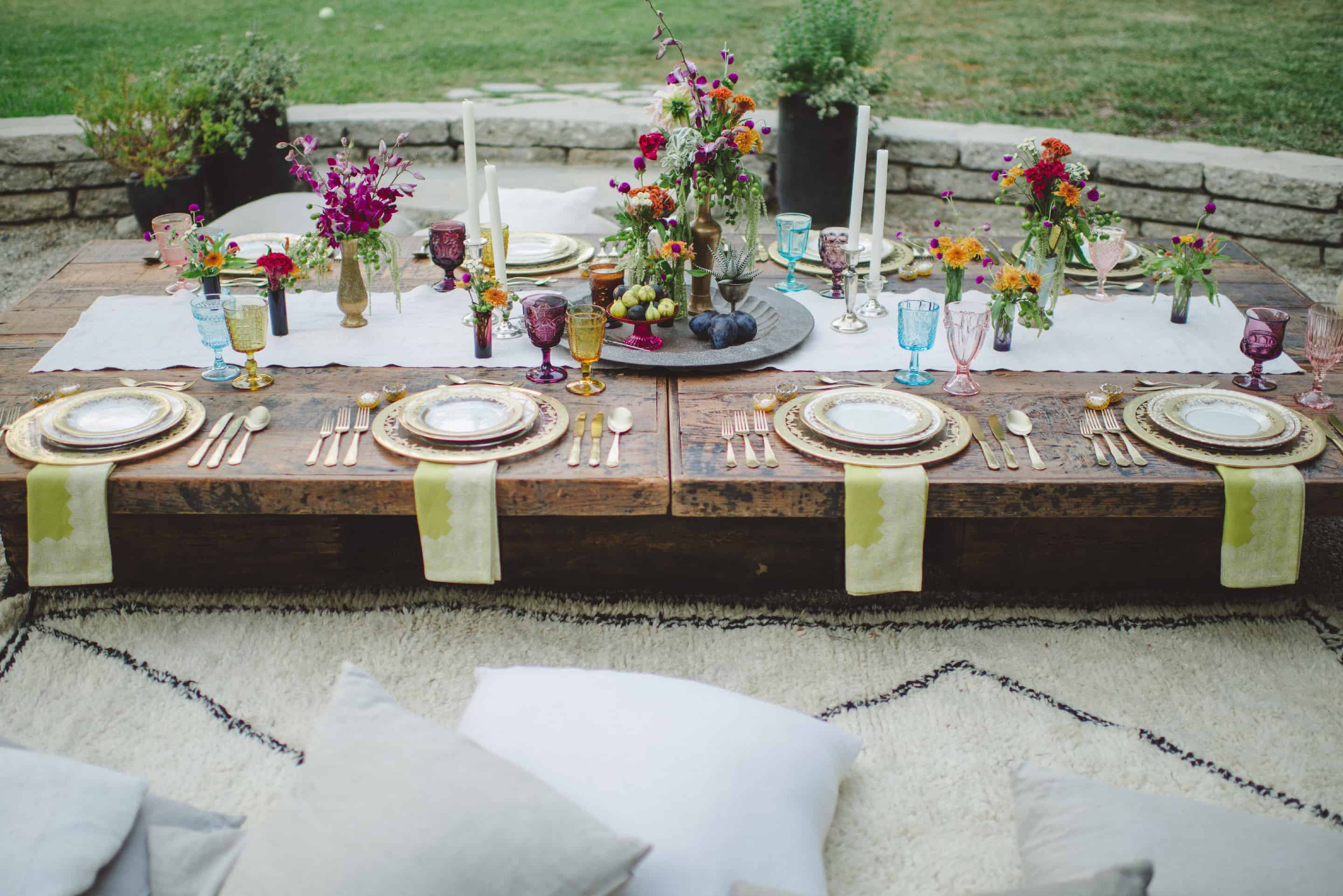 5. What was the deciding factor on wanting to start your own company?
Starting Casa de Perrin was something Josh and I didn't fully realize we wanted to do until 2 weeks after our own wedding, when we realized we might be "on to something" Josh is a photographer, and I'm a food/prop stylist by trade, so we had the flexibility in our schedules, and the initial skill-set necessary to make the jump and dive in head first. 
6. Do linens/china/glassware and chairs have to match?
Absolutely not!!! I'm a big fan of mixing vintage and modern styles, and incorporating unique patterns and color palettes to create an individualized table. I'm always amazed at how interesting a tablescape can be when you give yourself set parameters, and then find pieces to add in. Kind of like a "Chopped" mentality, where you're given different ingredients, and then are allowed to put your own spin on it. Sometimes when I'm stuck for ideas I will randomly pick out 3 products from our catalog, and then challenge myself to bring the look all together with the table, linens, chairs, etc.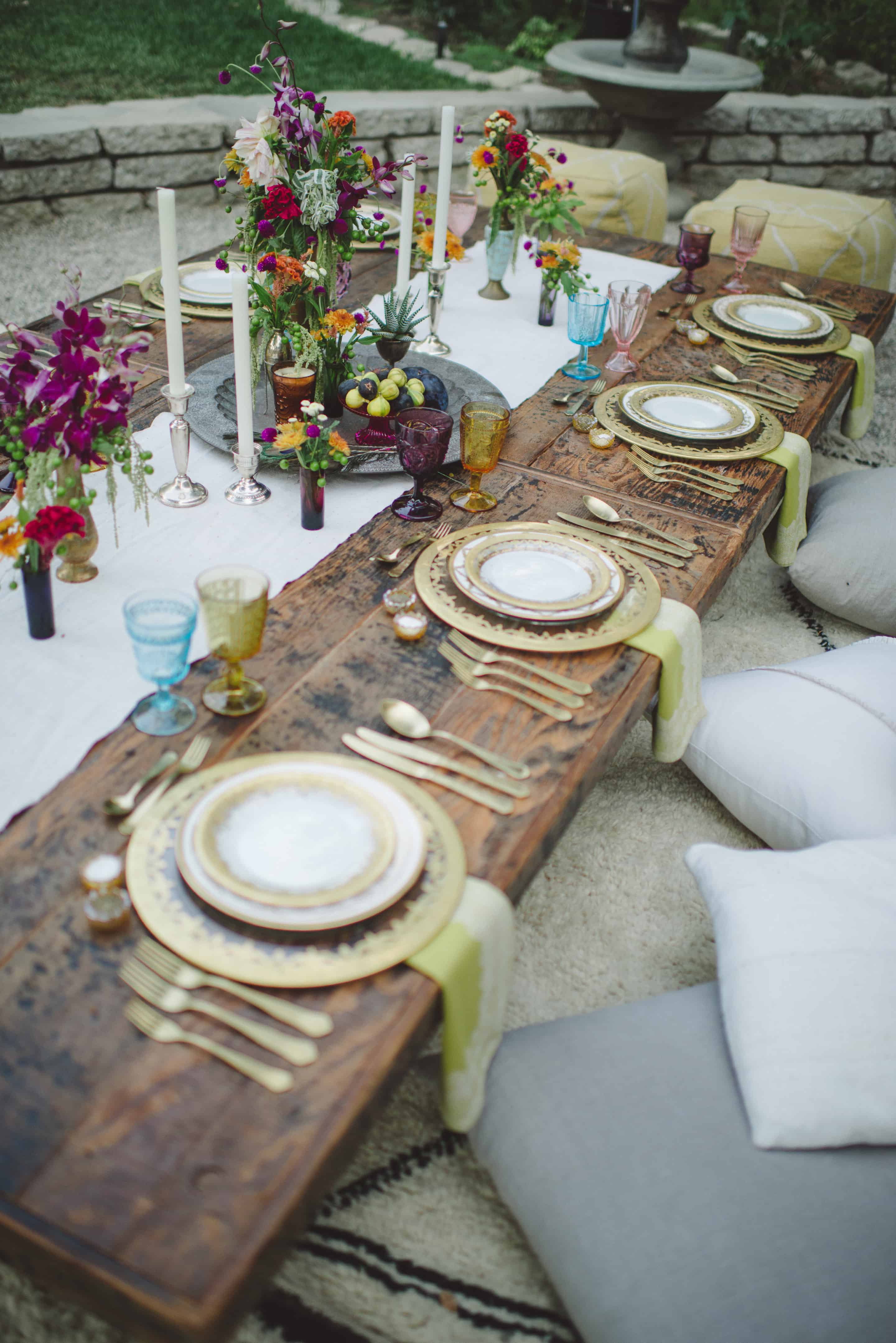 7. Decorating the table – What are the top 5 things to setting a memorable table. (Flowers, Candlelight, etc?)
Oh this is hard!! I truly believe that memorable tables happen once everyone sits down, so the people you are sharing the table with definitely impact the memories that are created dining at it. I also think the surface (be it a farm table, or a linen) makes a huge impact on the overall vibe you're going for. It's like having the perfect backdrop for your settings… I also think that the "centerpiece" helps tell the story you are trying to tell. You don't always need huge floral arrangements…sometimes just a garland made of greenery from your backyard (not as hard as you think to make, either!!) will completely set the tone. Other times brining color in, whether it's via flowers, napkins, place cards, or even fun little knick knacks will add the perfect touch. My favorite thing to add to a table is something unexpected. I have a think for glass butterflies, and will sneak one or two into my tablescape when I want to add a bit of whimsy. 
8. What are the tricks to setting the table on a budget.
-Be conscious of what's in season, floral-wise. Right now peonies are $30 for 4 stems at Whole Foods…. but come May when they are "in season" they'll be half (if not less than half!) that price. Greenery also costs way less than blooms, and because you can create a lush garland on a very tight budget, that can often pack more punch on your table for a lot less!
-Use unique surfaces. Vintage wallpaper you can find on Etsy makes the prettiest table runners and doesn't cost nearly as much as fancy linens (nor does it wrinkle.. so less work for you!)
-Reuse pieces in different ways to save money over time. You would be surprised how many different ways you can set a table using the same charger plate!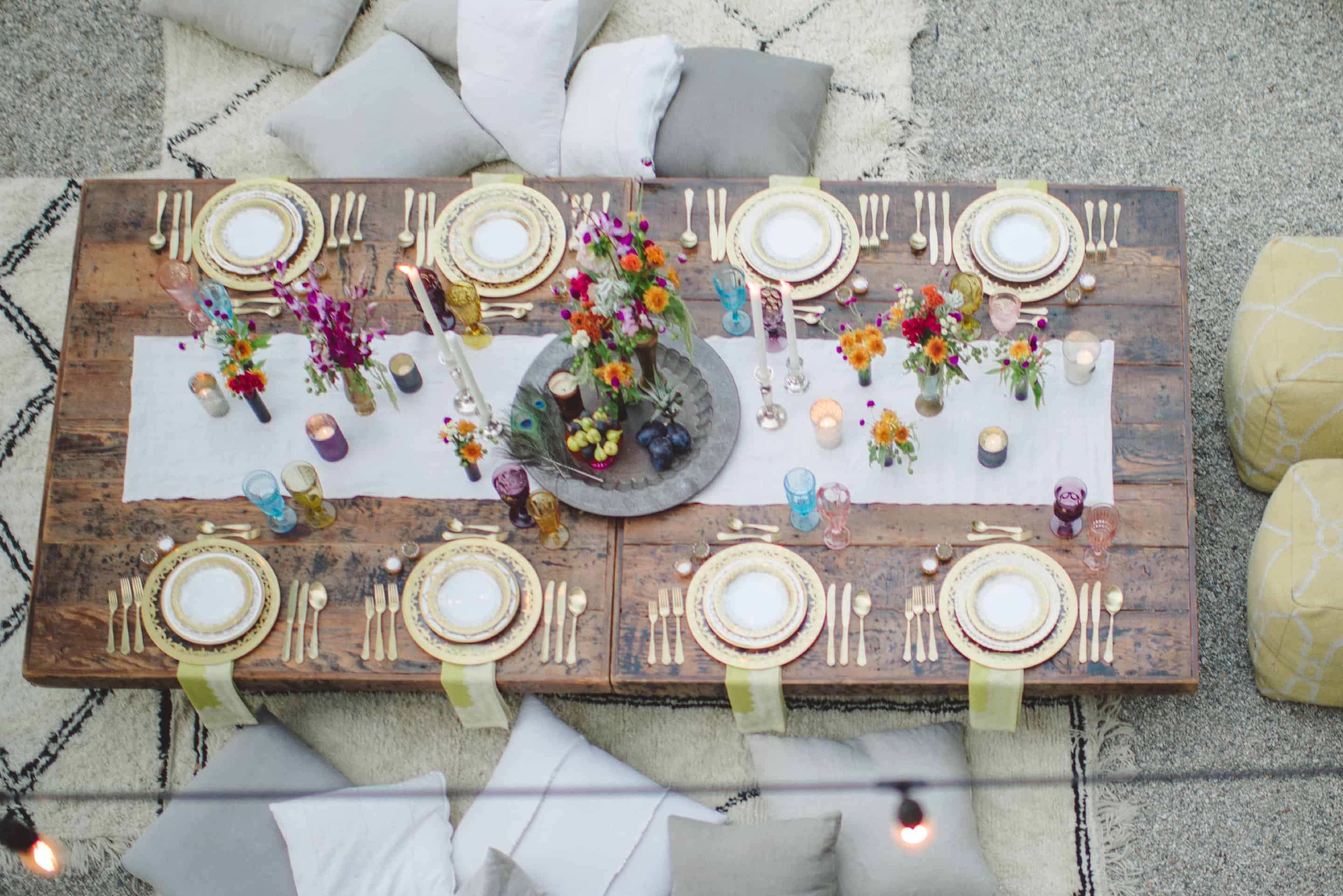 9.     Tell us something interesting about you that most people don't know or something you would like people to know.
I used to work for a cyber counter intelligence company working on high security defense contracts and recruiting of software engineers. When the economy took a turn for the worse and only the core engineers in our company were safe from being laid off, I found myself at a friend's birthday party sitting next to a food stylist who was looking for an assistant. I quickly realized how much I enjoyed styling, collecting, designing… It's crazy how quickly things can change, and I am grateful every day that I get to combine both a technical and creative aspect in our company. 
10.   Where do you see Casa de Perrin going in the next 5 years? 10 years? 20 years?
Only time will tell! What I can say is that we take an immense amount of pride in what we do, and we know that will only translate into the growth of our company. We have big plans for Casa de Perrin and we can't wait to nurture them and watch them unfold into what they will ultimately become.
Photos by Rebecca Sanabria. Gorgeous table setting by Casa De Perrin. Beautiful vintage table, rug and pillows by Found.