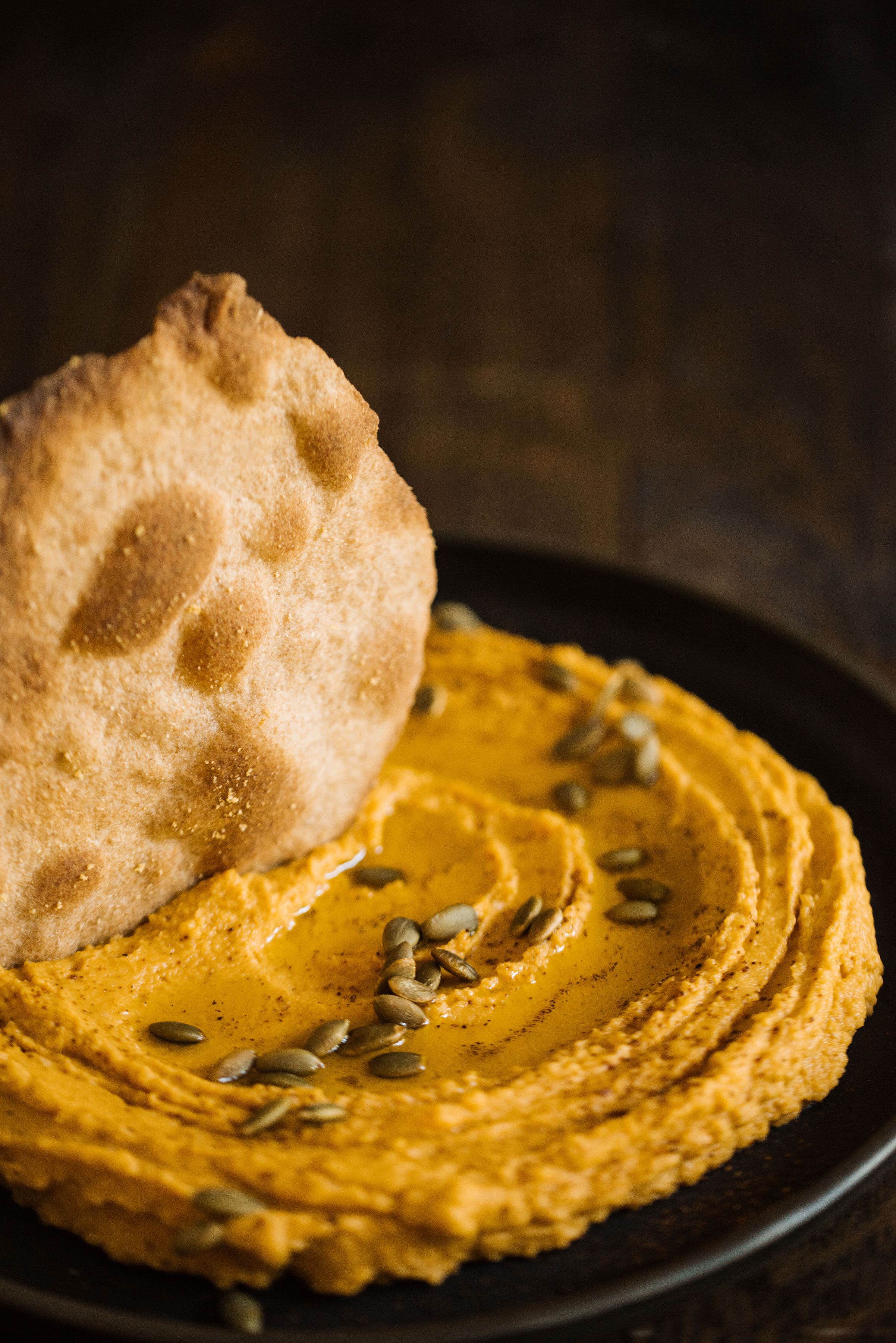 Pumpkin Hummus with homemade Pumpernickel Pita Crackers
Recipe courtesy of Tiffani Thiessen
Ingredients
Two 16-ounce cans garbanzo beans, drained (about 3 cups)
One 15-ounce can pure pumpkin puree
1/2 cup olive oil, plus extra for garnish
2 tablespoons tahini
1 tablespoon fresh lemon juice
1 teaspoon chili powder, plus extra for garnish
2 cloves garlic, smashed
Kosher salt
Lightly toasted pepitas
Directions
Put garbanzo beans in a large bowl and fill with water to cover. Rub the beans between the palms of your hands and against each other to loosen the skins. Continue until all of the skins have been released. Discard the skins.
Transfer the skinned garbanzo beans to a food processor. Add the pumpkin puree, olive oil, tahini, lemon juice, chili powder, garlic and 1/2 teaspoon salt. Process until smooth and creamy, about 3 to 5 minutes. (If the hummus is not creamy enough, add more olive oil.)
To serve spread the hummus on a round platter, sprinkle with chili powder and toasted pepitas and drizzle with olive oil.
Serve with Pumpernickel Pita Crackers.
Pumpernickel Pita Crackers
Recipe courtesy of Tiffani Thiessen
Ingredients
One 1/4-ounce package active dry yeast
1 tablespoon sugar
1 cup warm water (about 110 degrees F)
1 1/2 cups dark rye flour
1 1/2 cups whole wheat flour, plus extra for bench flour
2 teaspoons Kosher salt
1/4 cup grapeseed oil
1/4 cup fine yellow cornmeal
Directions
Combine the active dry yeast, sugar and warm water. Let stand for about 10 minutes, or until the water is foamy on the surface.
In a separate bowl combine the two flours and salt. Stir in the yeast mixture and oil until the dough forms a ball. Remove the dough from the bowl onto a clean surface dusted with flour. Knead for 3-4 minutes or until a smooth dough ball forms. Place in a greased bowl and cover with a clean towel. Place in a warm area of your kitchen and allow the dough to rise for an hour, doubling in size.
Preheat oven to 500 degrees F. Lightly grease two baking sheets with non-stick cooking spray and lightly dust with cornmeal.
Remove the dough to a clean, lightly floured surface and divide into 25 pieces, each about the size of a golf ball. Use a rolling pin to roll the dough out into a 5-inch circle that are about 1/8th inch thick. Spread the doughs out on the prepared baking sheets and bake for 7-8 minutes, or until golden brown and crispy. Remove from oven and let cool.
Repeat baking the remaining doughs and serve immediately.
Makes 25 pita crackers
Photography by Rebecca Sanbria