Slow Roasted Pork Belly with Roasted Garlic + Sweet Potato Polenta and Pomegranate Gastrique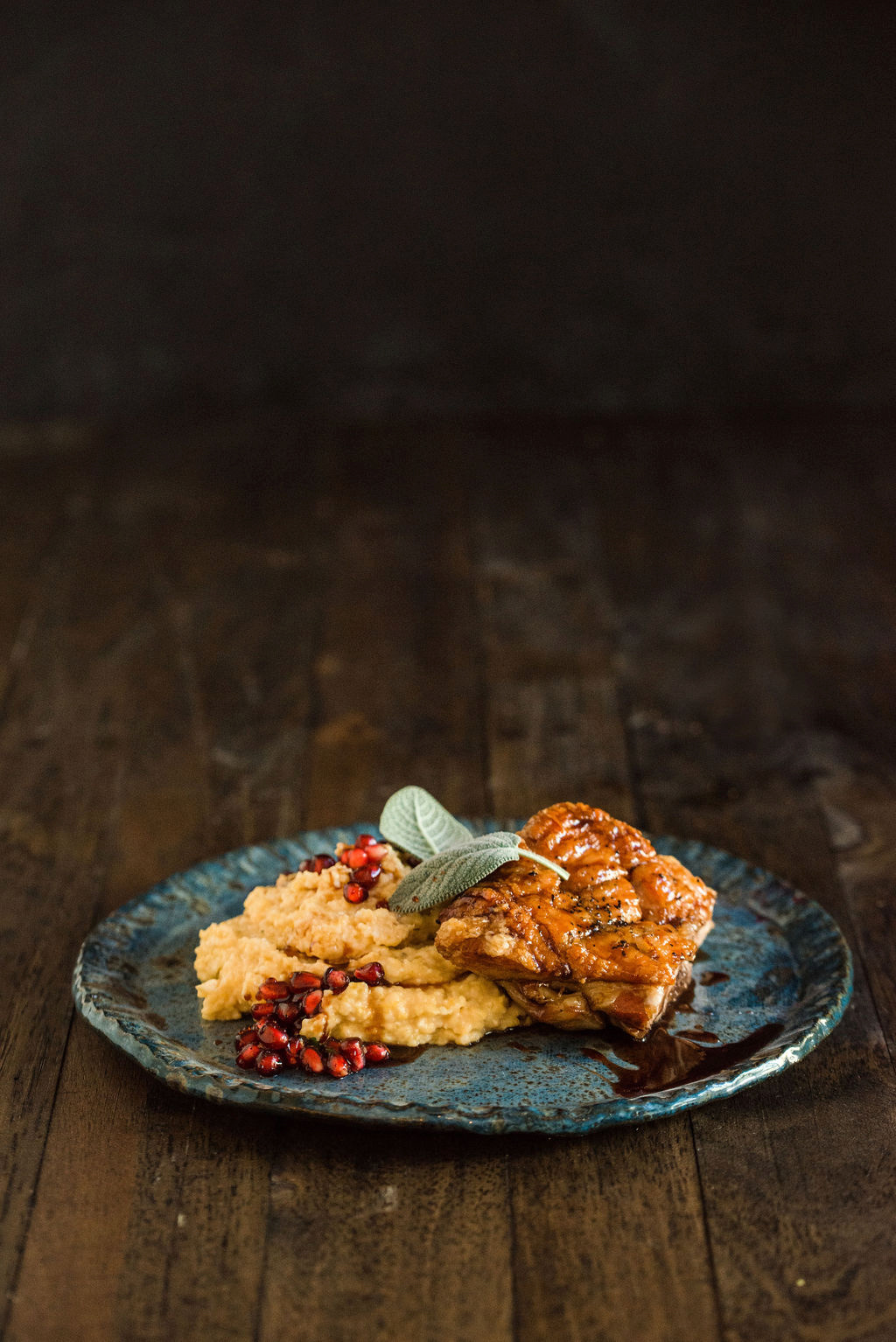 Slow Roasted Pork Belly
Recipe courtesy of Tiffani Thiessen
Ingredients
2lb piece of pork belly, with skin removed
2 tablespoons olive oil
Kosher salt
1 small yellow onion, thinly sliced
Chicken stock or water, as needed
Roasted Garlic and Sweet Potato Polenta, recipe below
Pomegranate Gastrique, recipe below
Directions
Preheat oven to 350 degrees F.
On a clean surface or cutting board, place the pork belly fat side up. Score the fat in a diamond shape, every 1-inch, along the pork belly. Make sure not to go too deep, only cut through the fat layer. Drizzle with olive oil and season generously with salt. Rub the oil and salt into the pork belly.
On a small baking sheet, evenly spread the onions and then place the pork on top of the onions.
Bake in the preheated oven for 2 hours or until the fat is crispy and the meat is fork tender. Check the pork every 30 minutes. If the onions are getting too dark, add about 1/4 cup of stock or water.
Temperature of the pork belly should be between 145-160 degrees when done. Remove from the oven and let cool slightly before slicing and serving.
Serve with Sweet Potato Polenta and Pomegranate Gastrique.
Roasted Garlic and Sweet Potato Polenta
Recipe courtesy of Tiffani Thiessen
Ingredients
1 head garlic
1 teaspoon olive oil
2 cups chicken stock
1 1/2 cups whole milk
1 1/2 teaspoons Kosher salt, plus more to taste
1 1/2 cups quick cooking polenta
1 cup sweet potato puree
1/2 cup mascarpone
Directions
Preheat oven to 400 degrees F.
Slice the top of the head of garlic off crosswise, exposing the garlic cloves. Drizzle with olive oil and season with salt. Wrap in foil and bake for 40-45 minutes or until the cloves are tender and caramelized on top.
Remove from oven and let cool. When cool enough to handle, remove 4 cloves of garlic and use the side of your knife to create a paste by pushing down on the garlic continuously till it softens. Set aside the paste and reserve the remaining cloves for another use.
Combine the stock, milk and salt in a medium saucepan and bring to a boil. Whisking constantly stir in the polenta and cook according to package directions. When the polenta is cooked through and thick, stir in the sweet potato puree, mascarpone and roasted garlic paste. Season with salt to taste.
Serve immediately.
Pomegranate Gastrique
Recipe courtesy of Tiffani Thiessen
Ingredients
1/2 cup red wine vinegar
1/2 cup pomegranate juice
1/2 cup light brown sugar
1/2 cup pomegranate seeds
Directions
Combine all ingredients except the pomegranate seeds in a medium saucepan and bring to a boil. Continue to boil until the sauce is reduced to about 1/2 cup. Remove from heat and let cool, the sauce will continue to thicken as it sits.
Stir in the pomegranate seeds and serve with the polenta and pork belly.
Photography by Rebecca Sanbria