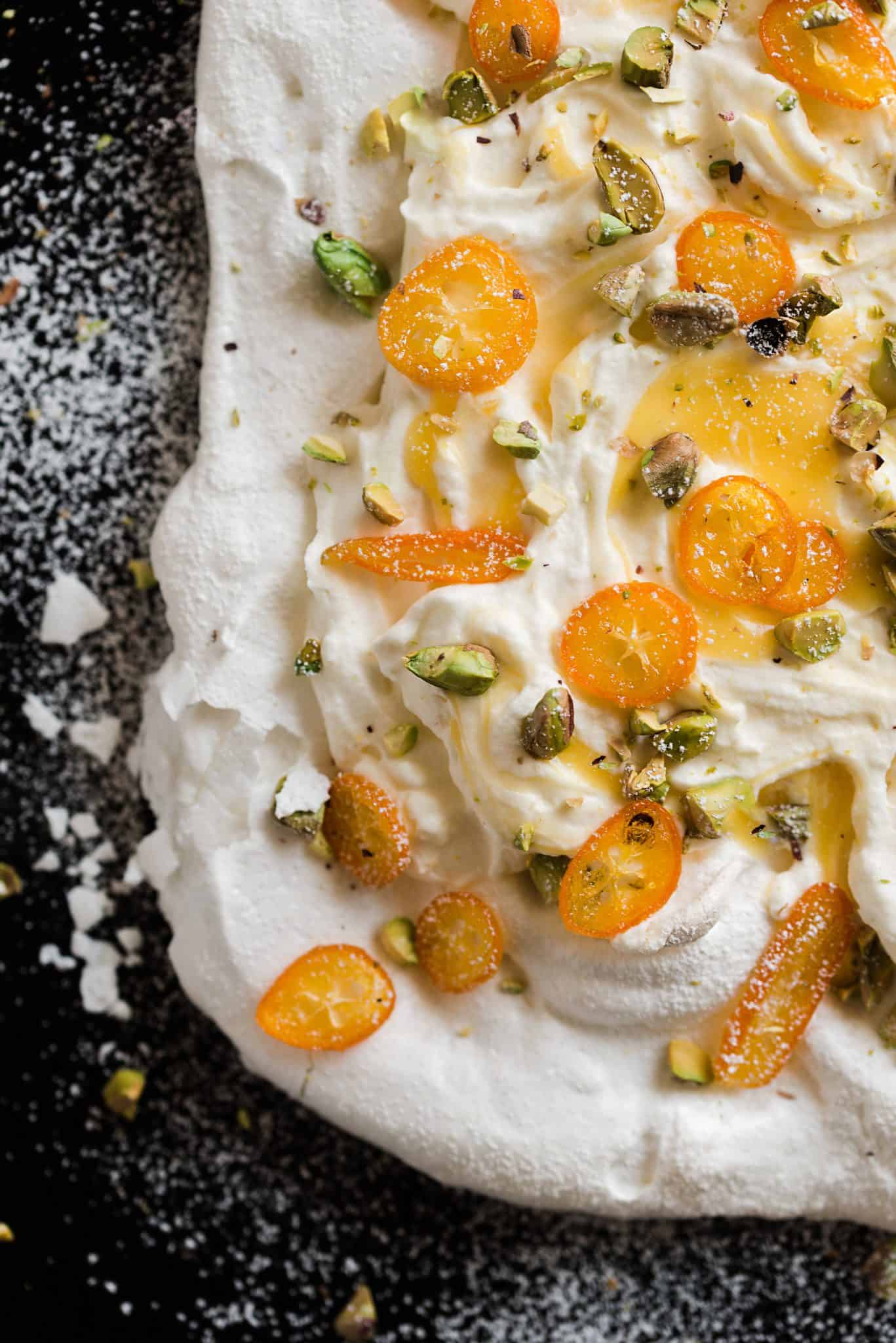 Kumquat and Lemon Curd Pavlovas 
Recipe courtesy of Tiffani Thiessen
Ingredients
5 egg whites

Pinch of kosher salt

1 cup superfine sugar

2 teaspoons cornstarch

2 teaspoons lemon juice

1 cup whipped cream

⅔ cup lemon curd

¼ cup pistachios; roughly chopped

Candied kumquat for garnish
Directions
Preheat oven to 300°F. Line a baking sheet with parchment paper.
In a stand mixer fitted with a whip attachment, beat egg whites and salt on high speed until foamy, 1-2 minutes. Gradually add in sugar and continue beating until the meringue holds stiff peaks. Beat in the cornstarch and lemon juice.
Spread the meringue in a rectangle onto the prepared baking sheet, building slight wells to hold toppings.
Bake for 10 minutes, then reduce the oven temperature to 200°F. Continue to bake for 30 minutes. Turn off the oven and leave the meringue in the oven to cool, about 30 minutes.
To serve, carefully place the meringue on a platter and spread whipped cream over the top. The take the lemon curd and gently swirl over whipped cream. Sprinkle with pistachios and garnish with  candied kumquats.
Serves 4
Candied Kumquats
Courtesy of Tiffani Thiessen
Ingredients
6 kumquats, sliced into small rounds

1 cup water

½ cup sugar

Directions
Bring water and sugar to boil in heavy small saucepan, stirring until sugar dissolves. Add kumquat slices. Remove from heat and let sit for 5 minutes. Strain to a sheet tray and let the candied kumquats air dry for at least 1 hour.
Vanilla Whipped Cream
Courtesy of Tiffani Thiessen
Ingredients
1 1/2 cups cold heavy cream

2 tablespoons sugar

1 teaspoon vanilla bean paste or vanilla extract

Directions
In a bowl of a stand mixer fitted with a whip attachment, add the heavy cream. Whip until foamy and then add the sugar and vanilla bean paste. Beat until soft peaks form. Careful not to overbeat or the cream will become grainy.
Photography by Rebecca Sanabria