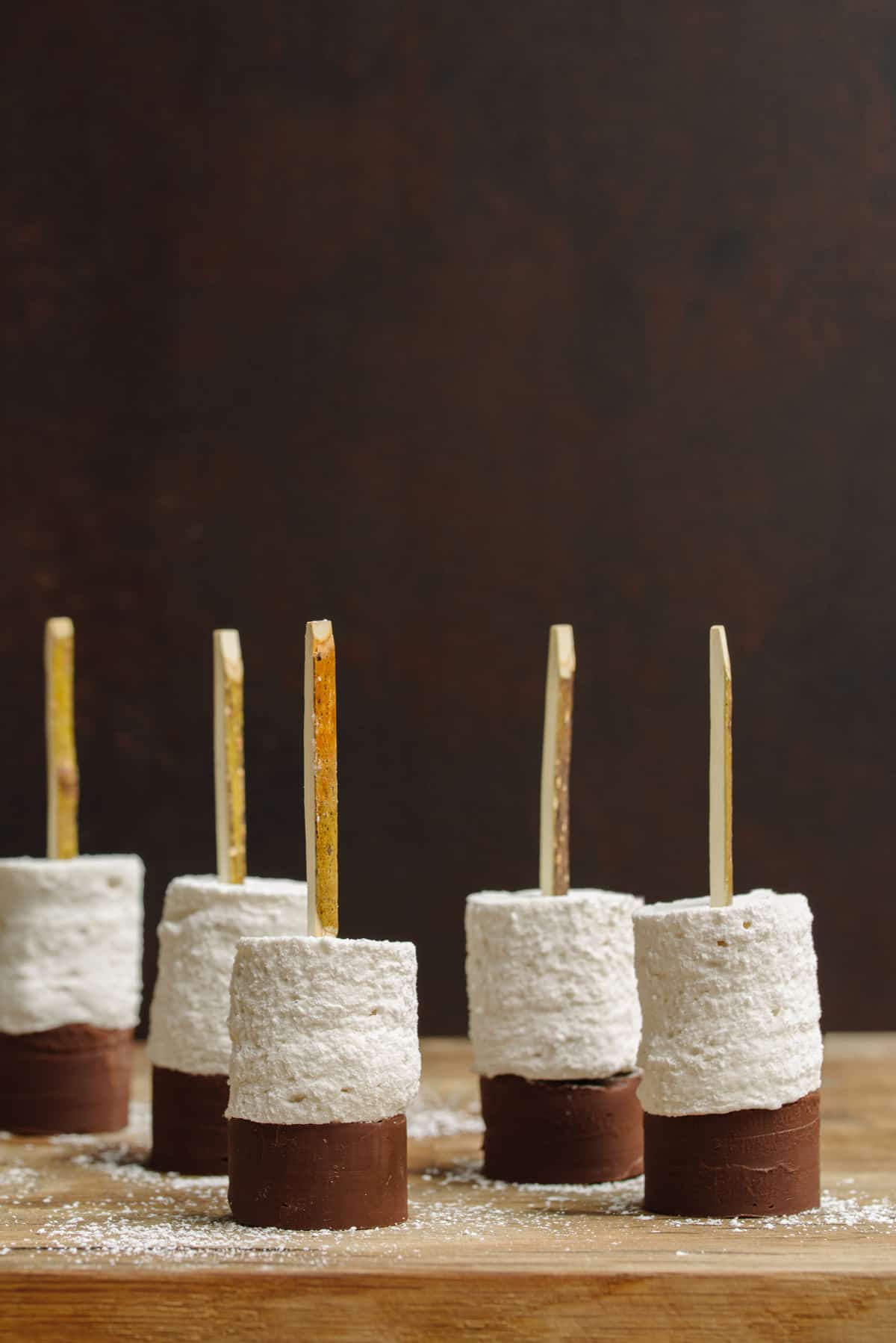 Hot Chocolate on a Stick
Recipe courtesy of Tiffani Thiessen
Homemade Marshmallows
3 envelopes of plain gelatin such as Knox
1/2 cup cold water
2 cups granulated sugar
2/3 cups light corn syrup
1/4 cup water
1/4 teaspoon salt
1 tablespoon vanilla extract
Directions
In the bowl, sprinkle gelatin over 1/2 cup cold water. Soak for 10 minutes.
In a saucepan, combine sugar, corn syrup, and 1/4 cup water and bring to a boil. Boil for 1 minute. Pour boiling syrup into gelatin and mix at high speed with a stand mixer. Add the salt and beat for additional 12 minutes then add vanilla.
Scrape marshmallow mixture into a 9 x 9-inch pan lined with oiled plastic wrap and spread evenly. Lightly oil hands help to get mixture out easily. Then take another piece of plastic wrap and press mixture into the pan. Let marshmallows sit for a couple hours.
When ready, remove from pan and dredge whole marshmallow square with confectioners' sugar. Then cut marshmallows into 12 equal pieces with scissors. Dredge each piece of marshmallow again in confectioners' sugar.
Store in airtight container till your ready to use.
Fudge
1/2 cup heavy cream
One 14-oz can sweetened condensed milk
3 cups semisweet chocolate chips
One 4-oz bar unsweetened chocolate, chopped into smaller pieces
1 teaspoon of vanilla bean paste
1/4 teaspoon ground nutmeg
1/4 teaspoon ground ginger
Wooden or cookie/lollipop sticks
Homemade marshmallows
Directions
Line a 9×9 inch pan with parchment paper.
Over medium-low heat add cream and sweetened condensed milk stirring periodically until just starting to lightly boil. Slowly pour in chocolate and whisk for about 8-10 minutes until chocolate is completely melted. You know your fudge is done when the bubbles go from large to small. Remove from heat and add vanilla bean paste, ginger and nutmeg. (If you are making this for kids you can choose to leave these out of course) Pour chocolate mixture into prepared pan. Smooth out to make as even as possible. Cover the mixture with foil and let it sit overnight.
Once the fudge has hardened cut into squares or small rounds using a 1 inch round cookie cutter. Do the same with the marshmallows. Place your stick through the marshmallow first and then the fudge.
Makes 12 sticks
Photography by Rebecca Sanbria