Holiday Beef Tenderloin with Horseradish Creme Fraiche
Recipe courtesy of Tiffani Thiessen
Ingredients:
1- 3 pound center cut filet mignon, trimmed of silver skin 

3 tablespoons canola oil, divided 

2 tablespoons Kosher salt, plus more to taste 

3 large sprigs rosemary

1/4 cup pink peppercorns 

4 tablespoons unsalted butter 

2 small shallots, peeled 

8 ounces creme fraiche 

3 tablespoons prepared horseradish, plus more if desired 
Directions:
Preheat oven to 425 degrees F. 
Preheat a 10 or 12 inch cast iron pan, or other ovenproof pan, over medium-high heat. Rub the filet with 2 tablespoons of oil and the salt so it is evenly coated. Sear the steak on all sides, for about 4 minutes per side, until a deep caramelized crust forms all over the steak, including the two ends. Remove the pan from the heat. 
While the steak is searing, use a mortar and pestle or the side of your knife against a cutting board to lightly crush the peppercorns. Place in a small bowl. Finely chop 1 sprig of rosemary and stir in with the peppercorns along with the remaining 1 tablespoon canola oil. 
When the steak is done searing use a brush to coat the steak on all sides with about half of the peppercorn mixture. Then to the pan, add the butter, shallots and remaining 2 sprigs of rosemary. Place the pan in the oven and cook for about 12-15 minutes, brushing the steak with the remaining peppercorns half way through, flipping the shallots and basting the steak with the melted butter. The steak is finished when it reaches 125 degrees F in the thickest part for medium rare. Remove from the oven and rest the steak on a cutting board for about 10 minutes before serving with the fried rosemary (or fresh if you want to add more color), roasted shallots and horseradish creme fraiche. 
For the horseradish creme fraiche, combine the creme fraiche and horseradish in a small bowl and mix to combine. Season with salt to taste. Let the mixture sit for about 10 minutes for the flavors to combine. You can add additional horseradish to make it as spicy if you desire.
Serves 6-8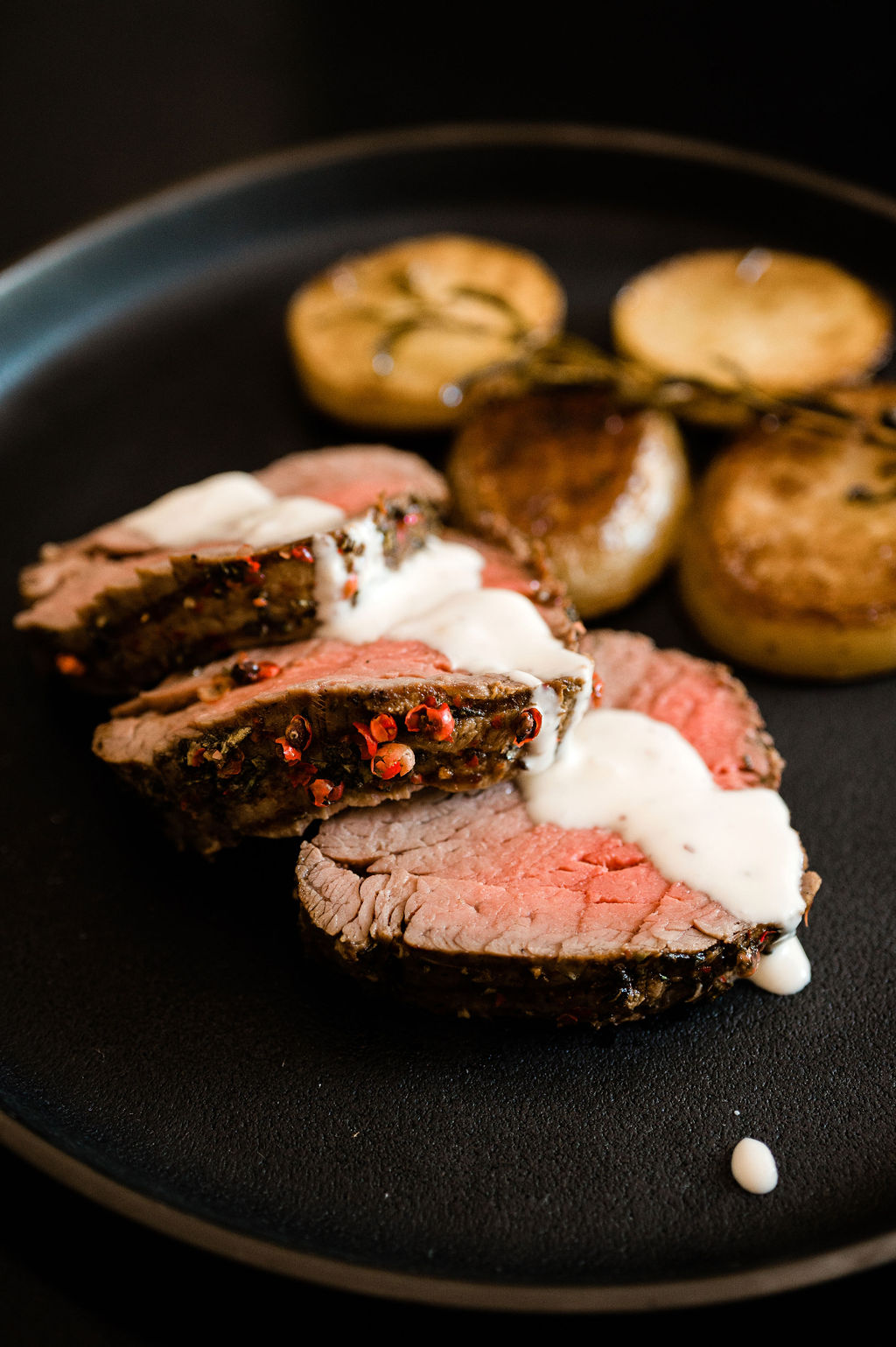 Photography by Rebecca Sanabria