It's October- and you know what that means! Today I'm partnering with Hershey's to share some hauntingly delicious recipes with you. Hershey's helps families harness the magic of Halloween with yummy candy that helps transform party treats from normal to spooktacularly paranormal!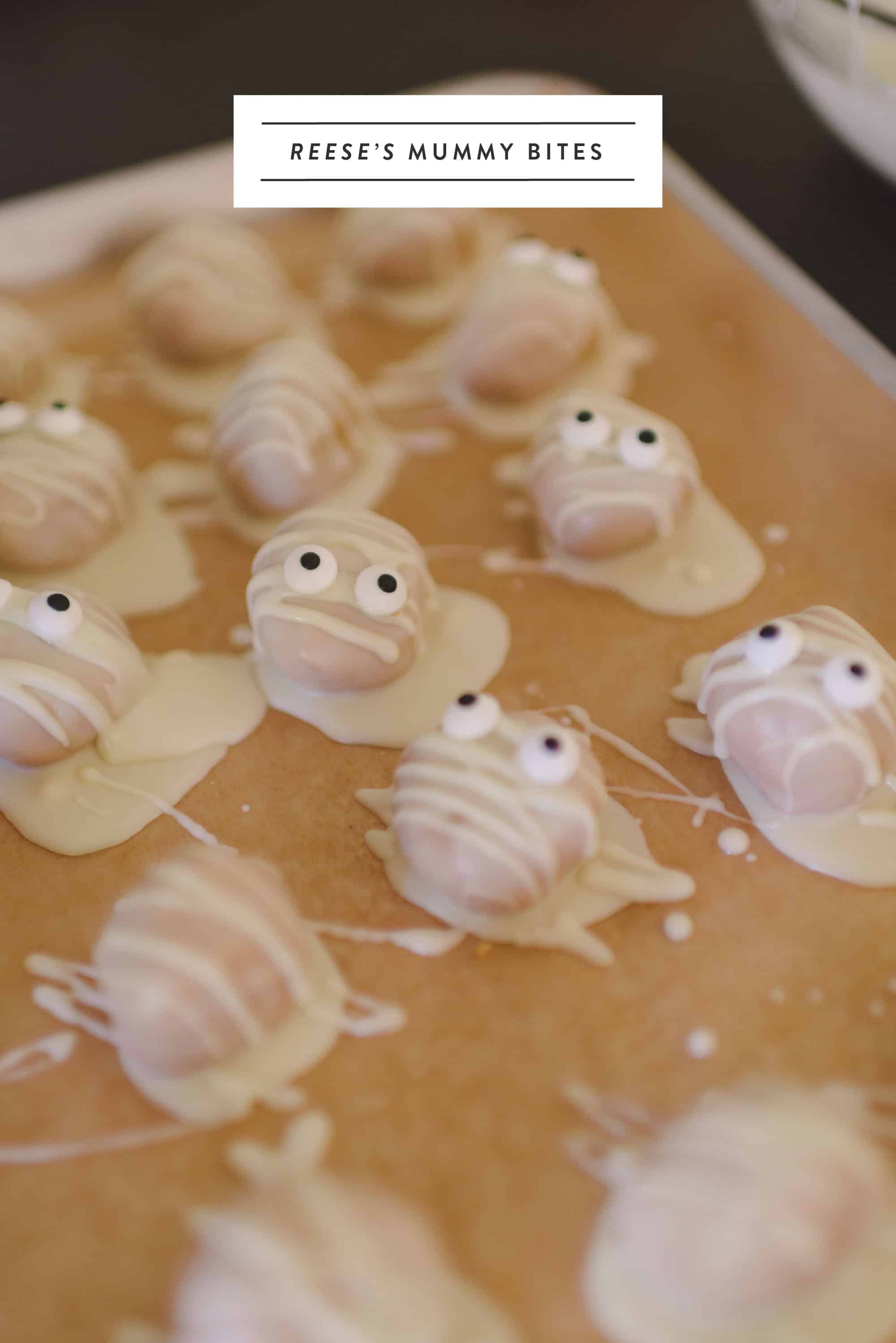 Mummy Bites
Recipe Courtesy of Tiffani Thiessen
Ingredients:
Peanut Butter Filling
One 16-ounce jar crunchy peanut butter
2 1/4 cups confectioners' sugar
4 tablespoons unsalted butter, room temperature
1 teaspoon vanilla
Add even more peanut buttery goodness with 3-4 roughly chopped Reese's Peanut Butter Pumpkins!
Ingredients:
White Chocolate Coating
4 tablespoons coconut oil
16 ounces of Hershey's Candy Corn Bars (2 packages of the snack size) or 16 ounces Hershey's Premiere White Chips
Directions
In a bowl of a stand mixer fitted with a paddle attachment, add the peanut butter, confectioners' sugar, butter, and vanilla. On medium-low speed, mix until creamy. Hand mix in chopped Reese's Peanut Butter Pumpkins. Form 1-inch balls and set on a parchment-lined baking sheet. Refrigerate for 2 hours.
For the white chocolate coating: In a glass bowl set over a pot of simmering water, add the coconut oil and chocolate. Melt the Hershey's Candy Corn bars (or Hershey's Premiere White Chips) and coconut oil together while stirring until it is smooth and silky. Then dip peanut butter balls in chocolate and place back on parchment-lined baking sheet. Place in refrigerator to set. Then fill a disposable decorating bag with the remaining white chocolate after it has slightly cooled and drizzle the chocolate over each bite in a back and forth motion to create the look of a mummy. Create the eyes with leftover chocolate and then store in the refrigerator until ready to serve, up to 24 hours.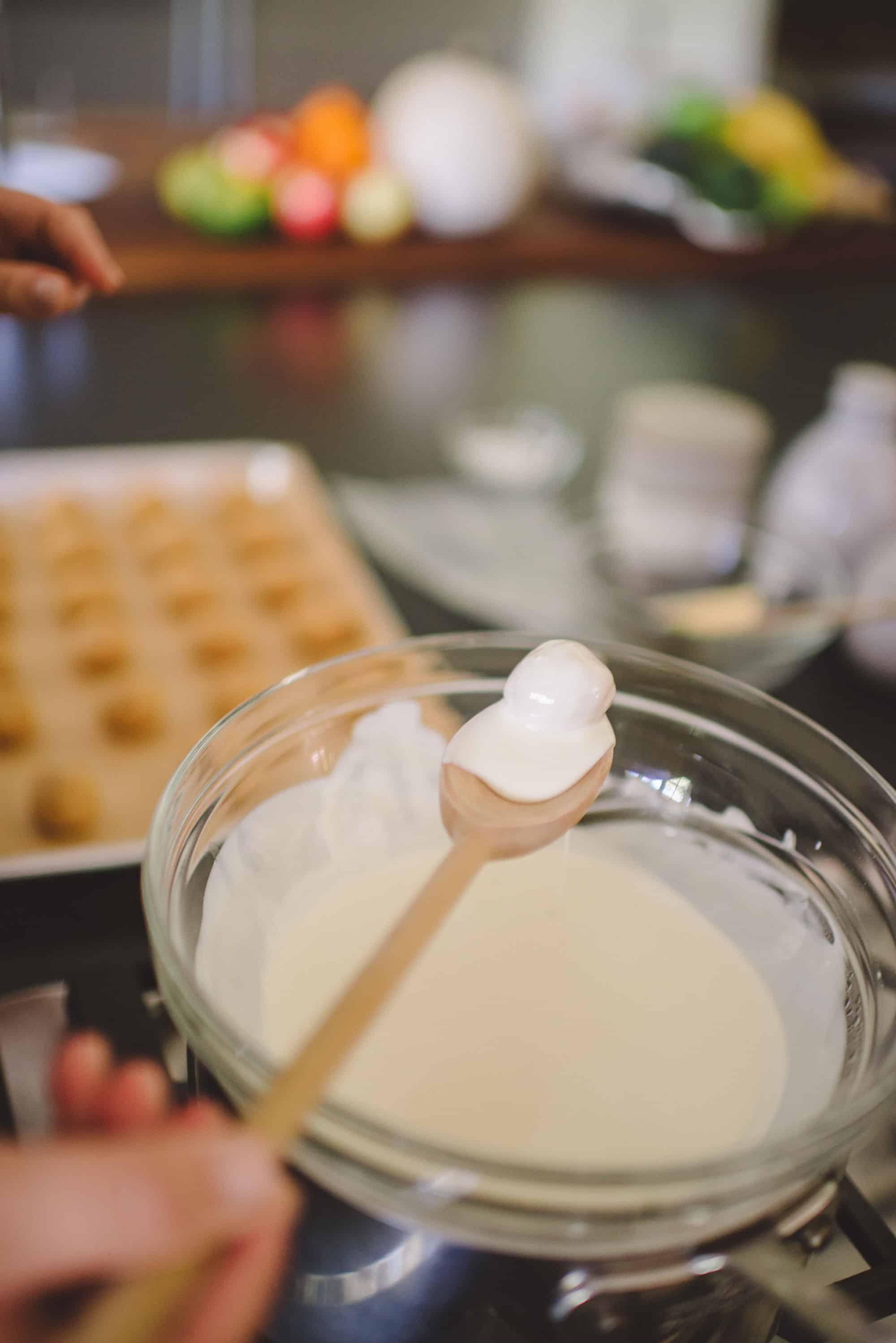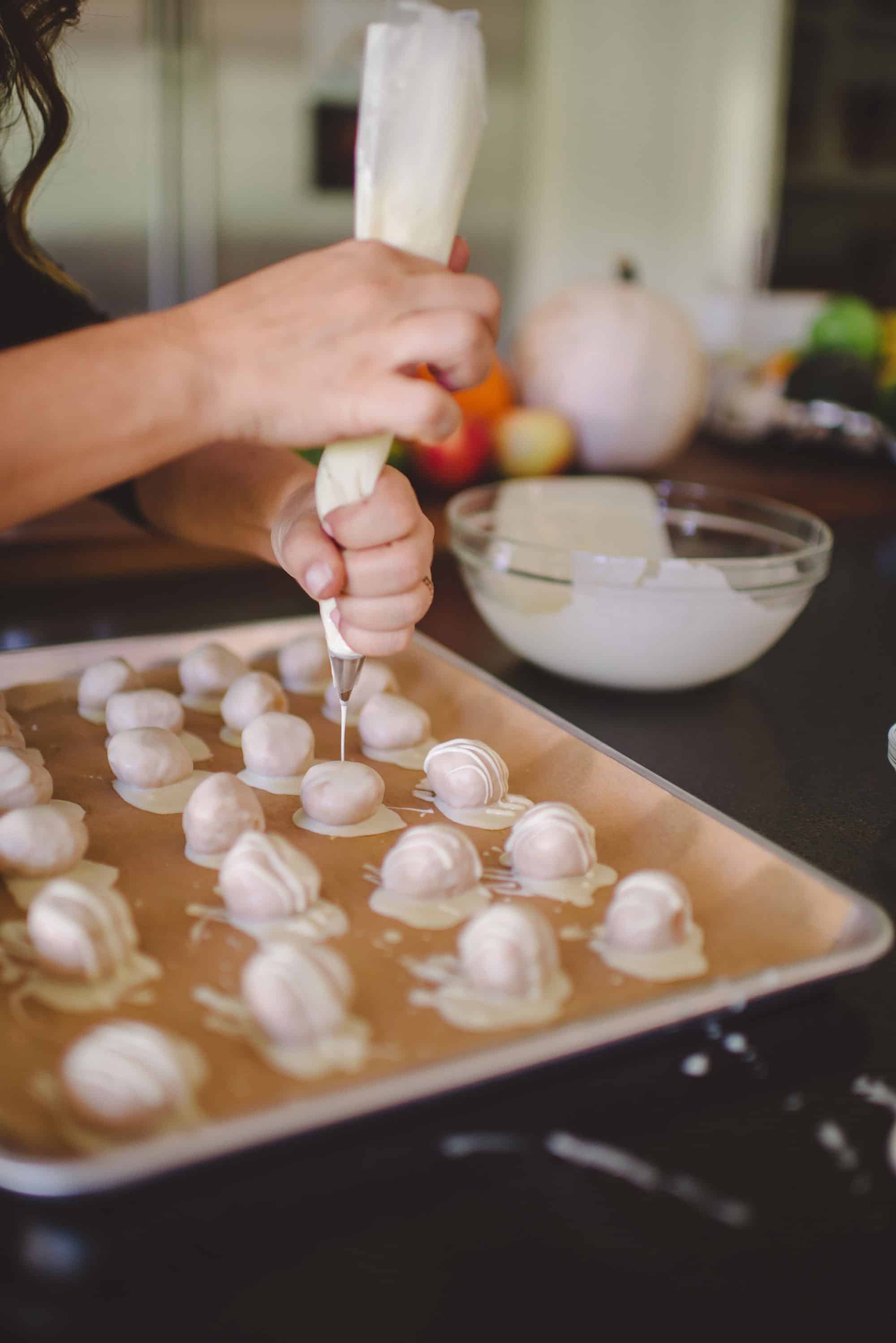 Still hungry? Try these yummy treats. #hersheyshalloween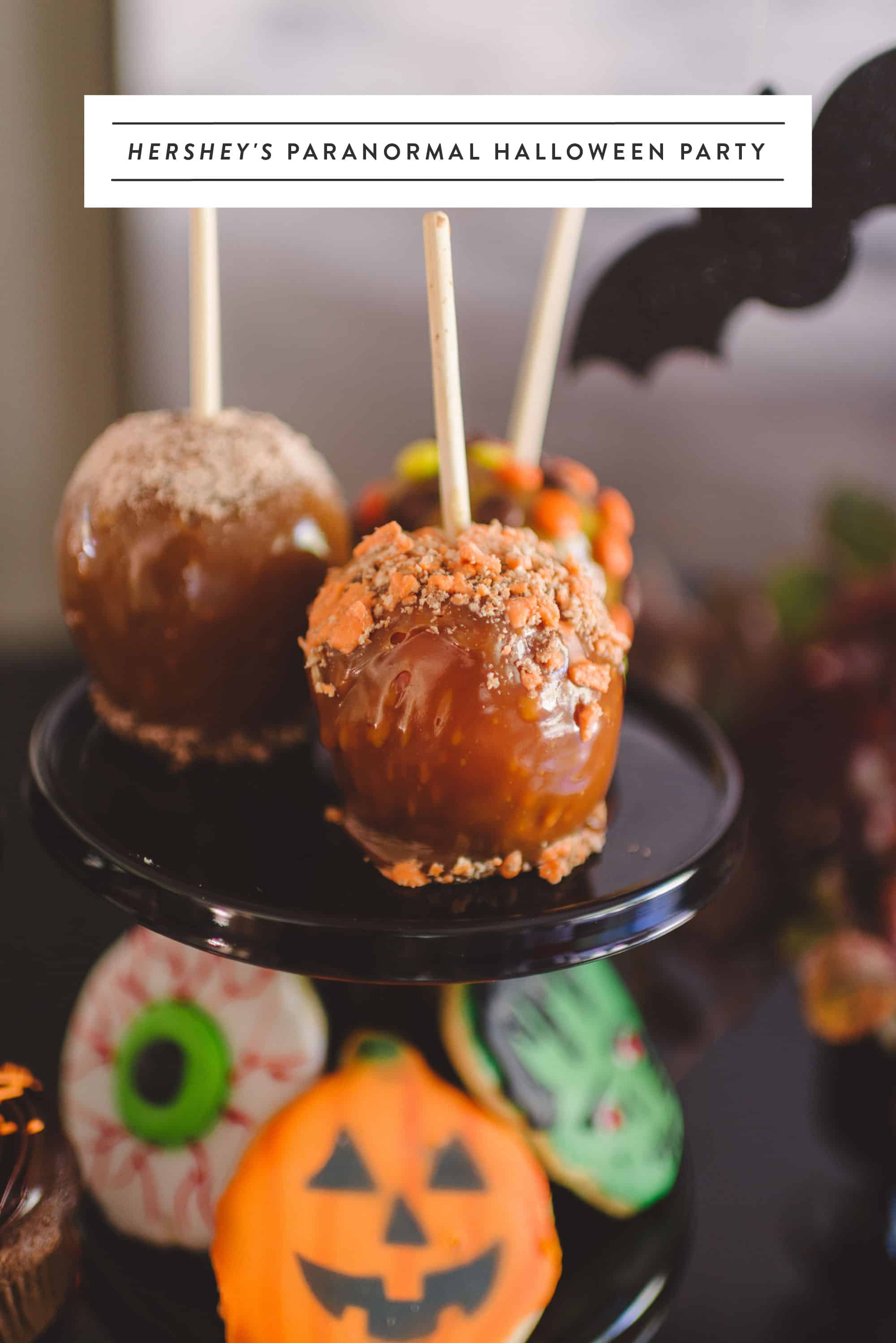 Candy Caramel Apples
Recipe Courtesy of Tiffani Thiessen
Ingredients:
Peanut Butter Filling
2 tablespoons water
6 apples; rinsed and stems removed
6 candy apple sticks
1 bag of caramel candies
1 cup of Whoppers; crushed
1 cup of KitKat® Orange Bars; crushed
1 ½ cups of Reese's Pieces
Directions
Take a baking sheet and line with wax paper. Then butter or spray wax paper with nonstick cooking spray. Take your apples and insert one wooden stick into each apple. Place caramels and water in small pot over medium heat. Continuously stir until caramels are completely melted.
Place Kit Kats® and Whoppers in a separate plastic storage bag and close. Crush the candy with the back of a wooden spoon. Set aside.
Dip each apple into caramel, turning until each apple is completely coated. Scrape off excess coating from the bottom; place on baking sheet. Then one at a time, sprinkle the crushed Kit Kats® and Whoppers and the whole Reese's Pieces on top of the apples as desired. Refrigerate until caramel has set which should be about 20-30 minutes. Or refrigerate until serving time. 6 servings.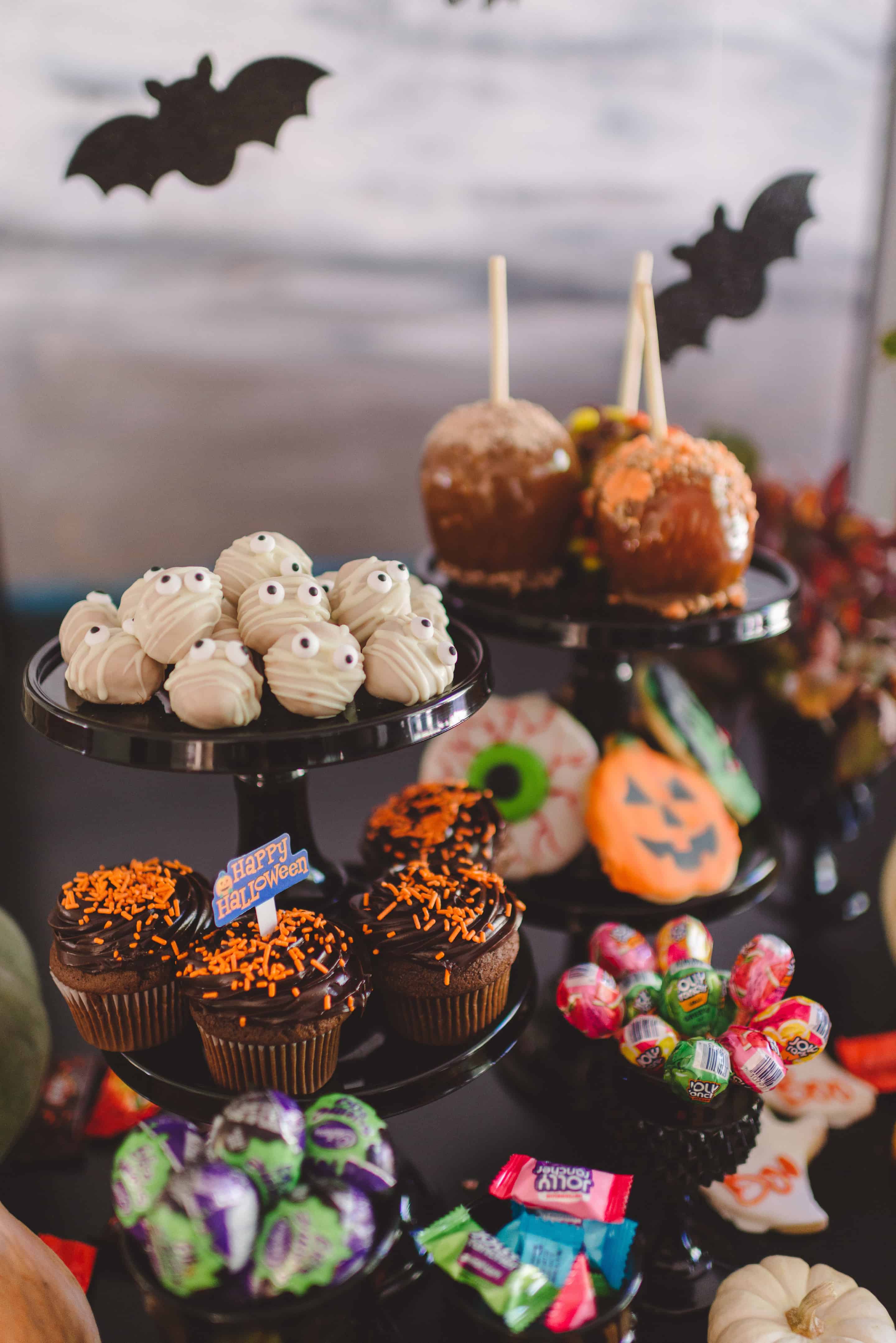 For more Halloween party ideas, recipes, costumes and crafts, visit here.
This post is sponsored by The Hershey Company.
Photos by Rebecca Sanabria.