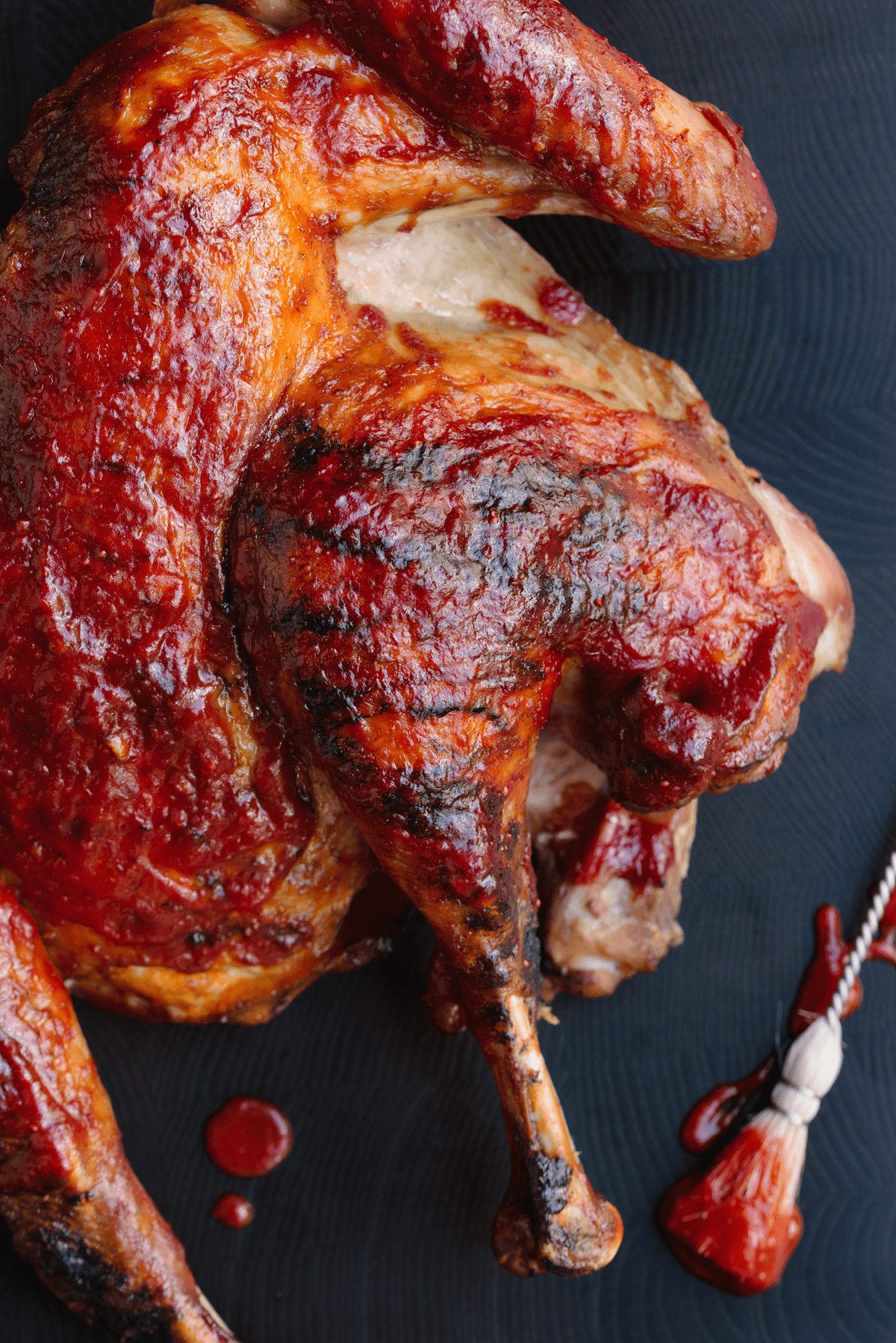 Grilled Turkey
Recipe courtesy of Tiffani Thiessen
Cranberry Barbeque Sauce
1 tablespoon canola oil
1 medium yellow onion, ¼-inch diced
1 small jalapeno, seeds removed and minced
3 cloves garlic, minced
1 cup ketchup
1 cup chicken broth
1/3 cup light agave
1 tablespoon molasses
1 tablespoon distilled white vinegar
1 tablespoon Dijon mustard
1 teaspoon Worcestershire sauce
1 (10-ounce) bag frozen cranberries
Kosher salt, to taste
Freshly ground black pepper, to taste
Grilled Turkey
1 (13-pound) spatchcock turkey
Vegetable oil
Kosher salt
Freshly ground black pepper
Directions
For the cranberry barbeque sauce: Heat the canola oil in a medium saucepot over medium-high heat. When the oil is hot add the onions and cook 2-3 minutes or until softened and beginning to brown. Stir in the jalapeno and garlic and cook an additional minute until fragrant. Add in the ketchup, chicken broth, agave, molasses, vinegar, mustard, and Worcestershire sauce and bring the mixture to a boil. Add in the cranberries and bring the mixture back up to a boil and cook 5-6 minutes or until the cranberries soften and begin to burst. Remove the mixture from the heat and let cool 5 minutes.
Once cooled, puree the barbeque sauce with an immersion blender or in a food processor. Strain the sauce through a fine mesh sieve back into the saucepan and boil the mixture another 3-5 minutes or until thickened. Season the sauce to taste with salt and pepper. Divide the sauce in half; use one half to baste the grilled turkey 3-4 times while grilling and use the other half to serve on the side of the finished turkey.
For the grilled turkey: Preheat one side of your grill to medium-high heat and leave the other side off. Lay the spatchcock turkey skin side up on a sheet tray. Liberally coat the turkey with oil and season with salt and pepper. When the grill is hot place the turkey skin side down on the grill and cook for 10 minutes, or until deep grill marks appear on the turkey. Turn the turkey over, and place it on the side of the grill that is off. Baste the turkey with the bbq sauce and close the lid. Continue to baste the turkey every 30 minutes for 3 hours or until the turkey reaches an internal temperature of 165 degrees F. Remove the turkey from the grill, let rest 30 minutes and then carve and serve with the remaining barbeque sauce.
Serves 6-8
Photography by Rebecca Sanbria