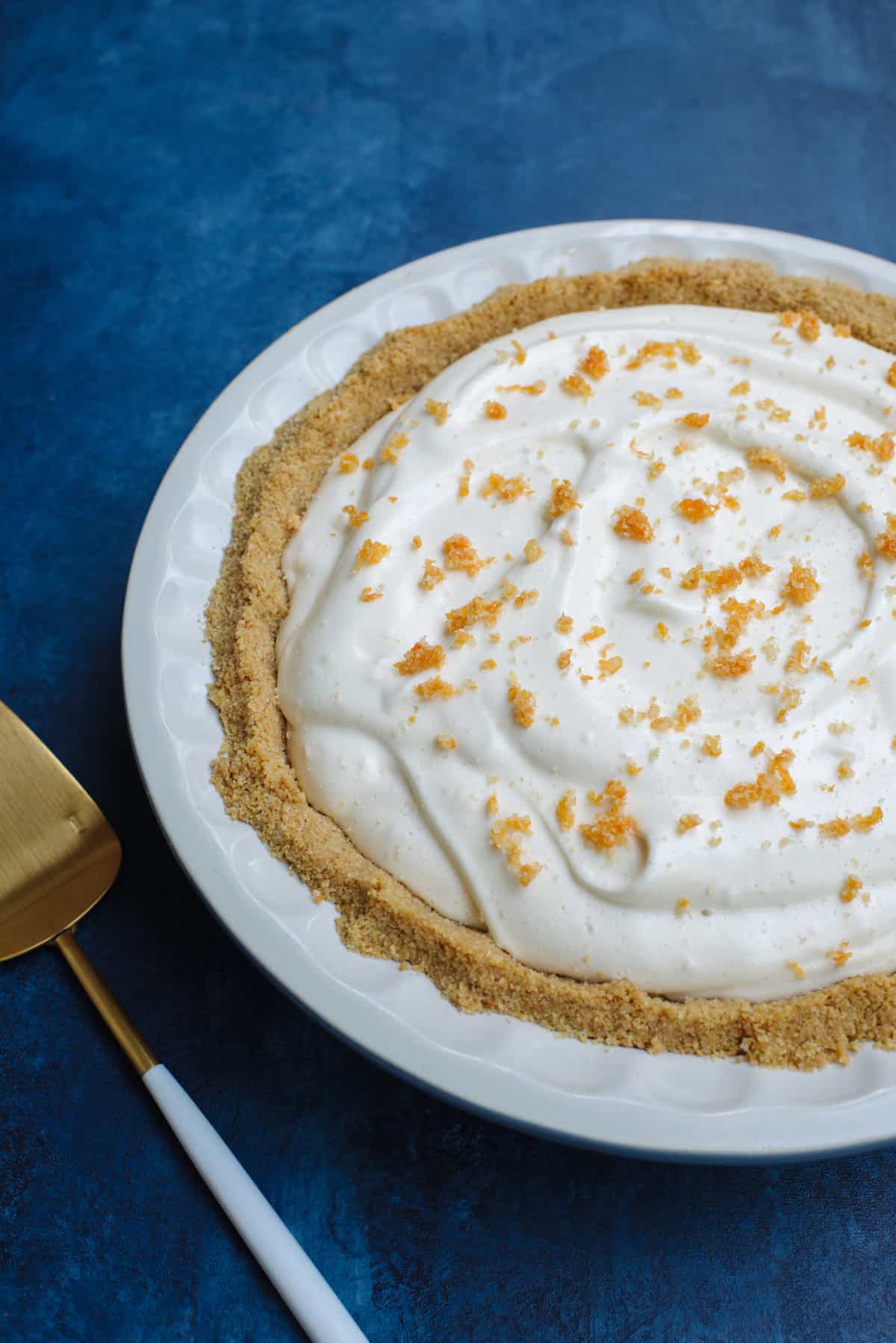 Grapefruit Chiffon Pie
Recipe courtesy of Tiffani Thiessen
Crust
13 whole graham crackers
3 tablespoons sugar
1/8 teaspoon kosher salt
1 stick (8 tablespoons) unsalted butter, melted
Filling
1/4 cup water
1 packet unflavored gelatin
4 eggs, separated
1 cup sugar
1/2 cup fresh ruby grapefruit juice
2 teaspoons grapefruit zest
1/2 teaspoon kosher salt
Garnish
1 grapefruit, zested in strips with a citrus zester
2 tablespoons sugar
Directions
Special equipment: an 8-inch pie plate
For the crust: Preheat the oven to 325 degrees F. Pulse the graham crackers in the work bowl of a food processor until finely ground, about 30 seconds; you should have about 1 1/2 cups of crumbs. Add the sugar and salt and pulse to combine. Add the melted butter and pulse until the mixture resembles wet sand.
Press the crumbs evenly into the bottom and up the sides of an 8-inch pie plate. Bake until the crust is lightly browned, 15 to 18 minutes. Allow to cool completely.
For the filling: Pour the water into a small bowl. Sprinkle the gelatin into the water. Let stand until the gelatin softens, about 15 minutes.
Set a small pot of water to boil. In a medium heatproof bowl, whisk together the egg yolks and 1/2 cup of the sugar. Add the grapefruit juice, grapefruit zest and salt. Place the bowl on the pot of boiling water to create a double boiler. Cook over medium heat, whisking constantly, until the mixture thickens slightly and registers 170 degrees F on an instant-read thermometer, about 5 minutes. Remove from the heat and add the gelatin mixture, whisking until the gelatin dissolves and the mixture is smooth, about 1 minute. Strain through a fine-mesh strainer into a large bowl; discard the solids remaining in the strainer. Set aside to cool, 30 to 40 minutes.
Once the filling has cooled, beat the egg whites with an electric mixer on medium-low speed until frothy, 2 to 3 minutes. Add 1/2 cup of the sugar, increase the speed to medium-high, and beat the egg whites until glossy and stiff peaks form, about 8 minutes.
Using a rubber spatula, gently fold the egg whites into the cooled egg yolk mixture in batches until fully blended and no streaks remain.
Pour the filling into the cooled crust, allowing the chiffon to mound slightly in the center. Refrigerate for at least 4 hours and up to 2 days before serving. Let stand at room temperature 20 minutes before serving.
Before serving, toss the strips of grapefruit zest in the sugar and arrange in the center of the pie.
Serves 6-8
Photography by Rebecca Sanbria