Cast Iron Steak Filets + Butter Lettuce Salad with Mustard Vinaigrette + Whole Roasted Garlic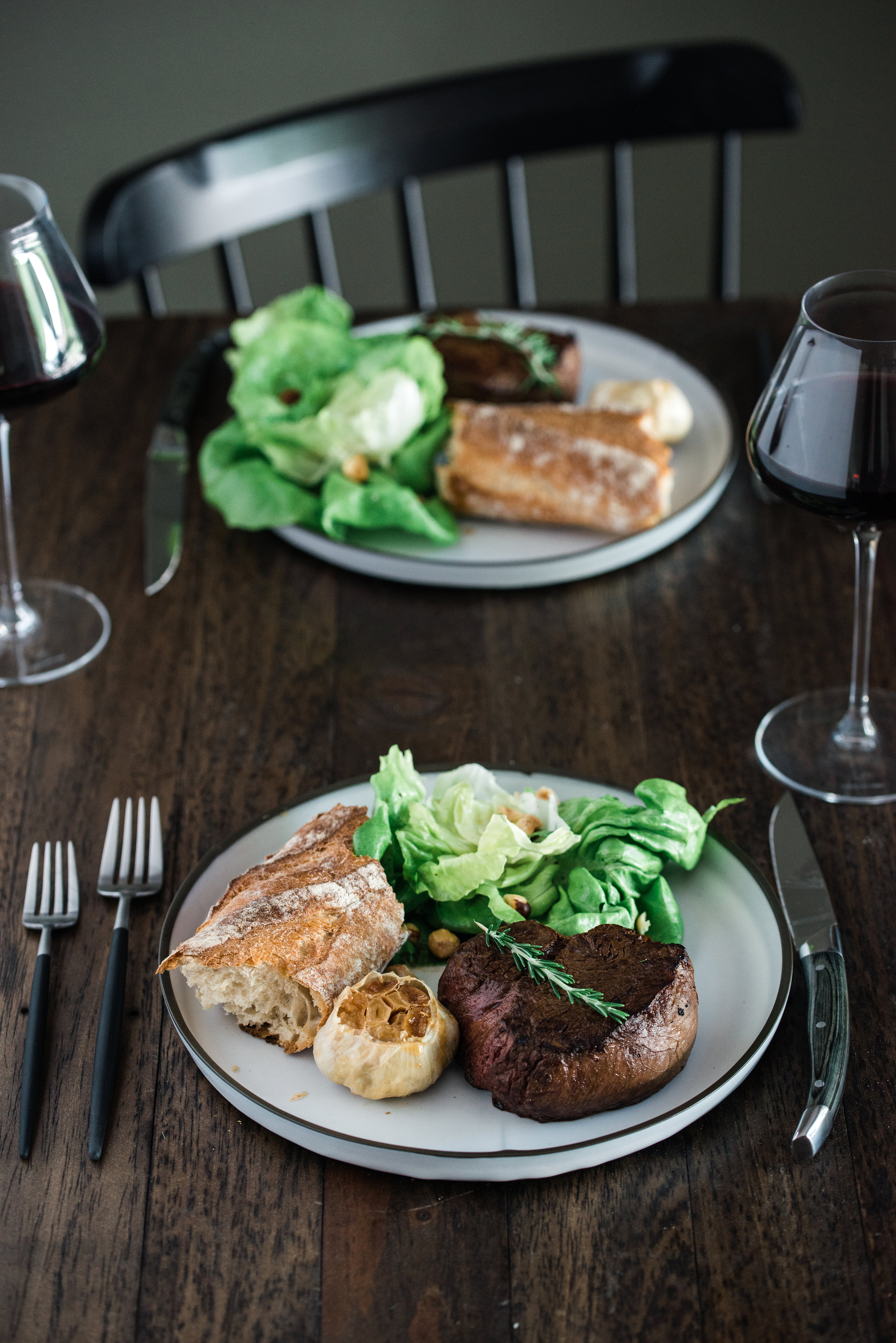 Cast Iron Steak Filets
Ingredients
2

6 Oz

Beef Filets

Room Temperature

1

tbsp

Worcestershire Sauce

Kosher Salt & Freshly Ground Black Pepper
Instructions
Preheat the oven to 400 degrees F.

Heat a medium cast iron skillet over medium-high heat. While pan is heating, coat the filets on all sides with Worcestershire sauce, 1 tablespoon canola oil, salt and pepper. Add the remaining tablespoon of canola oil to the pan and tilt to fully coat the bottom. Add the filets and cook until a crust forms on the bottom, 3 minutes. Flip and let cook on the other side for 4 more minutes.

Transfer the skillet to the oven and cook until a meat thermometer inserted in the center of the filets reads 130 degrees F for medium-rare, 4 to 5 minutes.

Transfer the filets to a serving platter.
Butter Lettuce Salad with Mustard Vinaigrette
Ingredients
Salad
1

head butter lettuce, leaves torn into bite-size pieces

1/4

cup

roughly chopped fresh tarragon

1/4

cup

hazelnuts, toasted and roughly chopped
Vinaigrette
1

tbsp

walnut oil

1/2

tbsp

olive oil

extra virgin

1

tbsp

white wine vinegar

1

tbsp

honey

1/2

tbsp

Dijon mustard

1/4

tsp

kasher salt

small pinch ground black pepper
Instructions
Place the lettuce and tarragon in a large bowl and lightly toss together. Pour the vinaigrette around the edge of the bowl and lightly toss. Garnish with the toasted hazelnuts and serve.

For the vinaigrette: In a bowl, whisk together the walnut oil, olive oil, vinegar, honey, mustard, salt and pepper. Refrigerate until ready to serve.
Whole Roasted Garlic
Ingredients
2

heads

olive oil

extra virgin

Baguette, to serve
Instructions
Preheat the oven to 400 degrees F.

Slice off the top of each head of garlic to expose some of the cloves inside. Place the heads on a piece of foil. Drizzle with oil and wrap in the foil. Roast until cloves are lightly brown and tender, about 30 minutes. Serve with baguette.
Photography by Rebecca Sanabria