Pan-Roasted Halibut with Buratta, Mushroom Conserva, Pickled Cherries and Ramp Oil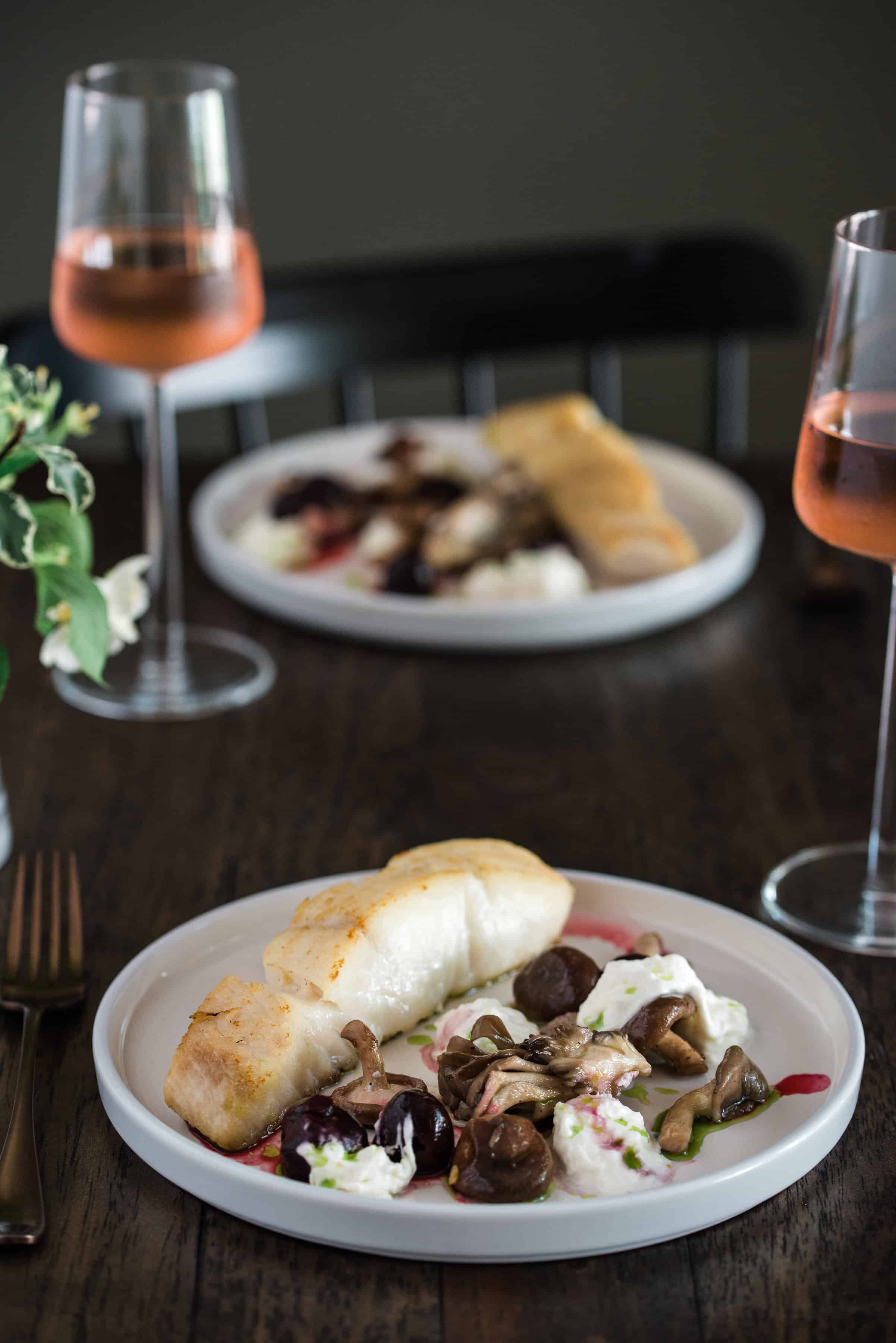 Pan-Roasted Halibut with Burrata, Mushroom Conserva and Pickled Cherries
Recipe courtesy of Tiffani Thiessen
Ingredients
Two 1/2-lb center cut halibut filets, skin off
Extra Virgin Olive oil
Kosher Salt and ground black pepper
Mushroom Conserva (recipe below)
1/2 cup burrata, broken into bite size pieces
Pickled Cherries (recipe below)
Ramp Oil (recipe below)
Directions
Pat fillets dry with a paper towel. Season on both sides with salt and pepper.
Heat a heavy cast-iron skillet over high heat. When the pan is hot, add the oil.
Place the filets in the pan and sear until golden brown, about 3-4 min per side.
Plate the fish adding some of the mushroom conserva, burrata, and pickled cherries alongside. Drizzle the mushroom conserva and burrata with ramp oil.
Serves 2
Mushroom Converva
Recipe courtesy of Tiffani Thiessen
Ingredients
2 pounds assorted mushrooms
2 cups extra virgin olive oil
3 tablespoons sherry wine vinegar
Kosher salt
Fresh cracked black pepper
Directions
Pour the olive oil in a large, wide pot over medium-high heat until the oil reaches 170 degrees F. Add the mushrooms to the pot and gently stir them into the oil. Bring the oil back to 170 degrees F and cook for 5 minutes, gently turning the mushrooms as needed so they cook evenly.
Remove from the heat and stir in the vinegar. Let the mushrooms steep in the oil for 45 minutes. Season with salt and pepper to taste. Serve warm.
To store, transfer the mushrooms and oil to an airtight storage container, making sure the mushrooms are covered by the oil. Will keep for up to 1 month in the refrigerator.
Pickled Cherries
Recipe courtesy of Tiffani Thiessen
Ingredients
1 pound of cherries, stemmed and pitted
¾ cup distilled white vinegar
2 tablespoons sugar
1 cinnamon stick
1 teaspoon coriander seeds
1 teaspoon mustard seeds
1 teaspoon black peppercorns
1 teaspoon Kosher salt
Directions
In a small saucepan, combine 1 cup water, vinegar sugar, cinnamon, coriander, mustard seeds, peppercorns and salt. Bring to a boil, lower heat and simmer, stirring occasionally, about 3 minutes. Remove from the heat and let steep for 5 minutes.
Place cherries in a glass heat-proof jar. Pour the vinegar mixture over the cherries to cover completely. Let sit on the counter to cool, and after an hour or two, cover and place in the fridge. These will taste good after a few hours, but even better after a couple days. Keeps up to a month. When using, serve at room temperature.
Ramp Oil
Recipe courtesy of Tiffani Thiessen
Ingredients
1 bunch ramps, white part removed and roughly chopped
1 pint extra virgin olive oil
Directions
Place ramps in a pint jar, cover with olive oil and place the lid on tightly. Shake jar lightly and refrigerate for at least 1 week.
Place oil and ramps in the blender and blend until pureed. Strain oil through a cheesecloth. Refrigerate your infused oil until ready to use, keeps for up to a week. When using, serve at room temperature.
Photography by Rebecca Sanabria