Miso Honey Salmon + Bamboo Risotto + Honey-Roasted Carrots + Mist & Shadow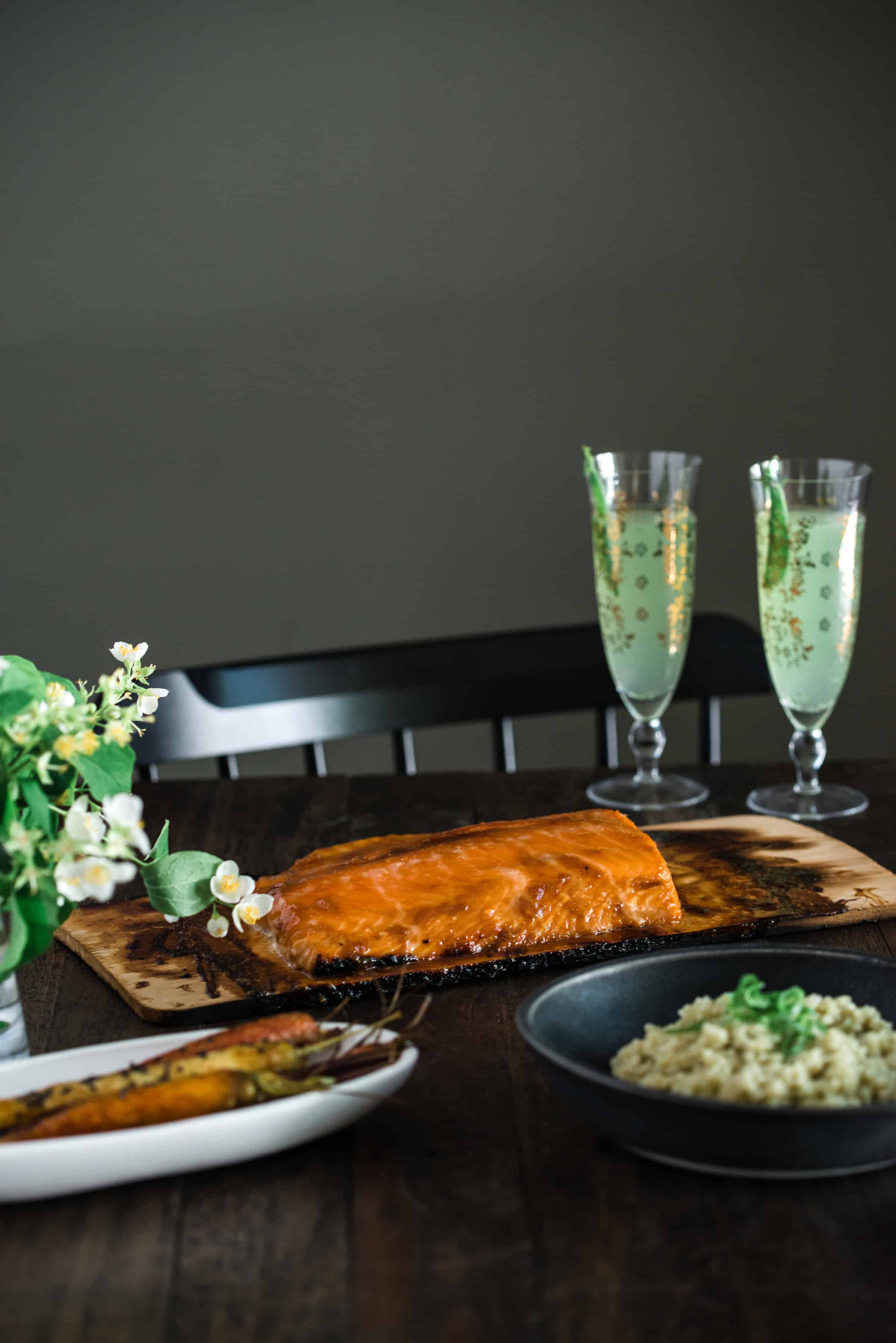 Miso Honey Salmon
Recipe courtesy of Tiffani Thiessen
Ingredients
1/4 cup honey
1 tablespoons fresh lime juice
1 tablespoons red miso
1 tablespoons soy sauce
2 large cloves garlic, grated
l pound skinless salmon fillet, rinsed and patted dry
Salt and pepper
Directions
Special equipment: one 13-by-7-inch cedar plank, soaked for at least 1 hour
Preheat a grill to 350 degrees F over medium-low heat.
Combine the honey, lime juice, miso, soy sauce and garlic in a small bowl and blend well.
Place the salmon on the cedar plank and brush with the sauce to coat. Set the plank on the grill, cover and cook until the salmon just flakes with a fork, 20 to 25 minutes.
Remove the salmon from grill, brush with more sauce and let sit for 5 to 10 minutes. Serve.
Serves 2
Honey-Roast Carrots with Sesame Seeds
Recipe courtesy of Tiffani Thiessen
Ingredients
1 bunch baby carrots, peeled
1 tablespoons olive oil
1 tablespoons honey
3/4 teaspoon kosher salt
1/2 teaspoon freshly ground black pepper
1/2 tablespoon soy sauce
1 teaspoons black sesame seeds
Directions
Preheat the oven to 450 degrees F. Line a baking sheet with foil and put in the oven to heat.
Spread the carrots in a single layer on the hot baking sheet. Combine the olive oil and 1 tablespoon of honey in small bowl and pour over the carrots. Sprinkle with the salt and pepper. Roast the carrots until they start to blister, 10 minutes.
Mix together the remaining 1 tablespoon honey and the soy sauce. Drizzle the mixture over the hot carrots and toss to coat. Sprinkle with the sesame seeds and serve.
Serves 2
Jade Risotto
Recipe courtesy of Tiffani Thiessen
Ingredients
1 1/2 cups of vegetable stock
1/2 cup jade rice
1/2 tbsp ghee
1 tbsp olive oil
2 shallots, minced
1 clove garlic, minced
1/4 cup dry white wine
1/2 cup grated Parmigiano Reggiano
1 tbsp scallions, chopped
Directions
In a small saucepan, bring the broth to a boil over medium heat. Reduce the heat to medium-low and simmer. (You're just keeping the broth warm while you prepare the risotto.)
In a large high-sided skillet or saucepot, melt the ghee and oil over medium heat. Add the shallots and cook, stirring, until soft, 3 to 4 minutes. Add the garlic and cook, stirring, until fragrant, another 30 seconds. Stir in the rice and cook until it is lightly toasted, 1 minute. Pour in the wine and cook until it's almost completely evaporated, about 4 minutes. Reduce the heat to medium-low. Add a ladleful of the warm stock and stir continuously until the stock has been almost completely absorbed. Repeat this step until the rice is al dente- tender but still firm to the bite-and creamy, about 40 minutes. You may not use all the stock. Remove risotto from the heat and stir in the Parmesan.
In a small pot, bring stock to a boil. Reduce heat to simmer and keep ready to use. Over medium high heat, heat ghee and oil in a deep sauté pan.
Add shallots and stir for 2 minutes, or just softened. Add the garlic and sauté another 2 minutes.
Add the rice and stir to coat well with the flavoured oil. Add more oil if needed. Stir for 1 minute.
Add the white wine and cook down till almost evaporated. Reduce heat to medium low.
Using a 1/4 cup measuring cup, take some of the simmering stock and add it to the rice. Stir regularly until the liquid is almost evaporated. Add another 1/4 cupful of stock and repeat. Keep doing this with the simmering stock until the rice is tender. You should have enough stock, but depending on your rice, you may need to supplement with a little hot water. You want the consistency to be of thick porridge.
Add as much of the cheese as you like, and stir to a creamy consistency. If needed, add some stock so that it stays just loose enough to not be stiff.
Garnish with scallions and serve.
Serves 2
Mist & Shadow
Recipe courtesy of Tiffani Thiessen
Ingredients
10 fresh sugar snap pea pods, cut into 1/2-inch chunks plus two for garnish
2 sprigs fresh dill
5 ounces sake
2 ounce St. Germain
1.5 ounce fresh lemon juice
A couple dashes celery bitters
Directions
In a shaker, muddle snap peas and fresh dill with St. Germain. Add a big handful of ice, lemon juice, sake, and bitters. Cover, shake well and double-strain into two tall glasses filled with fresh ice. Garnish and serve.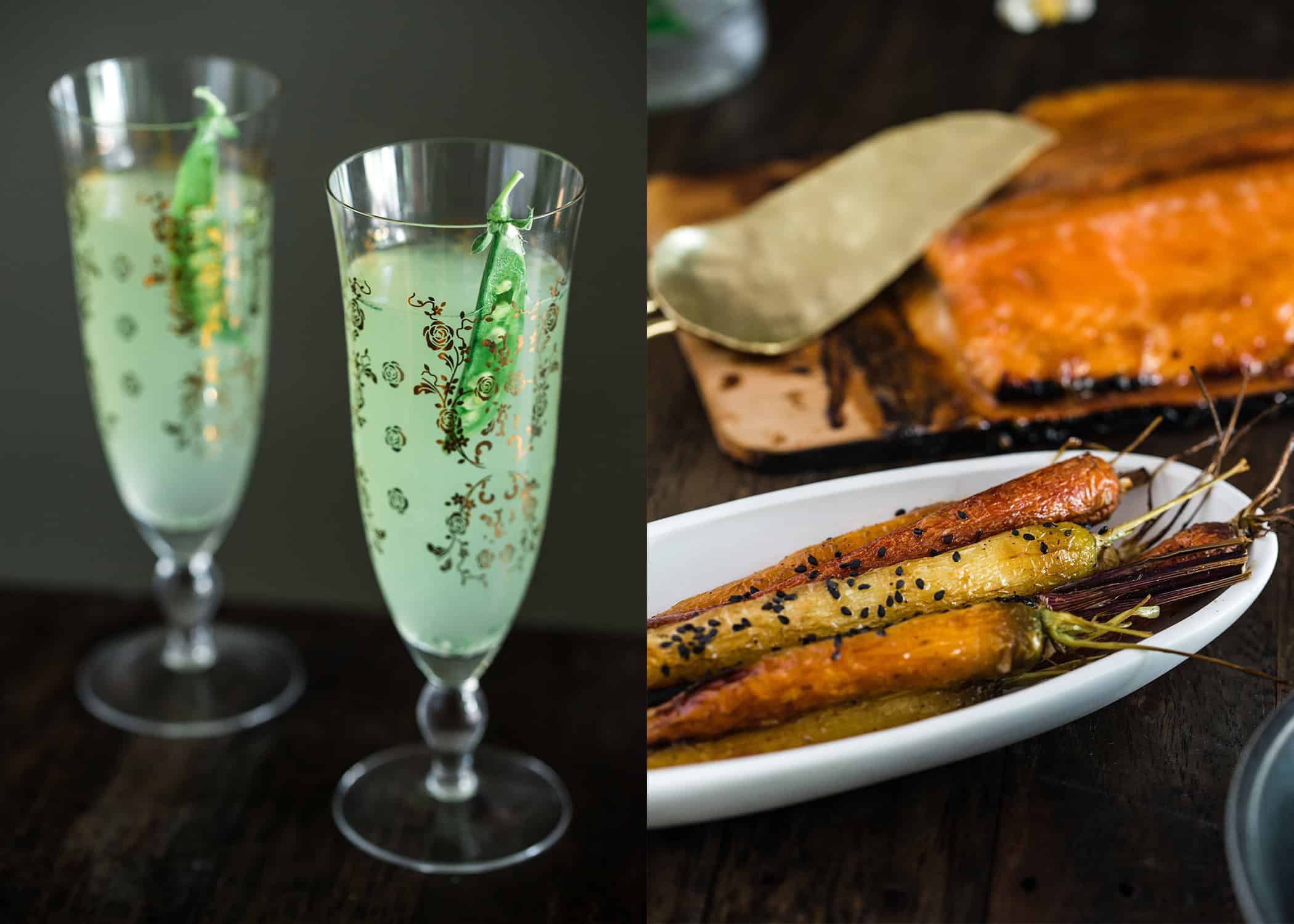 Photography by Rebecca Sanabria