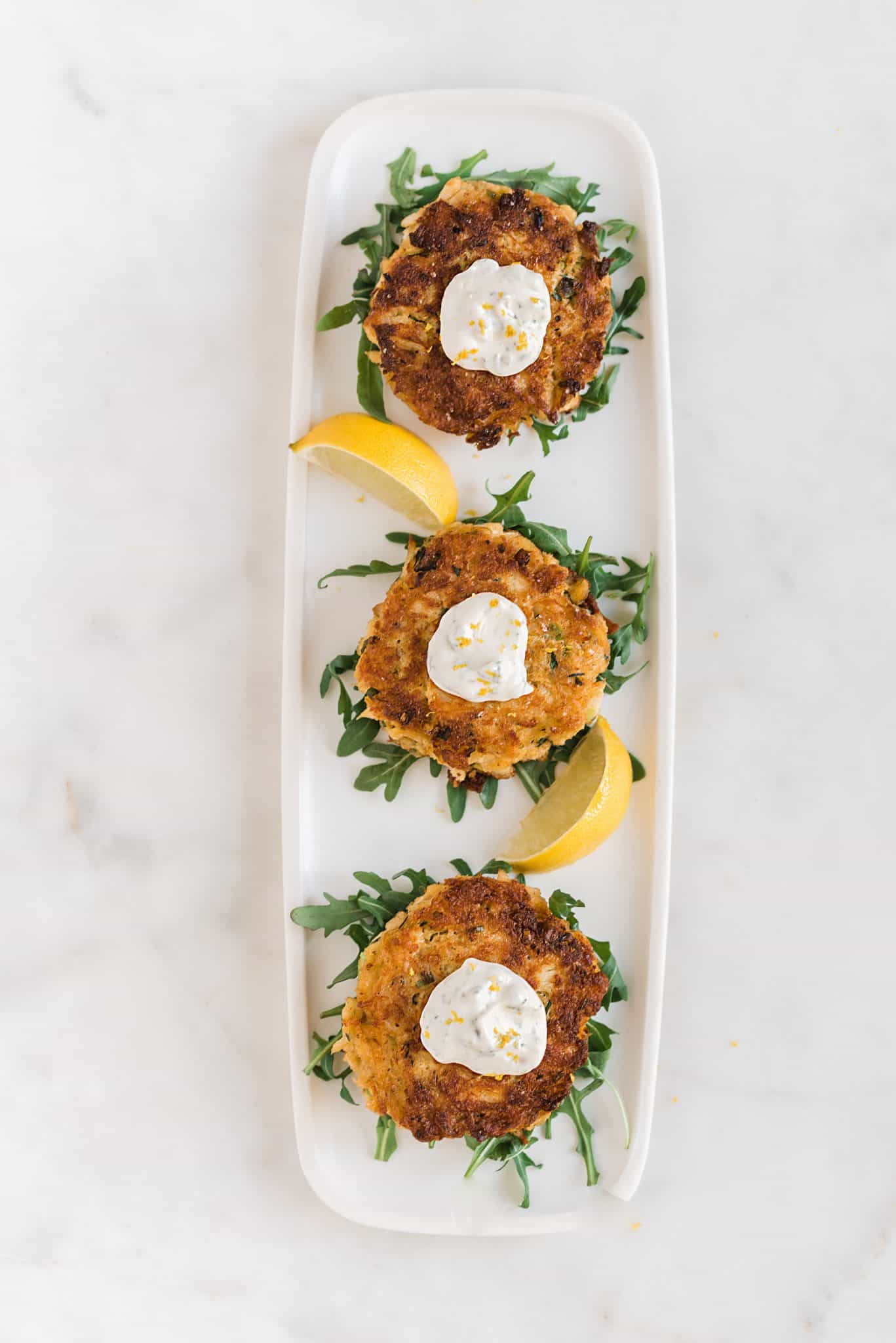 Crab Cakes with Tartar Sauce 
Recipe courtesy of Tiffani Thiessen
Ingredients
Tartar Sauce:
3/4 cup mayonnaise
2 tablespoons minced cornichons (about 3 large) plus 2 teaspoons cornichon brine
2 teaspoons finely chopped fresh parsley
1 1/2 teaspoons finely chopped fresh tarragon
1 tablespoon minced scallion
1 tablespoon minced shallot
Crab Cakes:
1 1/2 pounds jumbo lump crabmeat, picked over to remove any cartilage or shell
8 scallions, green part only, minced (about 1/2 cup)
6 tablespoons mayonnaise
2 teaspoons seafood seasoning, such as Old Bay
1 1/2 tablespoons chopped fresh parsley
4 to 6 tablespoons plain dry breadcrumbs
Kosher salt
Freshly ground white pepper
2 large eggs, lightly beaten
6 tablespoons all-purpose flour
4 tablespoons vegetable oil
Directions
For the tartar sauce: Mix together the mayonnaise, cornichons and brine, parsley, tarragon, scallion and shallot in a small bowl. Cover and refrigerate until the flavors blend, at least 30 minutes (this can be refrigerated for several days).
For the crab cakes: Line a baking sheet with parchment paper. Gently mix the crabmeat, scallions, mayonnaise, Old Bay, parsley, 4 tablespoons of the breadcrumbs and 1/2 teaspoon salt in a medium bowl, taking care not to break up the crab lumps. Season with white pepper and additional salt, if necessary, to taste. Using a rubber spatula, carefully fold in the eggs until the mixture just clings together. If necessary, add more breadcrumbs 1 tablespoon at a time.
Divide the crab mixture into 12 equal portions and shape each into a round cake, about 2 1/2 inches across and 1 inch high. Lay formed crab cakes on the parchment-lined baking sheet. Cover with plastic wrap and chill at least 30 minutes (these can be refrigerated up to 24 hours).
Put the flour on a plate or in a pie tin. Gently place the crab cakes, one by one, into the flour and dust all over with flour to lightly coat. Set the floured cakes on a wire rack.
In a large nonstick skillet, heat the oil over medium-high heat until hot but not smoking. Gently lay half of the floured crab cakes in the skillet and cook until the outsides are crisp and browned, 4 to 5 minutes per side. Repeat with the remaining crab cakes.
Serves 6
Photography by Rebecca Sanabria