Rosemary Fig Roasted Cornish Game Hens + Parsnip Puree + Gold Rush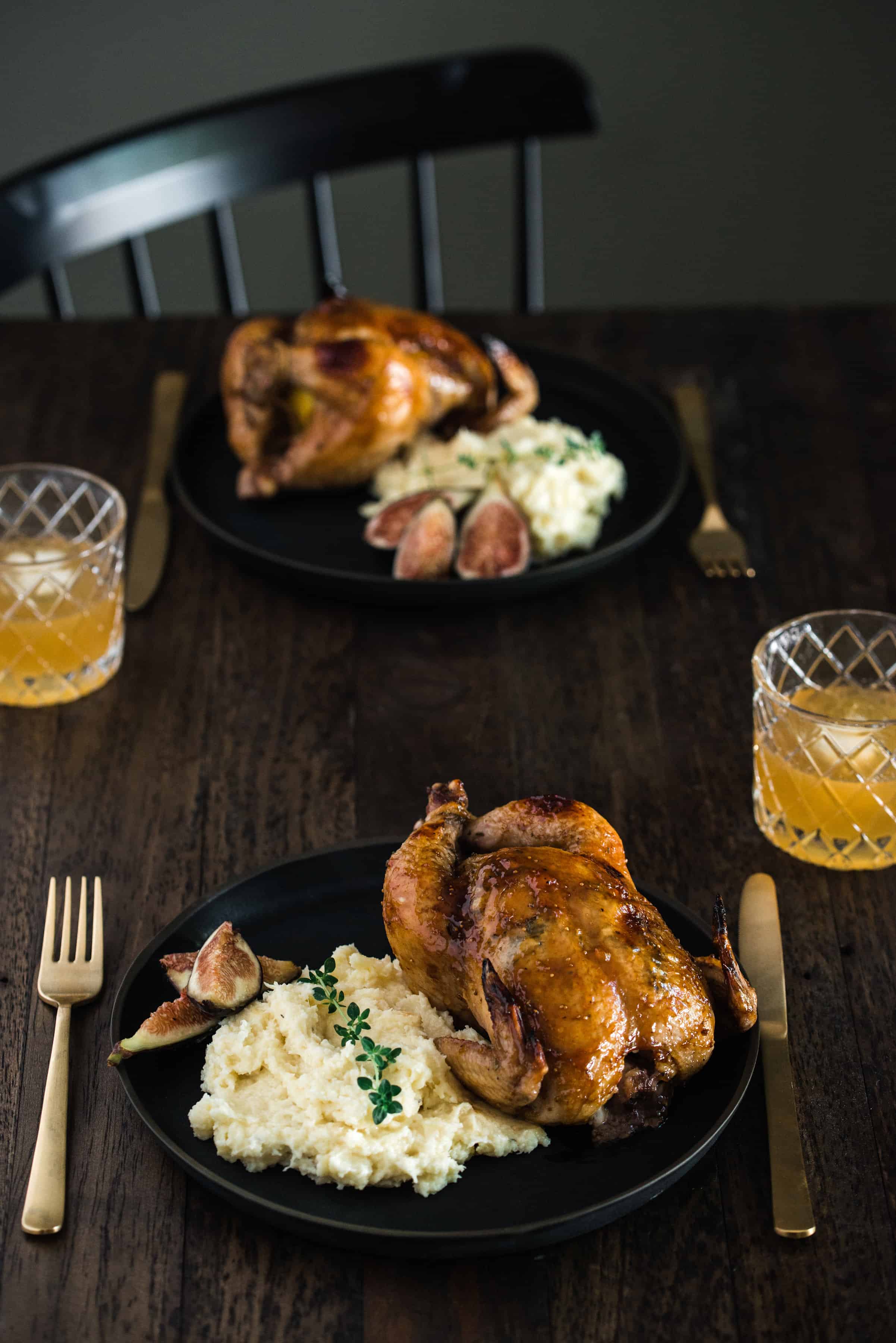 Rosemary Fig Roasted Cornish Hens
Recipe courtesy of Tiffani Thiessen
Ingredients
2 cornish game hens, patted dry
1/2 cup balsamic glaze
3 cloves garlic, minced
3 sprigs rosemary, destemmed and minced
2 tsp kosher salt
1 tsp ground black pepper
1/4 cup unsalted butter, softened
4 fresh figs
1/2 cup fig jam (recipe below)
Directions
Preheat oven to 400 degrees.
In a small bowl combine softened butter, half of the garlic and half of the other herbs, stirring to combine. Using fingers, separate the skin covering the hens' breasts from the meat of the breasts. Rub the butter evenly between the skin and the meat. Pull skin taught to cover the breasts.
In a small sauce pan, combine the fig jam, all the remaining herbs, salt and pepper, and balsamic glaze. Bring the mixture to a simmer and cook until the balsamic is syrupy and sticky like a glaze. Remove from the heat.
Place hens on the roasting rack on their sides with one wing facing up. Baste with a third of the balsamic fig sauce. Roast for 15 minutes. Using tongs, flip the hen so it is sitting with the opposite wing up in the roasting rack. Baste with more glaze and roast for another 15 minutes. Flip the hens once more, so that the breast side is facing up. Baste with remaining glaze and roast for 10 minutes, or until the thigh meat registers 160 degrees. Remove from oven and tent hens with foil. Let rest for 10 minutes before serving.
Serves 2
Fig Jam
Recipe courtesy of Tiffani Thiessen
Ingredients
2 cups black figs, stemmed and quartered (about 12 ounces)
2 cups sugar
1 teaspoon grated lemon zest
2 tablespoons fresh lemon juice (from about 1 lemon)
1 tablespoon balsamic vinegar
Directions
In a large saucepan, combine the figs, sugar, lemon zest and lemon juice and bring to a boil over medium-high heat. Cook, stirring and mashing continuously with a potato masher, for 15 minutes. Stir in the vinegar and cook for another 5 minutes, or until the jam is thick enough to coat the back of a spoon. Be careful not to let the mixture get too thick, as it will thicken further while it cools. Remove the pot for the heat, transfer the jam to a heatproof jar, and let it cool to room temperature, about 2 hours. Cover with a tight-fitting lid and refrigerate. It will keep for up to 2 weeks.
Makes 2 cups
Parsnip Puree
Recipe courtesy of Tiffani Thiessen
Ingredients
1.5lb parsnips, peeled and thinly sliced
1 1/2 cups heavy cream
1 1/2 cups whole milk
4 tablespoons unsalted butter
2 garlic cloves, smashed
4 springs rosemary
4 springs thyme
Kosher salt
Ground white pepper
Directions
In a medium saucepan, bring parsnips, cream, milk and butter to a boil. Tie herbs together with kitchen twine and add to saucepan. Reduce heat, cover and simmer until parsnips are soft and a fork can easily pierce through the parsnips. Remove herb bundle. Place parsnips in bowl and mash, slowly adding the hot milk and cream mixture until you reach your desired consistency; I like it to be mostly smooth but still have a little texture. Season with salt and pepper to taste.
Serves 2
Gold Rush
Recipe courtesy of Tiffani Thiessen
Ingredients
4 ounces bourbon
1.5 ounce freshly squeezed lemon juice
1.5 ounce rosemary honey simple syrup (recipe below)
Directions
In a cocktail shaker, combine all ingredients with ice. Shake to chilled. Strain into an ice-filled old fashioned glass and serve.
Serves 2
Rosemary Honey Simple Syrup
Recipe courtesy of Tiffani Thiessen
Ingredients
1 cup honey
4 tablespoons fresh rosemary leaves
Directions
Combine the honey, rosemary and 2 cups water in a medium saucepan over high heat. Bring the liquid to a boil. Remove from heat, and set aside to infuse for 10 minutes.
Once cooled, remove the rosemary sprig. The syrup will keep in the fridge for about a month.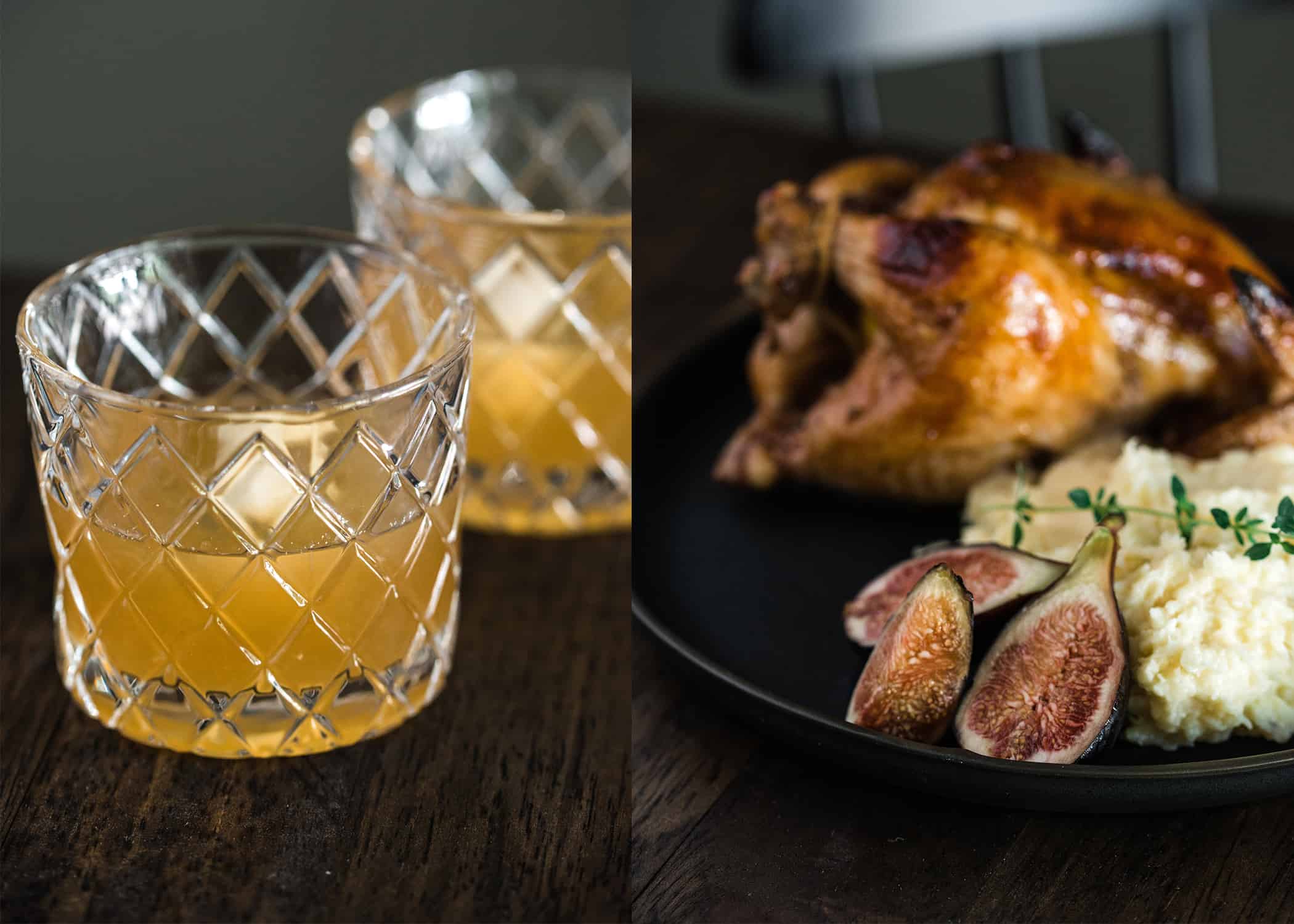 Photography by Rebecca Sanabria