Chicken Cassoulet
Recipe courtesy of Tiffani Thiessen
Ingredients:
1-3 tablespoons extra-virgin olive oil 

8 ounces diced pancetta 

1 pound chicken legs 

1 pound bone-in, skin-on chicken thighs 

2 teaspoons Kosher salt, plus more to taste 

1 teaspoon freshly ground black pepper, plus more to taste 

½ pound mild Italian sausage, chicken, pork or turkey can work 

1 large leek, thinly sliced and well cleaned 

1 medium fennel, medium dice 

2 medium shallots, thinly sliced 

6 cloves garlic, thinly sliced 

2 15-ounce cans Great Northern white beans or cannellini beans, drained and rinsed 

2 cups chicken stock 

1 cup cherry tomatoes (or 1 cup whole peeled tomatoes from a can) 

2 sprigs thyme, leaves removed 

2 sprigs rosemary, leaves removed and finely chopped 

Flakey sea salt, rosemary and thyme leaves, good olive oil and crusty grilled bread, to serve (optional)
Directions:
Preheat oven to 425 degrees F. 
In a 3.5-4 quart braiser or Dutch oven, heat the olive oil over medium heat. Once hot, add the pancetta and cook until deeply golden brown on all sides, about 8 minutes. While the pancetta browns, season the chicken legs and thighs generously with salt and pepper on all sides. Once the pancetta is browned, remove to a paper towel lined plate. 
In the rendered pancetta fat, sear the chicken legs and thighs on both sides, until golden brown and caramelized, about 5-6 minutes per side. Do this in batches, if necessary, to ensure the chicken cooks in one even layer. As space becomes available, sear the sausages on both sides until caramelized, again about 5-6 minutes per side. Remove the chicken and sausages to a sheet tray and remove the pan from heat. If the remaining oil and fat is too dark, pour the fat out and carefully wipe the pan clean, if not, you can continue the recipe with the pan as is. 
Place the pan back over medium heat. If necessary, add another 1-2 tablespoons of oil. When the oil is hot, add the leeks, fennel, and shallots. Season with 1 teaspoon of salt and ½ teaspoon of pepper and stir to combine. Cook for 7-8 minutes until the vegetables are tender and just beginning to brown. Stir in the garlic and cook for another minute, just until fragrant. Stir in the beans, chicken stock, tomatoes, thyme and rosemary leaves, 1 teaspoon salt and ½ teaspoon pepper. Bring the mixture to a simmer. 
While the stock heats, slice the seared sausages into 1-inch rounds. Once the stock is simmering, reduce to low and nestle the seared chicken legs, thighs, pancetta and sausage slices over the top in one even layer. Place the braiser into the preheated oven and cook for about 40 minutes or until the stock has reduced, a deep golden brown crust has formed over the entire top, and the tomatoes have burst. Remove from the oven and let cool for 10 minutes before serving. If desired, serve the cassoulet with flakey sea salt to taste, a drizzle of good olive oil, additional fresh thyme or rosemary leaves and crusty grilled bread. 
Serves 6-8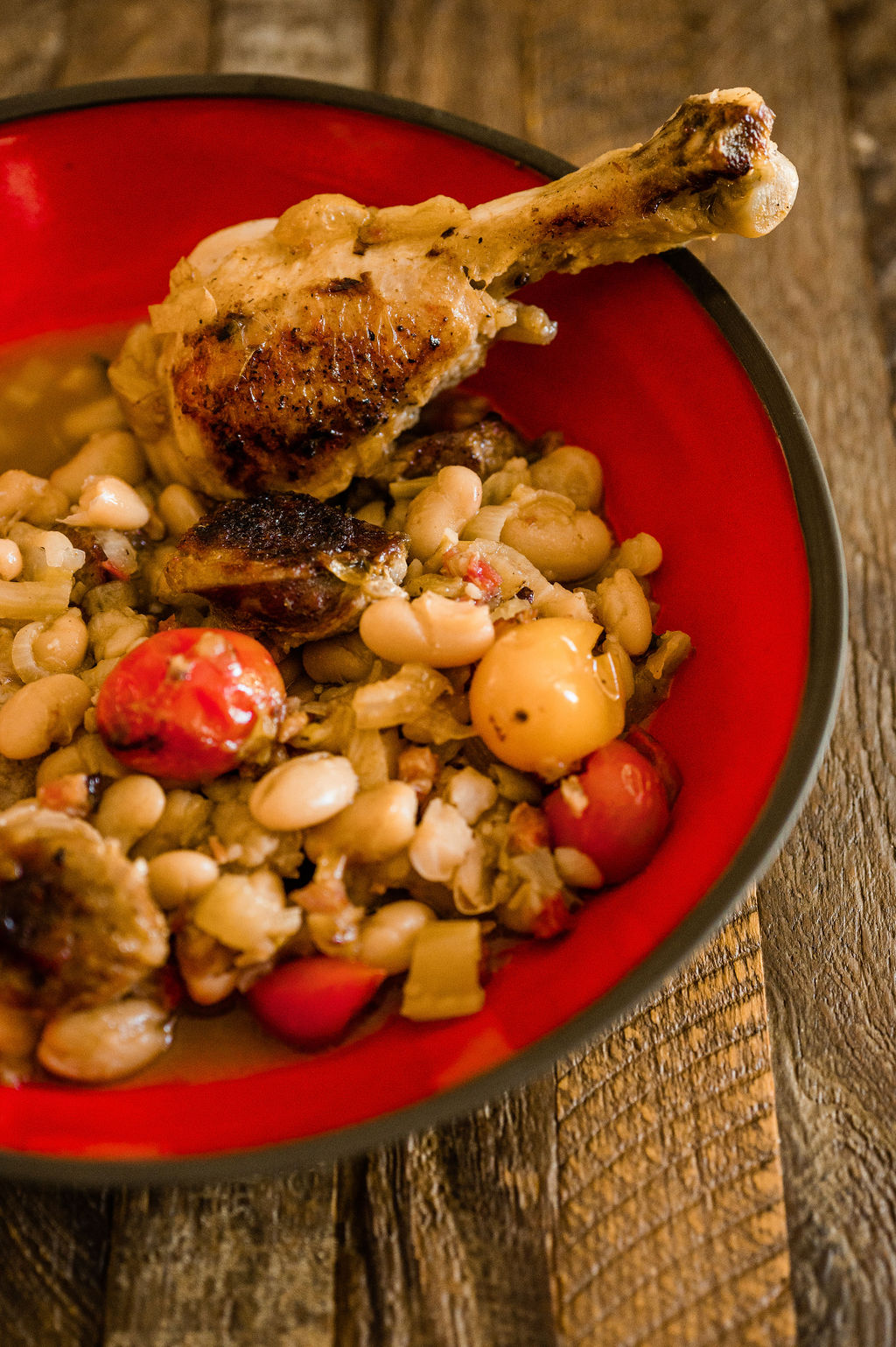 Photography by Rebecca Sanabria