Roasted Cauliflower Soup with Hazelnut & Parsley Pesto + Olive and Thyme Focaccia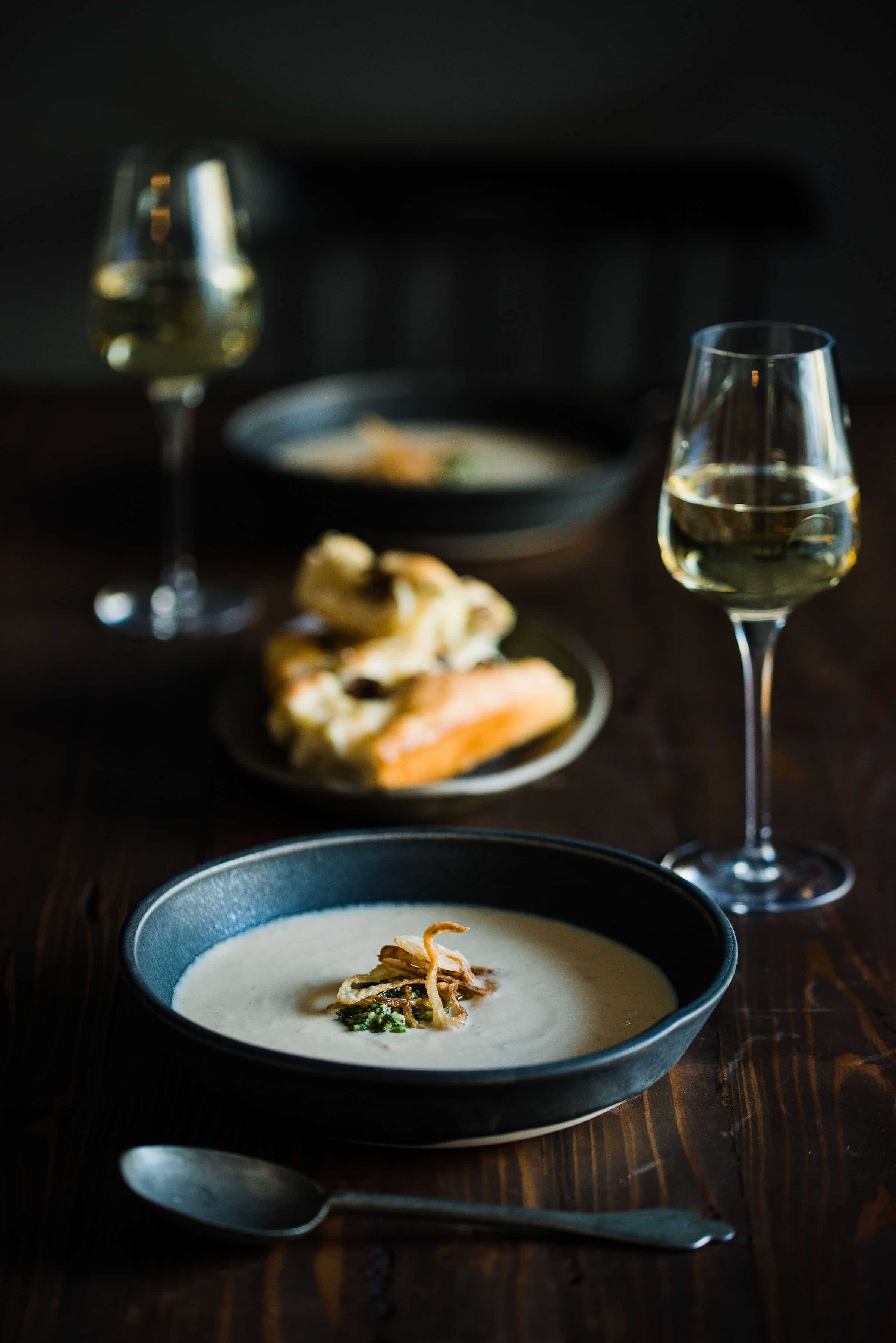 Roasted Cauliflower Soup with Hazelnut and Parsley Pesto 
Recipe courtesy of Tiffani Thiessen
Ingredients
1 head cauliflower, cut into florets
1 yellow onion, cut into 6 wedges
1 fennel bulb, core removed and cut into 6 wedges
4 cloves garlic
2 tablespoons olive oil
Kosher salt, to taste
3 cups vegetable stock
1/2 cup heavy cream
2 tablespoons red wine vinegar
Hazelnut and parsley pesto, to garnish (recipe below)
Crispy shallots, to garnish
Directions
Preheat oven to 425 degrees F. Place cauliflower, onion, fennel and garlic on a baking sheet. Toss with olive oil, salt and pepper. Roast for 30-35 minutes or until the vegetables are tender and slightly caramelized. Remove from oven and slightly cool.
In a saucepan over medium heat, bring the vegetable stock to a simmer. Combine the roasted vegetables and warm stock in a blender. Remove the top stopper from the blender to create a vent and place a kitchen towel over the hole. Blend, starting on low speed and turning it up to high until completely smooth. Once blended, pour back into your saucepan and heat. When ready to serve, stir in the cream, vinegar and salt and pepper to taste. Serve with pesto and crispy shallots.
Serves 2
Hazelnut and Parsley Pesto

Recipe courtesy of Tiffani Thiessen
Ingredients
1/4 cup toasted hazelnuts

 

1/4 cup parsley leaves

 

Juice of 1 lemon

 

2 cloves garlic

 

1/4 teaspoon red pepper flakes

 

2-3 tablespoons olive oil

 

Kosher salt, to taste

 
Directions
In a small food processor or in a mortar and pestle, combine the hazelnuts, parsley, lemon juice, garlic and red pepper flakes. Pulse until the ingredients are coarsely chopped. Add in the olive oil until the mixture just becomes a thick paste. Season with salt and pepper to taste.
Makes 1/2 cup
Olive and Thyme Focaccia
Recipe courtesy of Tiffani Thiessen
Ingredients
1 1/3 cup warm water (110 degrees F), divided
1 teaspoon active dry yeast
2 1/4 cups all purpose flour
2 1/2 teaspoons Kosher salt, divided
1/4 cup plus 1 tablespoon olive oil, divided
12 green olives, pitted and halved
3 sprigs thyme
Flakey sea salt, to taste
Directions
Stir the yeast into 1 cup warm water and let stand 10 minutes or until foamy.
In another bowl, whisk together the flour and 1 teaspoon salt. Add the yeast mixture to the flour and stir to combine. When the dough comes together knead it on a lightly floured surface until the dough is smooth, about 5 minutes. Grease a large bowl with 1 tablespoon olive oil and add dough to the bowl. Cover with a kitchen towel and let rise 2 hours.
Grease an 8×8 inch baking pan with the remaining olive oil. Stretch the dough so it fits into the pan. Lightly press your fingers into the dough to create dimples.
Whisk together 1/3 cup warm water and 1 1/2 teaspoons kosher salt until the salt is dissolved. Pour the salted water evenly over the dimpled dough. Evenly spread the olives over the dough, pressing them in lightly and then finally top with thyme leaves. Cover with a kitchen towel and let the dough rise again for 1 hour.
Preheat oven to 425 degrees F. Evenly pour the remaining 2 tablespoons olive oil over the dough. Bake for 30 minutes or until the bread is golden brown on top and the bread feels firm when pressed in the center. Remove from oven and let cool 5 minutes. Remove from the pan, sprinkle with flakey sea salt and serve.
Serves 4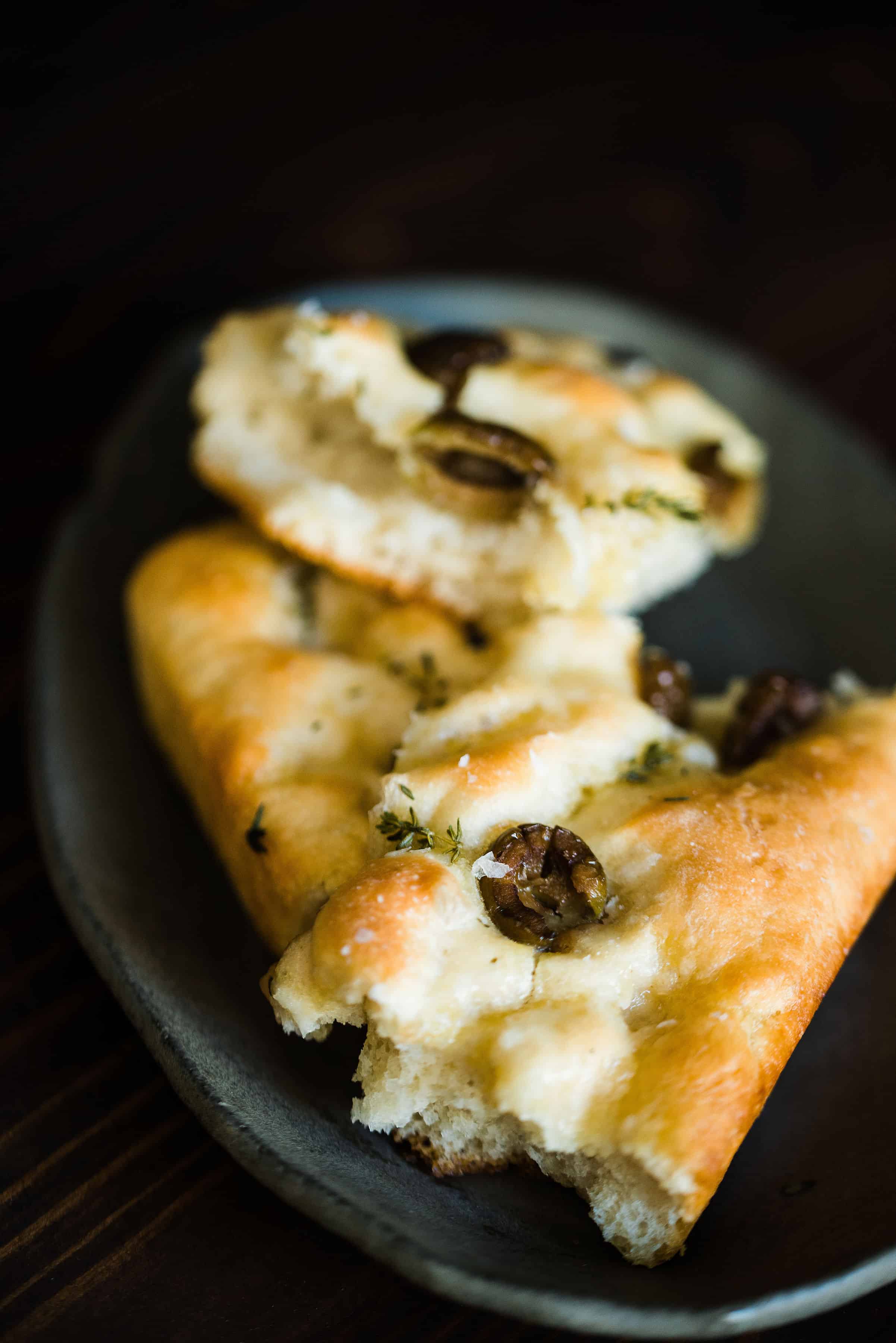 Photography by Rebecca Sanabria