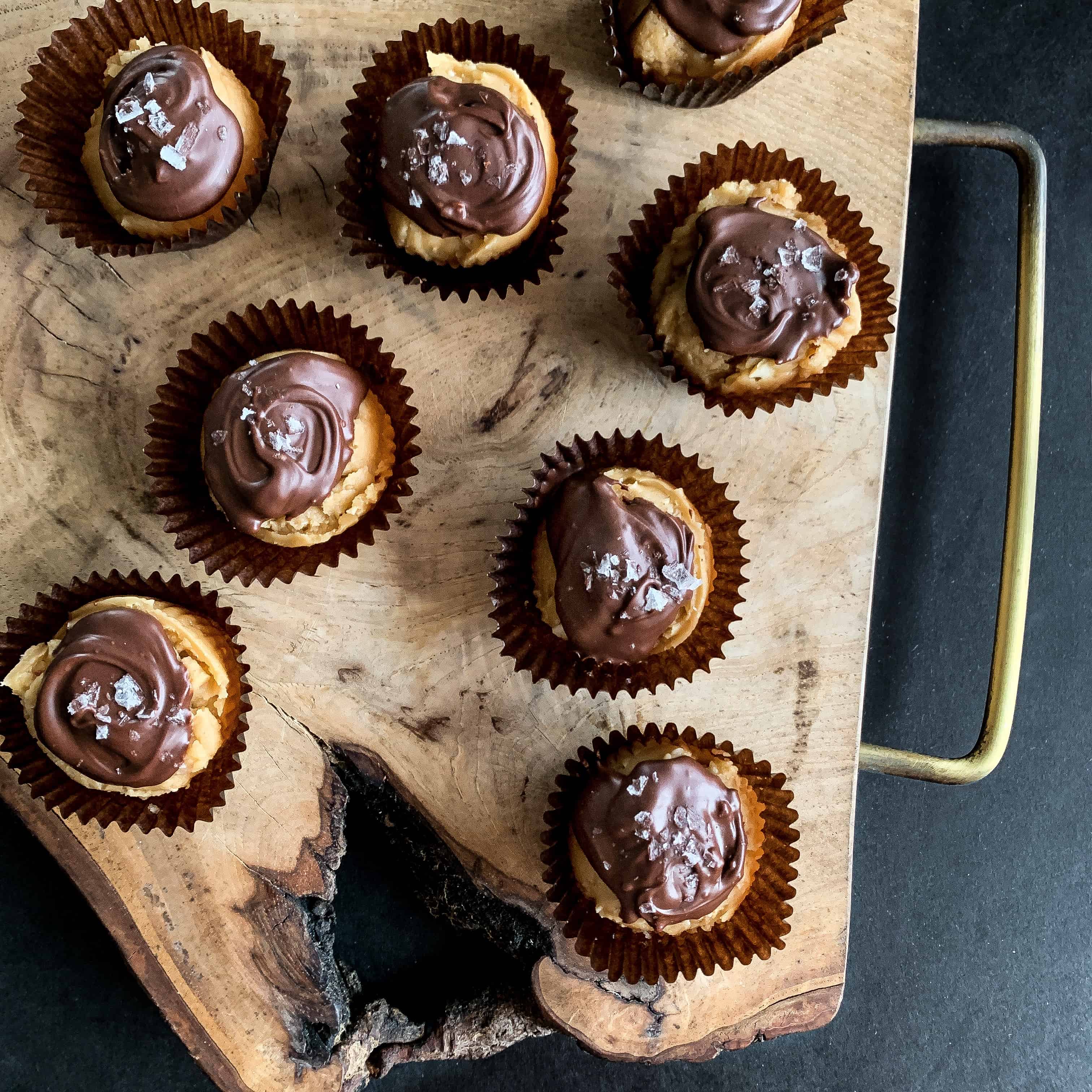 Ganache Glazed Cashew Butter Fudge 
Recipe adapted from Justin Burke-Samson
Ingredients
1 stick unsalted butter
2 cups packed light brown sugar
1/2 cup half-and-half
1 cup cashew butter
1 cup chopped cashews (optional)
2 teaspoons kosher salt
1 teaspoon pure vanilla extract
3 cups confectioners' sugar
Ganache Glaze (recipe below)
Flaky sea salt, for garnish
Directions
Lightly grease an 8×8-inch-square baking dish and line it with parchment paper, leaving a 2-inch overhang on 2 sides.
In a medium saucepan, melt the stick of butter over moderate heat. Add the brown sugar and half-and-half and bring to a boil, stirring occasionally, then continue to boil for 2 minutes without stirring. Remove from the heat and whisk in the cashew butter, salt and vanilla until well combined.
Put the confectioners' sugar in a large bowl. Pour the hot cashew butter mixture over the sugar and whisk until no streaks remain. It will look clumpy, just keep stirring. Fold in chopped cashews. Scrape the fudge into the prepared baking dish and smooth the top. Fold the parchment over the warm fudge, press it directly onto the surface and refrigerate until completely chilled, about 2 hours.
Using the parchment, lift the fudge out of the baking dish, garnish with flaky salt and cut into rounds with a small cookie scooper. Top with Ganache Glaze and flaky sea salt.
Ganache Glaze 
Recipe courtesy of Justin Burke-Samson
Ingredients
1 cup heavy cream
2 tablespoons butter
1 1/2 cups chocolate chips (milk, semi-sweet or dark)
2 tablespoons brewed coffee
Flaky sea salt, for garnish
Directions
Add heavy cream and butter to a small saucepan and heat on low heat until the butter has melted and the cream is warmed throughout.
Add chocolate chips to a large glass or nonreactive bowl. Pour the warmed cream and butter mixture over the chocolate chips. Add in the brewed coffee and a pinch of salt. Allow to stand for about 3-5 minutes to soften the chocolate chips completely.
Stir briskly to combine and until smooth.
Allow to cool slightly before using.
Photography by Jen Lover