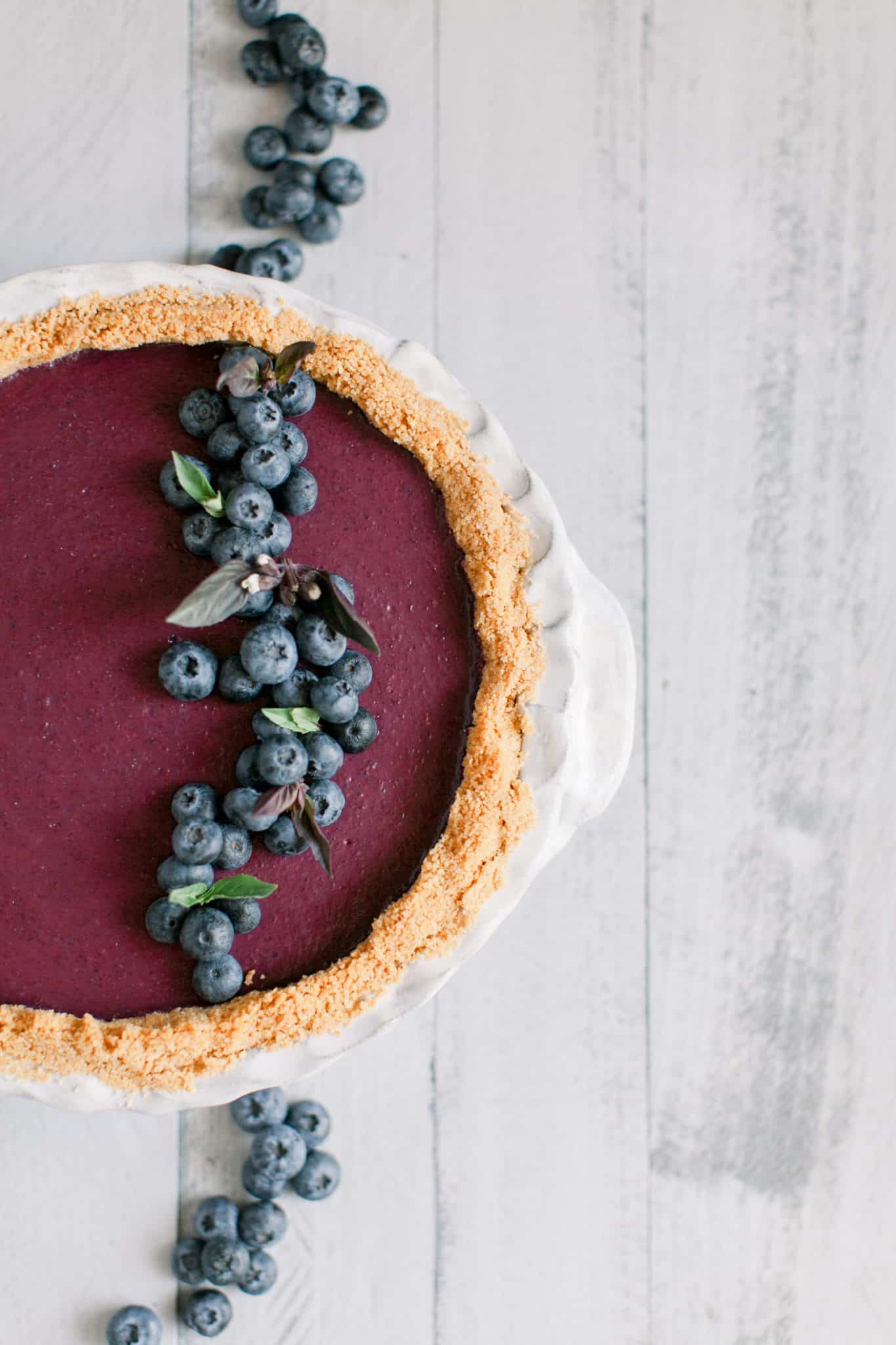 Blueberry Thai Basil Tart
Recipe courtesy of Tiffani Thiessen
Ingredients
Crust:
13 whole graham crackers
3 tablespoons sugar
1/8 teaspoon kosher salt
1 stick (8 tablespoons) unsalted butter, melted
Filling:
4 cups blueberries, plus more for garnish

small handful thai basil, plus more for garnish

3 tbsp maple syrup
1 tbsp + 1 1/2 tsp lime juice
1/2 cup coconut milk
1 tbsp corn starch
1 tsp gelatin
Directions
For the crust: Preheat the oven to 325 degrees F. Pulse the graham crackers in the work bowl of a food processor until finely ground, about 30 seconds; you should have about 1 1/2 cups of crumbs. Add the sugar and salt and pulse to combine. Add the melted butter and pulse until the mixture resembles wet sand.
Press the crumbs evenly into the bottom and up the sides of an 8-inch pie plate. Bake until the crust is lightly browned, 15 to 18 minutes. Allow to cool completely.
For the filling: In a food processor, purée blueberries with basil leaves. In a bowl, pour the blueberry mixture through a sieve. Then add the coconut milk, maple syrup and lime juice and stir until combined. With a whisk, stir in corn starch and gelatin. Place blueberry filling in a medium saucepan and bring to a brief boil, stirring continuously, about 5 minutes. Pour into a heat resistant bowl and cool until lukewarm, stirring occasionally. Once cooled, pour filling into the tart crust. Place tart in refrigerator to set overnight. Garnish with remaining berries and basil and serve.
Serves 6-8