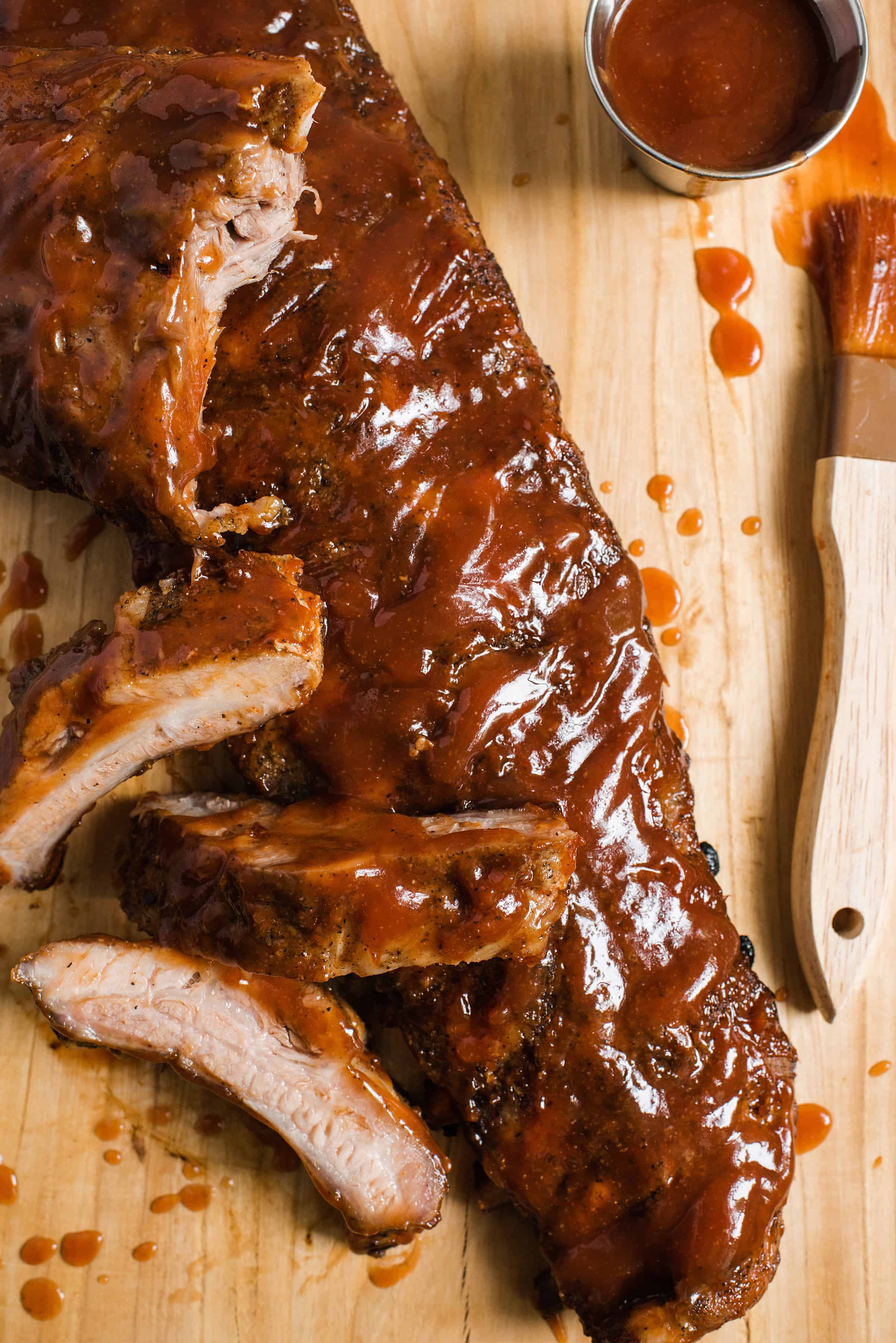 Balsamic Glazed Barbecue Ribs
Recipe courtesy of Tiffani Thiessen
Ingredients
Ribs:
2 racks baby back ribs
1/2 cup dark brown sugar
1 1/2 tablespoons freshly ground black pepper
1 tablespoon kosher salt
1 1/2 teaspoons paprika
1 teaspoon garlic powder
1 teaspoon onion powder
1/2 teaspoon cayenne pepper (optional)
Barbecue Sauce:
1/4 cup plus 2 tablespoons dark brown sugar
1 teaspoon garlic powder
3 cups ketchup
1 1/2 cups apple cider vinegar
2 tablespoons balsamic vinegar
1/2 teaspoon kosher salt
Directions
For the ribs: Pat the ribs dry with paper towels. Combine the brown sugar, black pepper, salt, paprika, garlic powder, onion powder and cayenne pepper, in a small bowl. Completely coat both sides of ribs with the dry rub, pressing it into the meat. Wrap each rack tightly in aluminum foil and refrigerate for at least 6 hours and up to overnight.
Preheat the oven to 300 degrees F. Put the foil-wrapped ribs on a baking sheet and bake for 2 hours. Cool for 15 minutes, then carefully remove and discard the aluminum foil.
For the barbecue sauce: Meanwhile, put the sugar and garlic powder in a medium saucepan. Mix well together to break up any lumps. Stir in the ketchup, cider vinegar, balsamic vinegar and salt and bring to a simmer over medium heat. Cook, stirring occasionally, until the sugar is melted and the sauce thickens slightly, about 5 minutes. Makes 3 1/4 cups sauce.
Preheat a grill to medium-high heat. Brush the ribs liberally with the barbecue sauce and grill until the sauce starts to darken, about 10 minutes. Cut into individual ribs and serve warm with any extra barbecue sauce on the side.
Serves 4-6