Apple Strudel
Recipe courtesy of Tiffani Thiessen
Ingredients:
2 large apples, peeled, cored and diced
1 tablespoon fresh lemon juice
1/4 cup plus 2 tablespoons pecans, chopped
1/4 cup raisins
1/4 cup brown sugar
2 tablespoons cold butter, cubed
1 tablespoon flour
1/2 teaspoon cinnamon
4 ounces cream cheese, softened
1/4 cup sugar
1 teaspoon vanilla bean paste
1 sheet frozen puff pastry, thawed
1 egg, beaten
2 tablespoons turbinado sugar
Directions:
Preheat oven to 375 degrees.
In a medium bowl, toss apples with lemon juice until evenly coated. Add 1/4 cup pecans, raisins, brown sugar, butter, flour and cinnamon and stir to combine.
In a small bowl, combined cream cheese, sugar and vanilla until smooth.
Carefully unfold thawed puff pastry onto a baking sheet lined with parchment paper. Using a lightly flowered rolling pin, roll dough to about 1/8 inch thick, ending up with roughly a 12×14 rectangle. Down the center third, spread the cream cheese mixture in an even layer. Then mound the apples along the length of the cream cheese.
Using a sharp knife, cut diagonal 1 inch strips on both sides of the dough, keeping about 1/2 inch from the filling. Start at the top and fold the strips over the apples, alternating left and right, braiding the dough until fully covered. Tuck ends underneath. See picture below.
Brush lightly with egg than sprinkle with turbinado sugar and remaining 2 tablespoons of pecans. Bake for 30 minutes until golden brown and bubbling.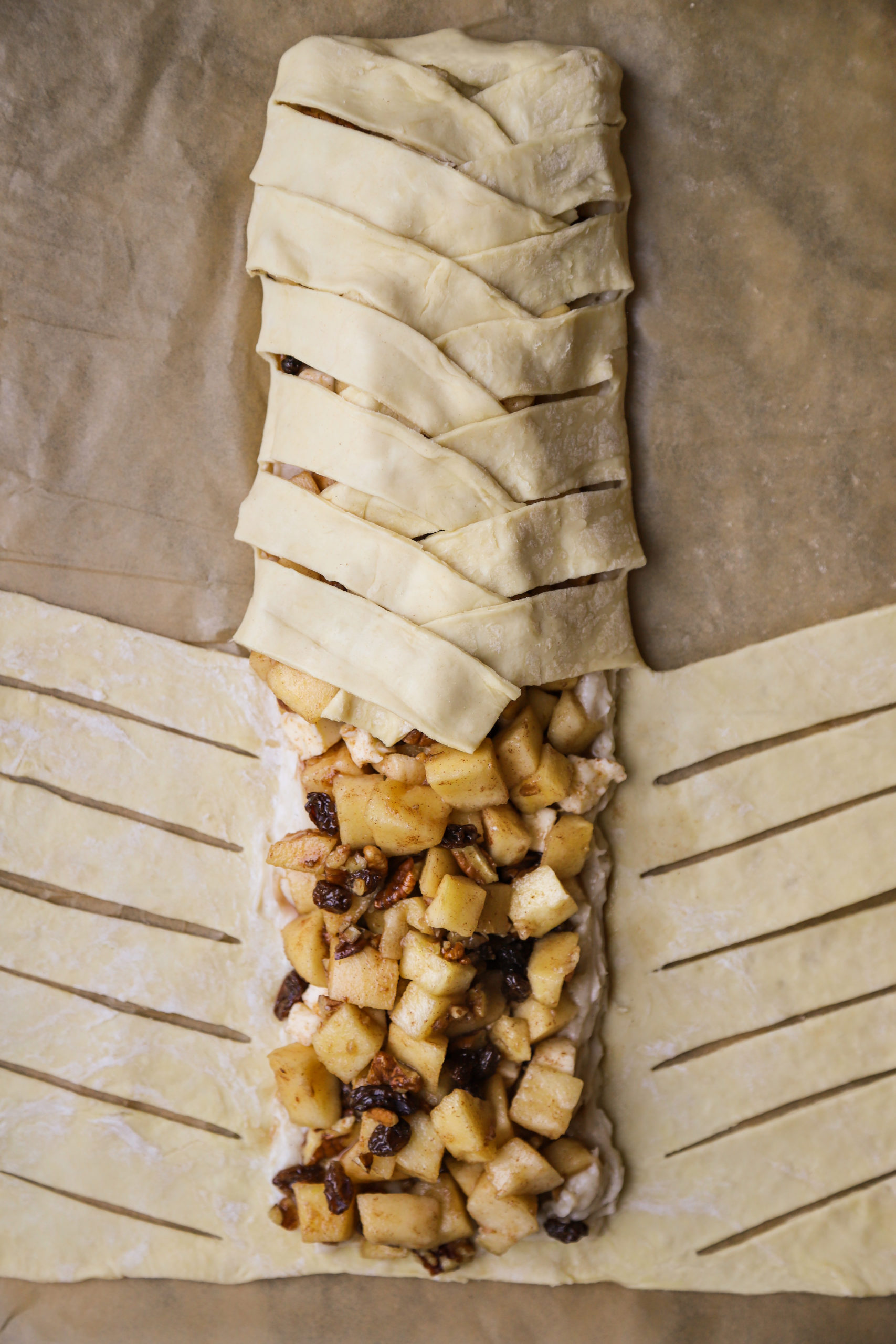 Photography by Jen Lover