This post is sponsored by Keurig®. All opinions are my own.
During the hectic holiday season I need a good cup of coffee and I need it fast which is why I love my Keurig® K55 brewer. Not only is the brewer a perfect gift for the coffee lover in your life, it's also ideal for those looking to make at-home entertaining easier. Setup a Keurig® beverage bar complete with seasonal coffee, tea and hot cocoa for holiday gatherings and you'll impress guests by having their favorite beverages ready in just minutes.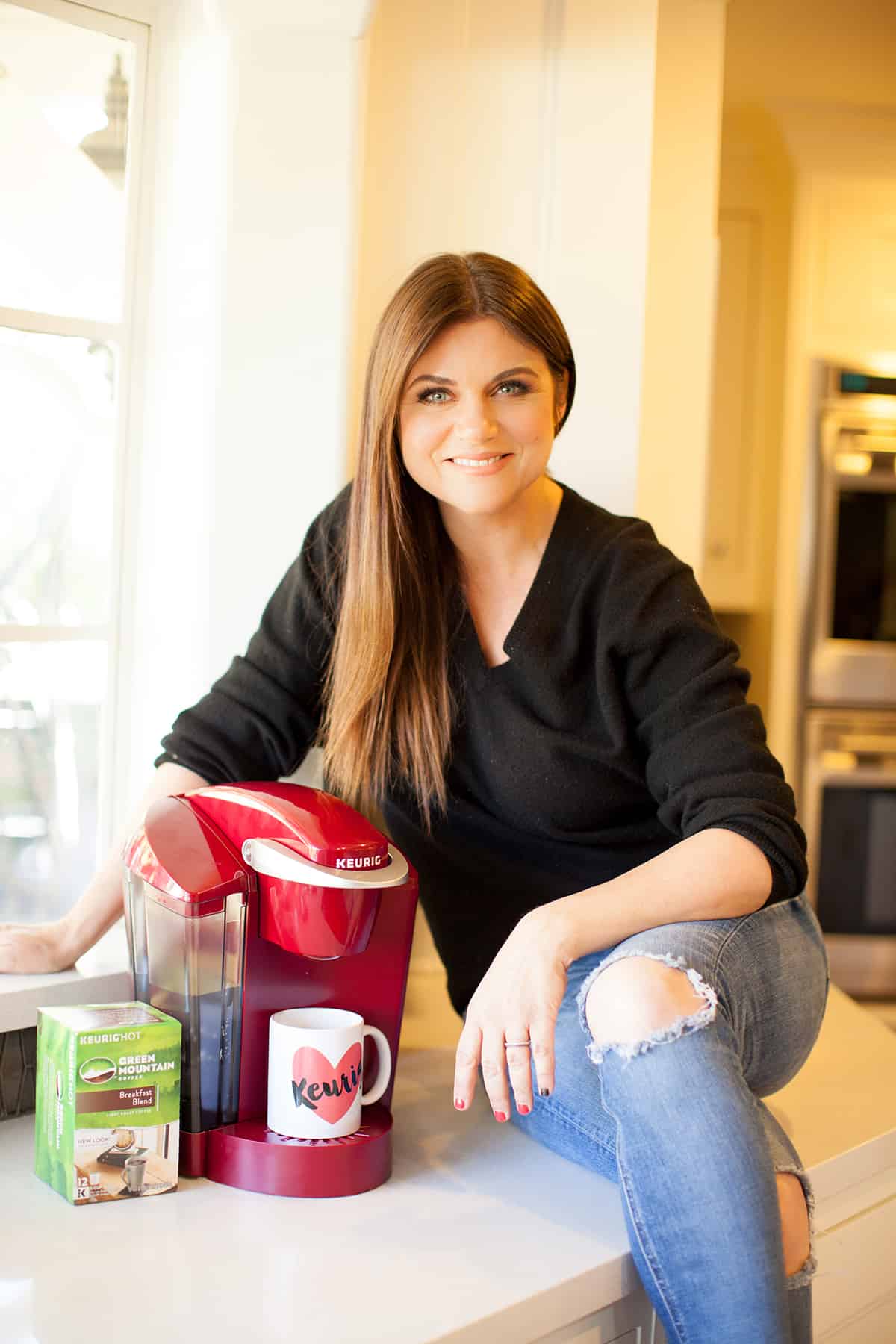 Did you know you can use coffee brewed from a Keurig® to create delicious seasonal recipes? I created some fun and festive coffee recipes with my Keurig® that are perfect for holiday parties or just for that late afternoon pick me up. (Mine is usually around 3pm, ha!)

White Chocolate Peppermint Latte
Recipe courtesy of Tiffani Thiessen
Ingredients
6 oz coffee (I like Green Mountain Coffee® Breakfast Blend)
2/3 cup milk
2 oz white chocolate
½ tsp vanilla extract
½ tsp peppermint extract
fresh whipped cream; for garnish
chocolate shavings; for garnish
1 peppermint stick; for garnish
Directions
In a small pot over medium heat combine milk and white chocolate and let it heat till the chocolate has fully melted. Be careful not to scold your milk. Then add your vanilla and peppermint extract. In a mug pour your fresh brewed coffee. Then add your milk and chocolate mixture. Garnish with fresh whipped cream and chocolate shavings. Then place your peppermint stick and serve while warm.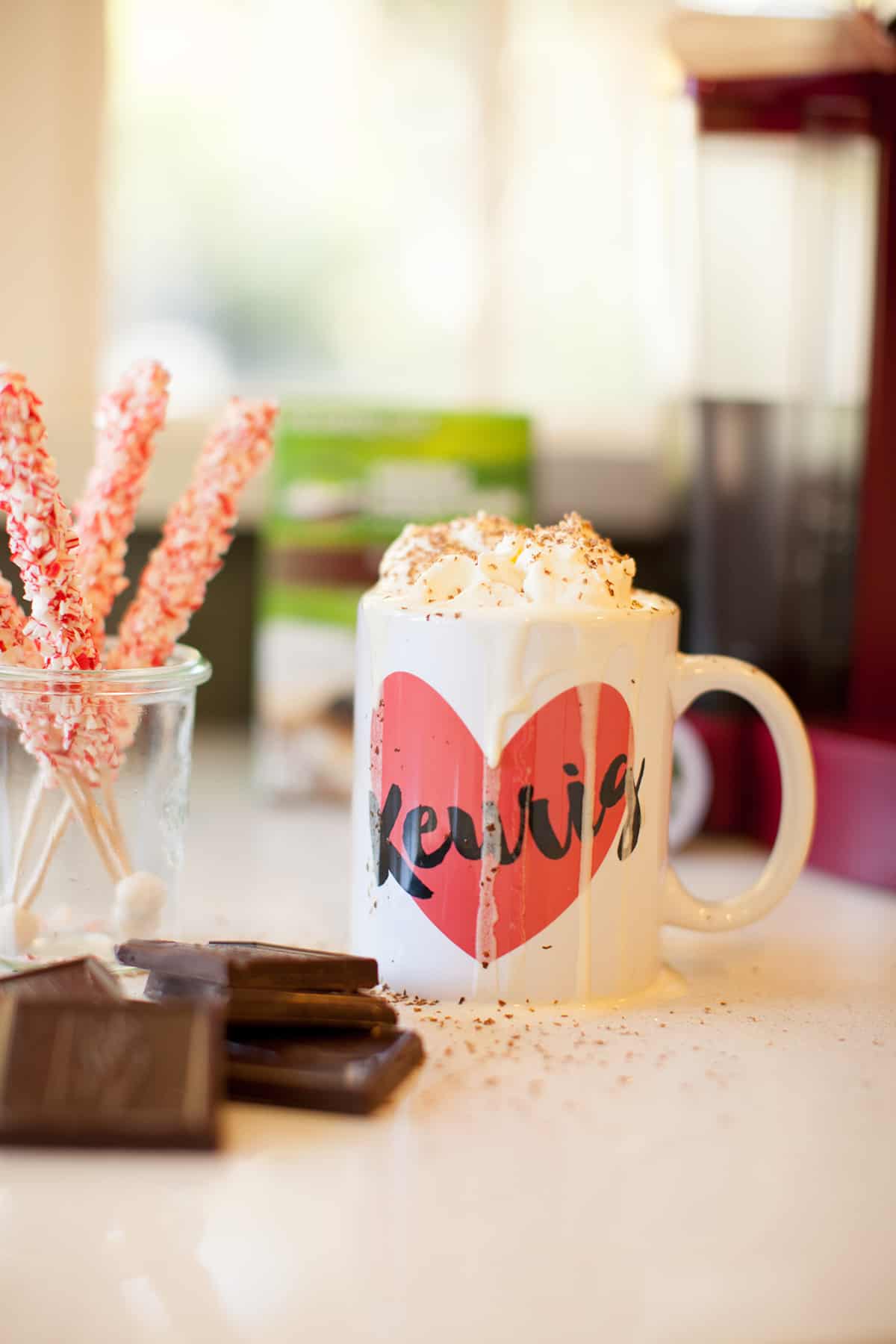 Bourbon Caramel Coffee
Recipe courtesy of Tiffani Thiessen
Ingredients
2/3 cup medium roast coffee (I like The Original Donut Shop® Coffee)
1/3 cup whole milk; warm
3 tbsp bourbon caramel sauce (recipe to follow)
fresh whipped cream; for garnish
fresh grated nutmeg; for garnish
Directions
In a mug, pour fresh bourbon caramel sauce at bottom. Then pour your fresh coffee and warm milk and stir. Top with fresh whipped cream and grated nutmeg.
For the Bourbon Caramel Sauce
Ingredients
2/3 cup sugar
1/3 cup water
1 tbsp butter
1/3 cup heavy whipping cream
1 tsp vanilla
1/4 tsp sea salt
3 tbsp Bourbon
Directions
For the caramel: Heat the sugar and water in a medium, heavy-bottomed pan over medium-high heat. Boil, swirling the pan (not stirring) until the mixture turns a golden amber color. Remove from heat, immediately add the butter and swirl to combine taking care to keep the pan at a distance as the liquid bubbles up and foams. When the bubbling has subsided and the butter and caramel are combined, add the cream, vanilla and bourbon and stir to incorporate. Set aside to cool.