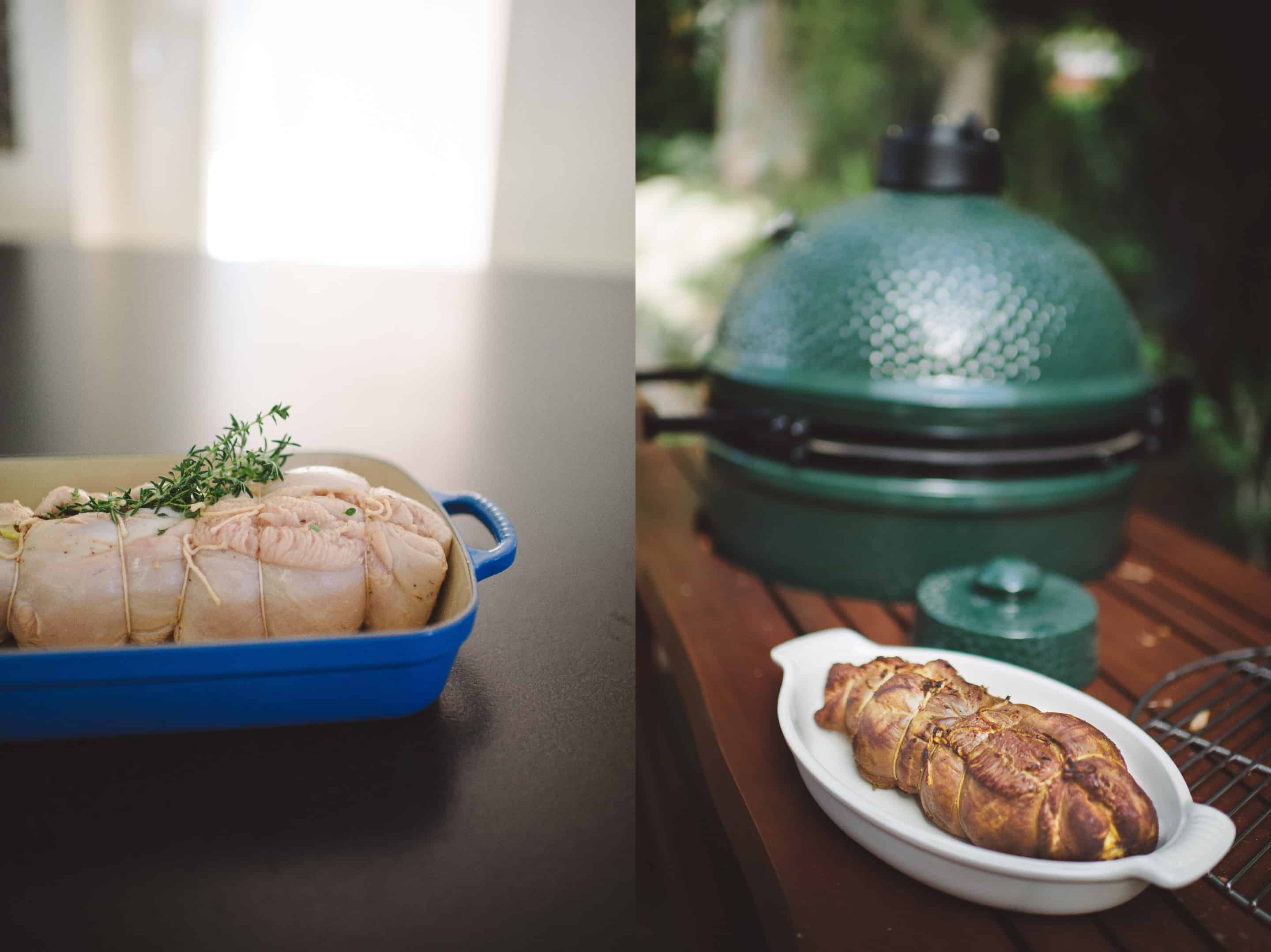 Smoked Turkey Breast
Recipe courtesy of Tiffani Thiessen
Ingredients
1 ½ gallons water
1 cup apple cider vinegar
¾ cups sea salt
½ cup pure maple syrup
3 fresh thyme springs
3 fresh rosemary springs; additional for smoking/li>
3 dried bay leaves
½ head of garlic; halved
3-4 pound turkey breast
1-2 pounds of apple wood chips; soaked in water overnight
Directions
In a large pot, combine water, apple cider vinegar, sea salt, maple syrup, herbs and garlic. Stir till the salt has completely dissolved. Then set aside and cool. Take brine once cooled place in a large pot. Add your turkey breast and completely submerge inside the pot. Cover and refrigerate up to 12 hours.
Light the charcoal in your smoker. Heat the smoker to 200-220 degrees. Scatter the soaked wood chips on top of your charcoal; the chips will smolder. Then set a drip pan inside smoker filled with water.
Take brined turkey breast out and pat dry with paper towels. Place turkey in smoker over the already lit charcoal and soaked wood chips. Smoke turkey till the internal temperature reads 165 degrees. Once turkey has reached that temperature, remove turkey and rest for at least 30 minutes before slicing and serving.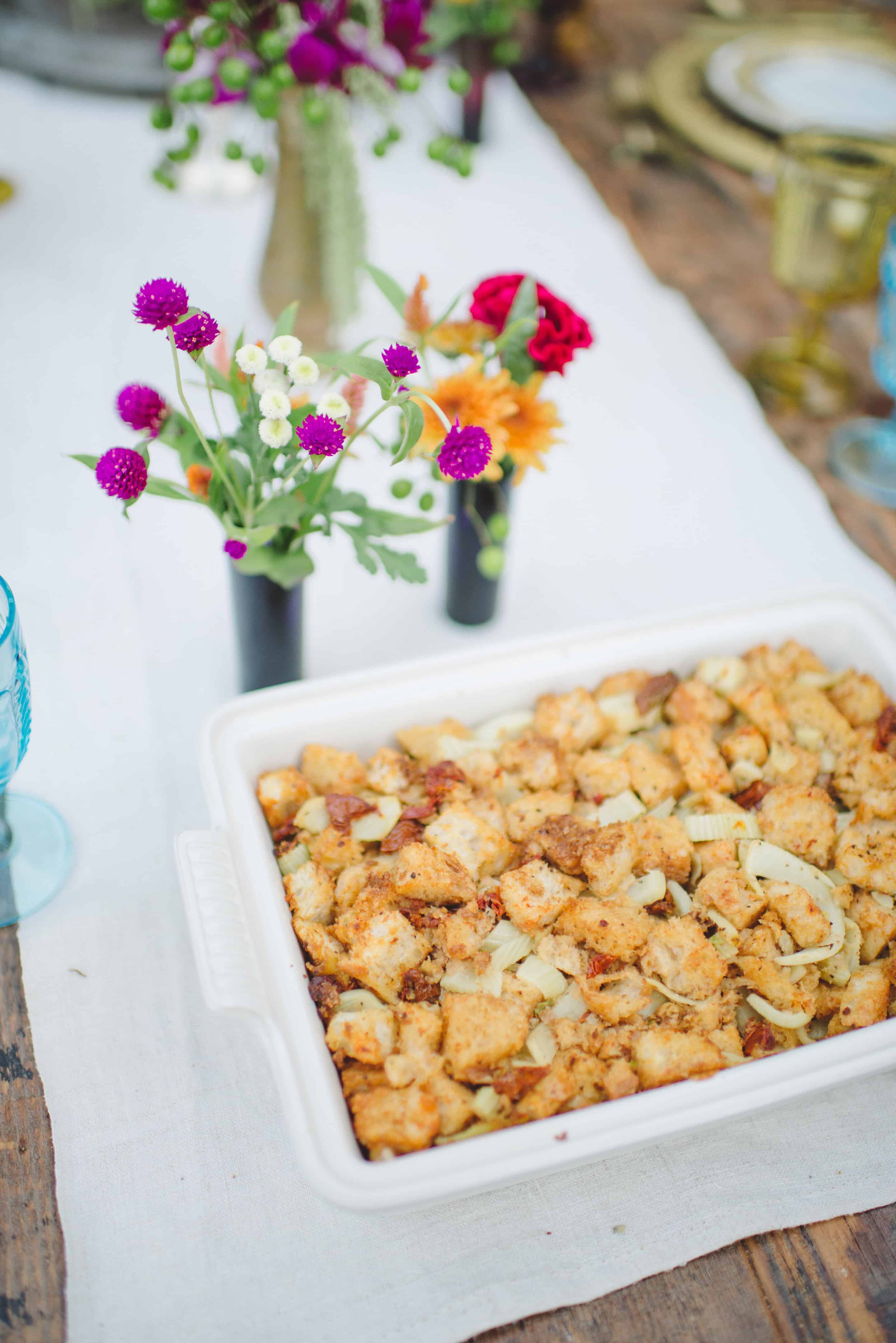 Fennel & Sun Dried Tomato Dressing
Recipe courtesy of Tiffani Thiessen
Ingredients
2 loaves white or sourdough bread, crusts removed and cut into 1-inch pieces
1 stick butter, melted, 2 tbsp reserved
4 fennel bulbs, trimmed and coarsely chopped, fronds reserved
3 cups low-sodium chicken broth
1 cup sundried tomatoes (packed in oil), chopped
2 tbsp balsamic vinegar
1 tsp dried oregano
Salt and pepper to taste
Directions
Preheat oven to 300 degrees. On a baking sheet, evenly spread bread pieces. Bake, tossing occasionally, until toasted, 35 to 40 minutes.
Heat a large saucepan over medium heat. Add the butter and fennel. Cook, stirring occasionally, until tender, 20 to 25 minutes.
In a medium pot over medium-high heat, bring the chicken broth and sundried tomatoes to a simmer. Cook for 10 minutes.
In a large bowl, toss together the toasted bread, fennel, tomato-broth mixture, balsamic vinegar, oregano, salt and pepper.
In a covered baking dish, bake 20 minutes. Uncover and brush with reserved butter. Continue baking until brown.
Garnish with:
Reserved Fennel Fronds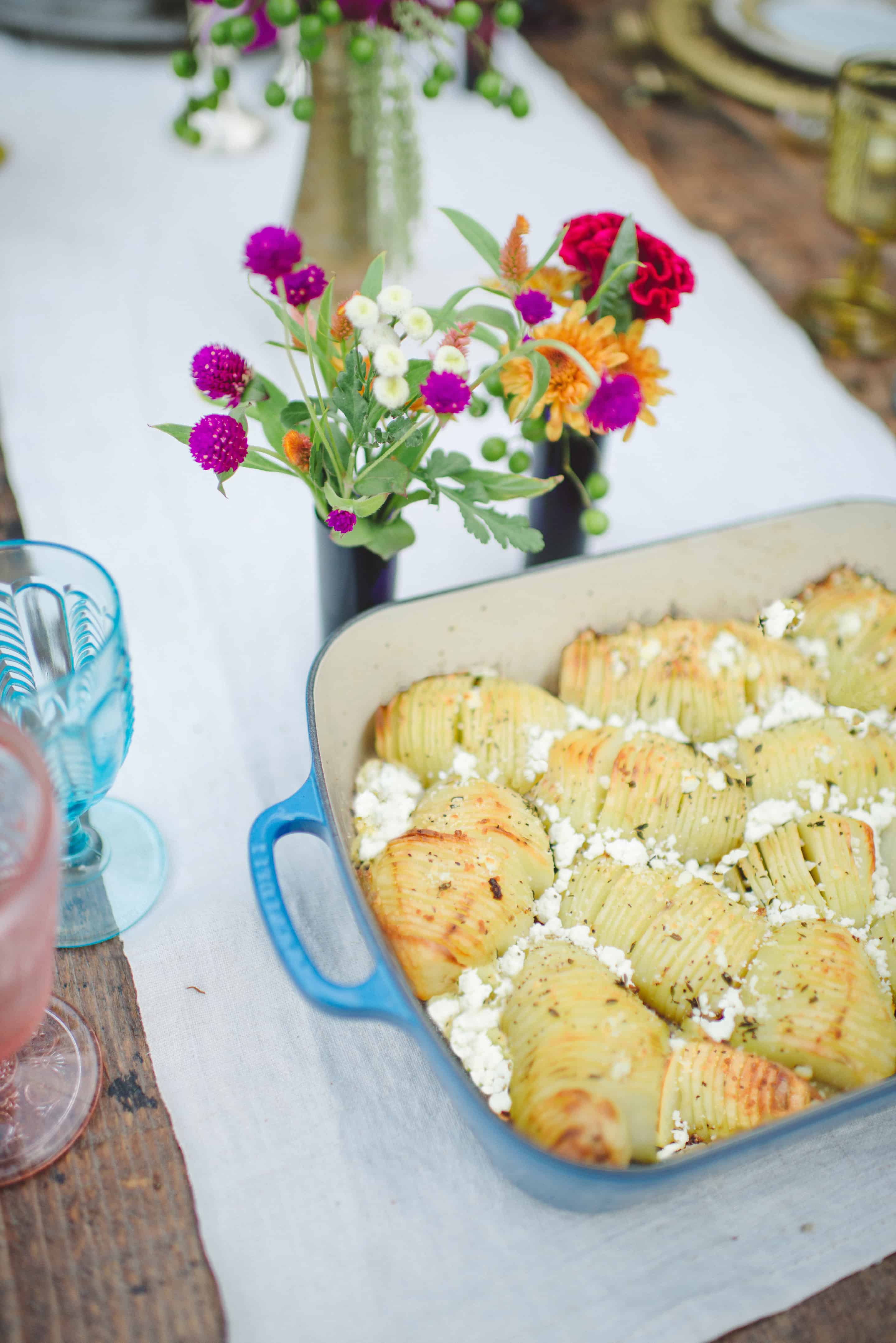 Goat Cheese & Rosemary Potatoes
Recipe courtesy of Tiffani Thiessen
Ingredients
4 tablespoons butter; melted
4 tablespoons extra-virgin olive oil
8-10 russet potatoes; peeled
4 shallots; peeled and thinly sliced
4-6 fresh rosemary sprigs
¼ cup crumbled goat cheese
Salt and pepper
Directions
Preheat oven to 350 degrees.
Combine butter and oil in small dish and set aside. Take a round baking dish and brush the butter and oil mixture all around the bottom and sides of dish.
Slice peeled potatoes crosswise and as thin as you can. Then arrange the potatoes vertically around the dish. Place the shallots in between the potatoes and around the dish. Sprinkle salt and pepper to taste and then brush the potatoes with more butter and oil mixture.
Bake potatoes for about 1 hour and 45 minutes. Anytime the potatoes look to be getting too dry, brush the potatoes with more of the butter and oil mixture.
Remove from oven and place the rosemary and goat cheese on top and return the potatoes for another 10-15 minutes. Then take out and sprinkle more salt on top (if desired)
Serve warm and enjoy.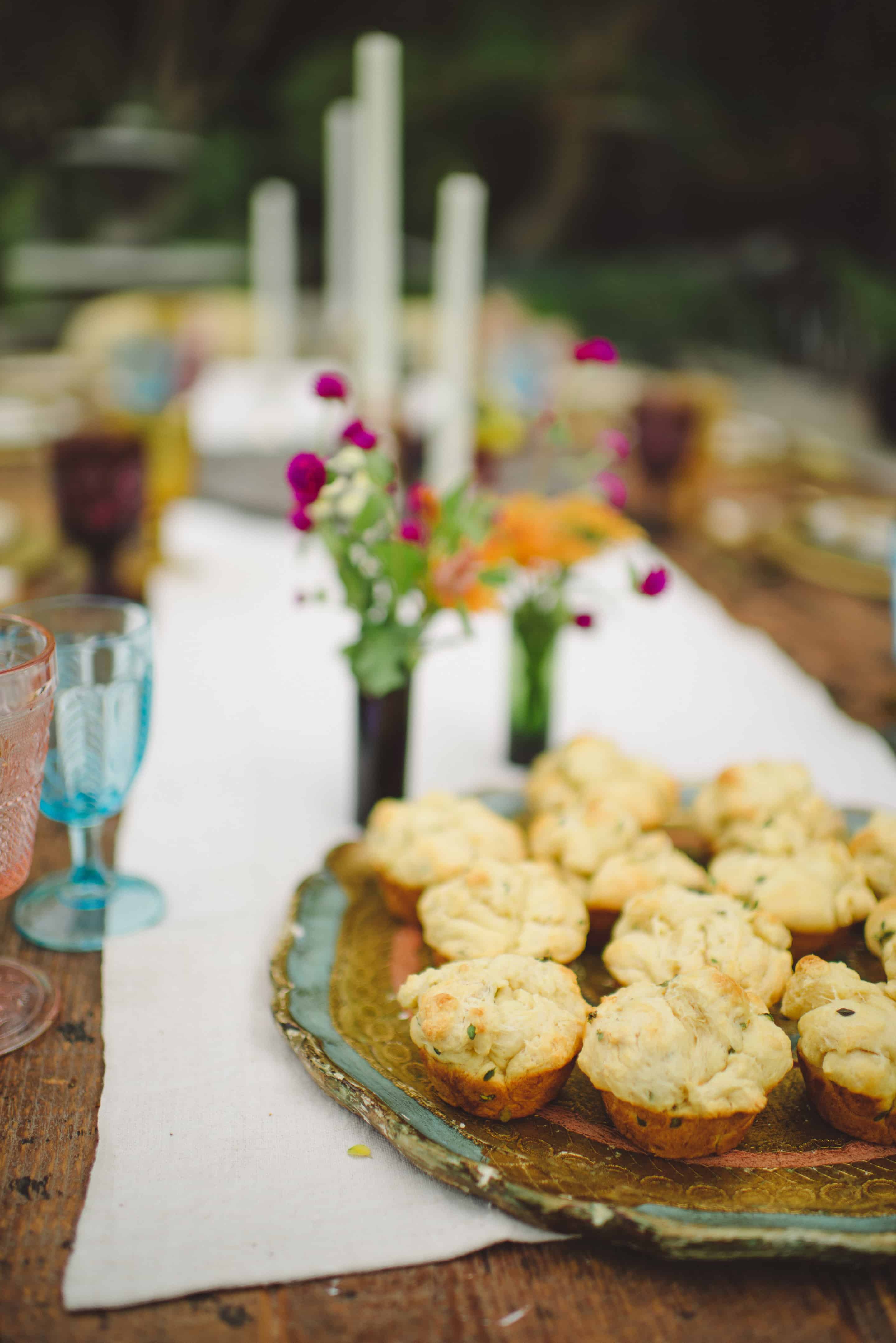 Gruyere & Thyme Rolls
Recipe courtesy of Tiffani Thiessen
Ingredients
12-ounce tube of refrigerated biscuits
1 cup shredded Gruyere cheese
1 tablespoon fresh thyme
½ teaspoon onion powder
1 cup sundried tomatoes (packed in oil), chopped
½ teaspoon garlic powder
2 tablespoons olive oil
Directions
Preheat oven to 375 degrees. Next cut the biscuits into smaller sizes. Place in a large bowl and add the onion and garlic powder, thyme, cheese and olive oil and mix well. Then spray a muffin tray with non-stick spray. Place a good amount of the mixture to fill the muffin. Bake at 375 degrees for about 10-12 minutes, until biscuits are golden brown.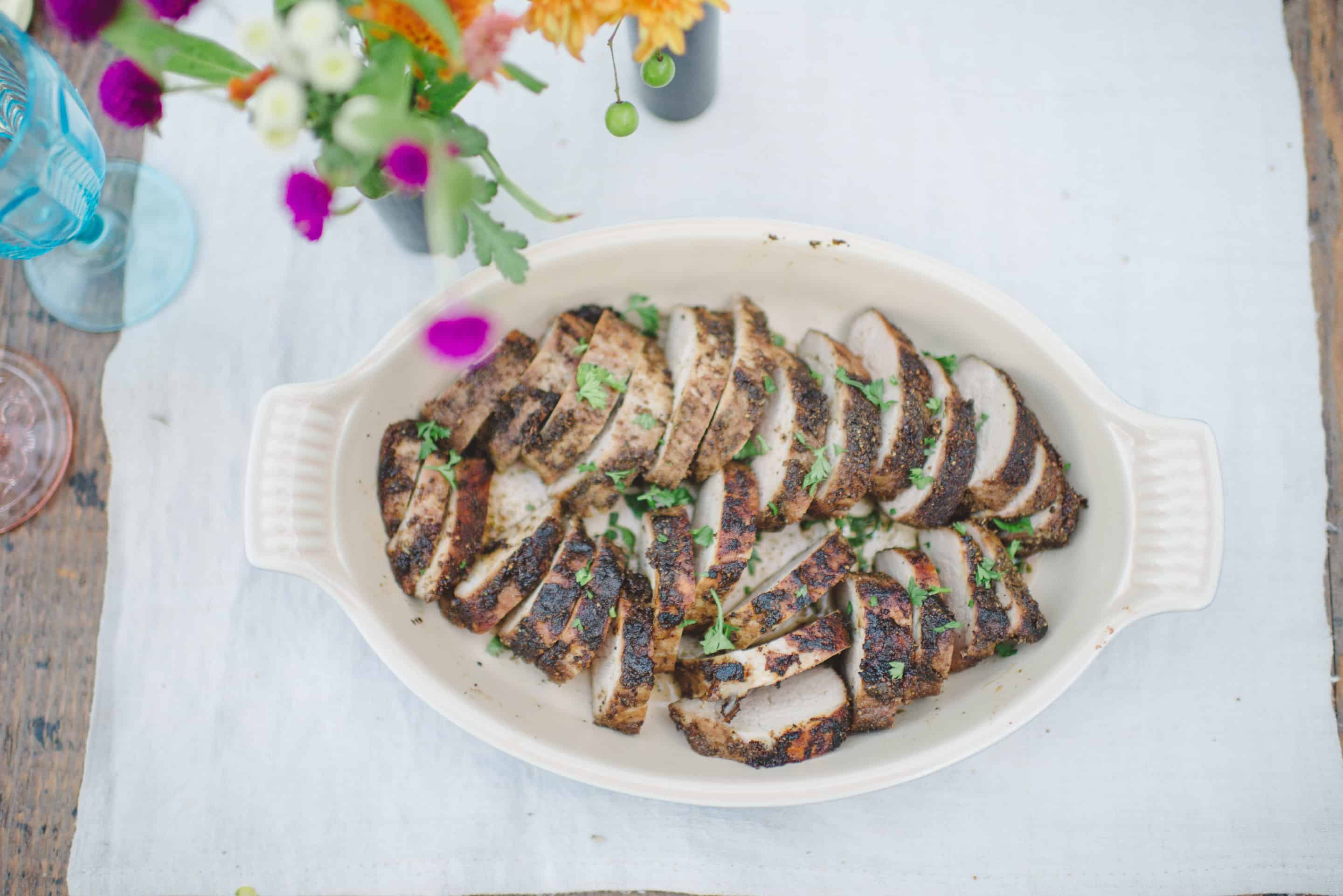 Spicy Pork Tenderloin
Recipe courtesy of Tiffani Thiessen
Ingredients
1 ½ lb Pork tenderloin
4 tablespoons brown sugar
2 tablespoons cumin
2 tablespoons salt
2 tablespoons pepper
Directions
Preheat oven to 400 degrees. In a bowl whisk together your dry ingredients. Then with your rub coat your pork evenly and wrap with plastic wrap and set in fridge for about an hour. In a skillet with a little vegetable oil sear your pork on each side. About 2-3 minutes per side. Transfer skillet to oven and cook for an additional 10-12 minutes. Take out and let pork rest for 5 minutes before slicing and serving.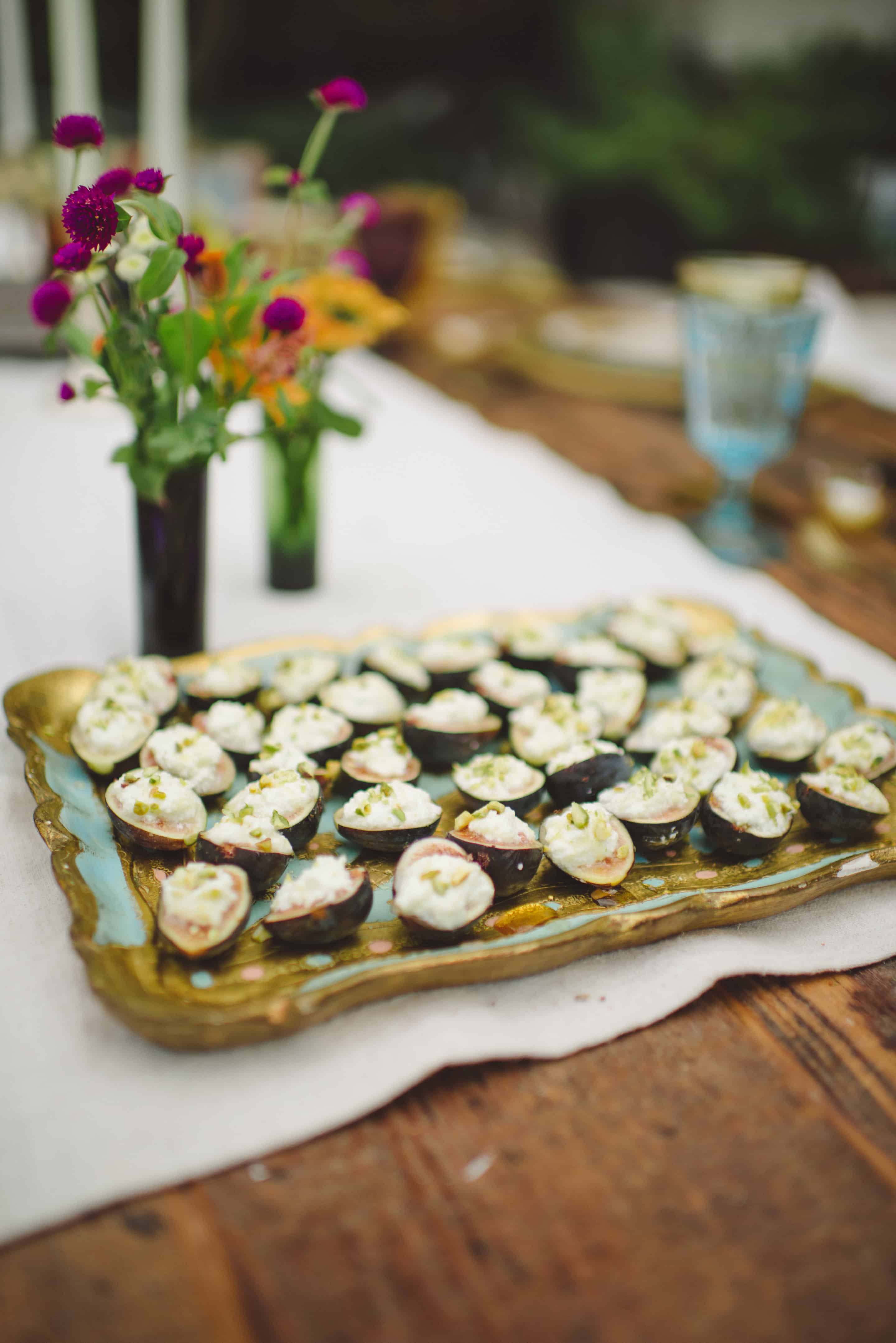 Ricotta Stuffed Figs with Honey & Pistachios
Recipe courtesy of Tiffani Thiessen
Ingredients
8-10 mission figs
½ cup ricotta
¼ cup pistachios
3-4 tablespoons honey
Directions
Roughly chop pistachios and set aside. Slice each fig in half. Take figs and arrange on your serving dish. Then with a spoon… take about a tablespoon of ricotta and place on each slice of fig. Drizzle honey over all figs and sprinkle with chopped pistachios.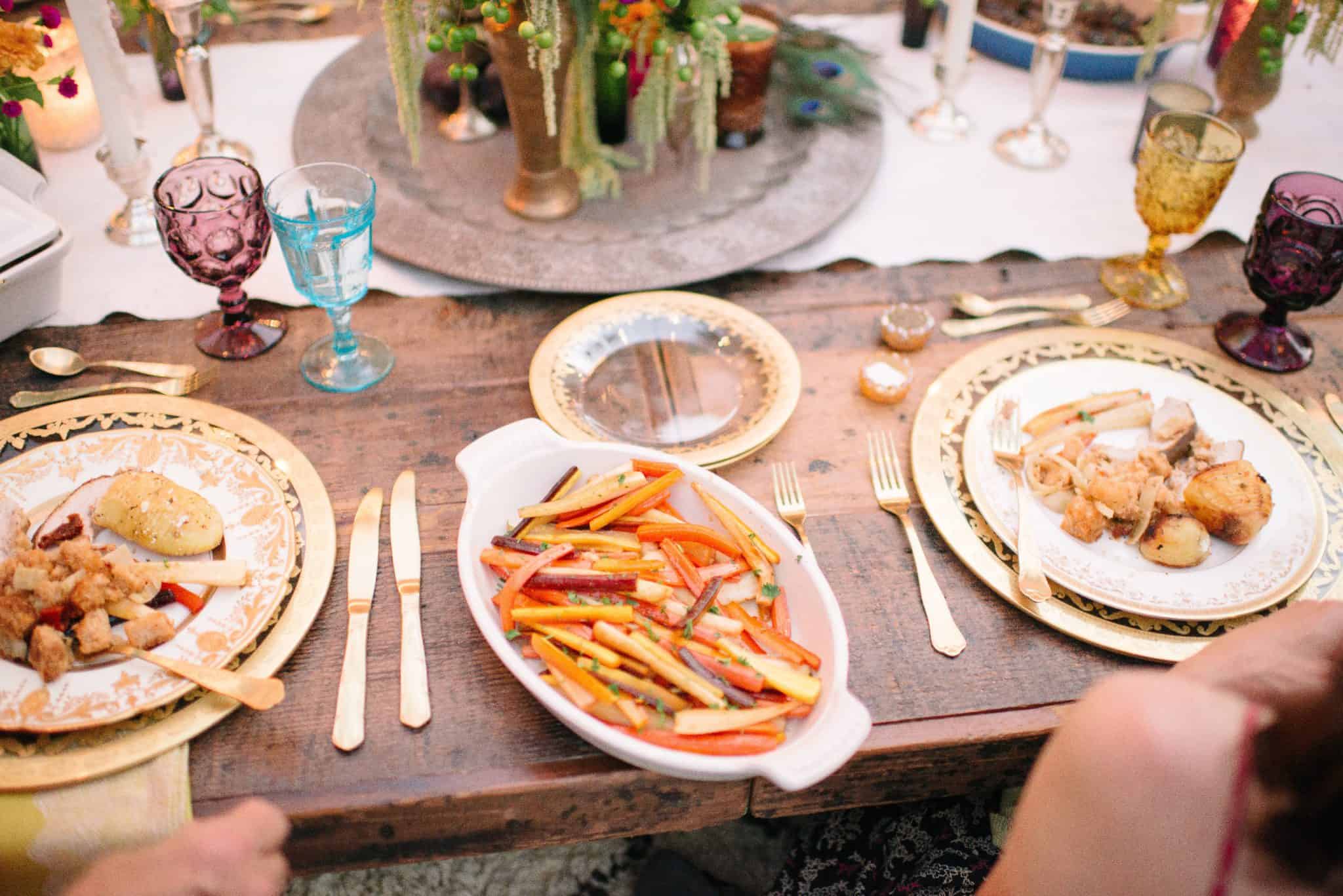 Roasted Root Vegetables
Recipe courtesy of Tiffani Thiessen
Ingredients
1 bunch Carrots; cleaned
1 bunch Parsnips; cleaned
1/4 cup Olive Oil
1/3 cup Honey
2 tablespoons Tamari
Pepper to taste
Parsley; garnish
Directions
Set oven to 500 degrees (or highest setting) Cut carrots and parsnips lengthwise. Spread flat in a large roasting pan. Drizzle olive oil and half the honey amount. Season to taste and roast for about 6-8 minutes or until the liquid bubbles and vegetables start to caramelize. Take out of oven then pour tamari and remaining honey over and toss. Season with black pepper and add parsley.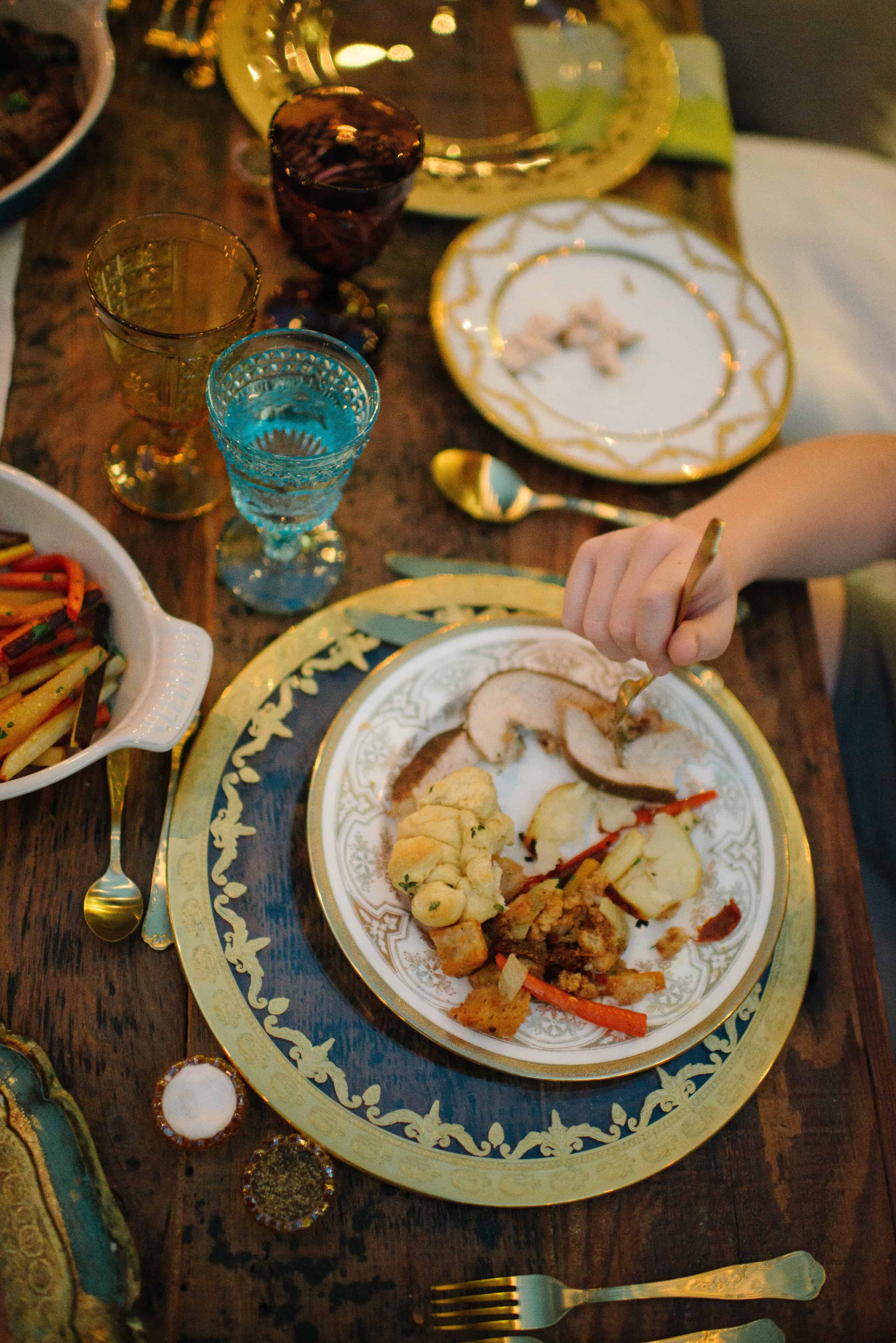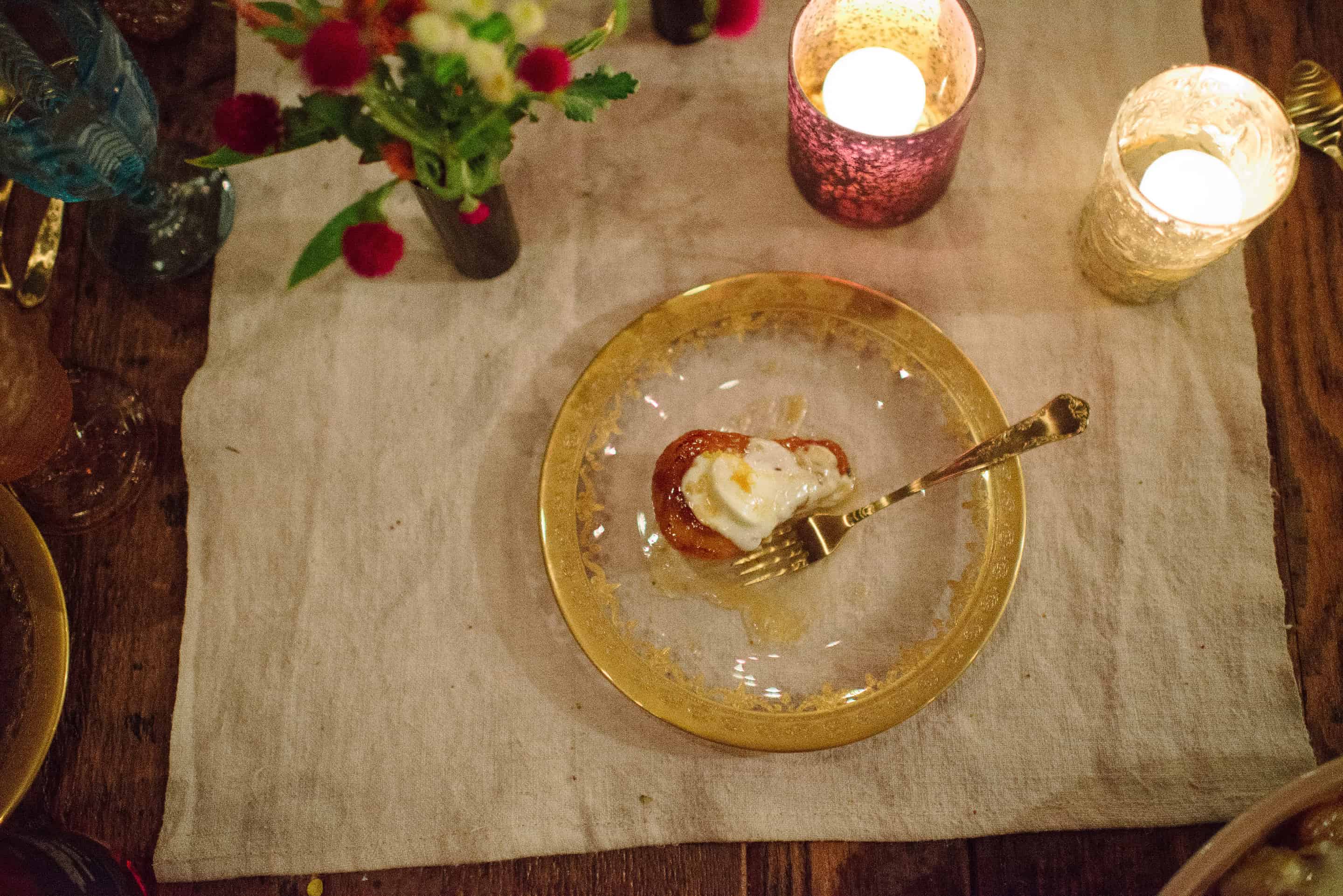 Brown Butter Pears with Mascarpone
Recipe courtesy of Tiffani Thiessen
Ingredients
4 large ripe Bosc or Anjou pears; peeled, halved; cored
1 cup maple syrup
4 tablespoons butter
1 cinnamon stick
1 tablespoon fresh lemon juice
zest of a lemon
mascarpone for serving
Directions
Preheat the oven to 375°F. Melt 4 tablespoons of butter in a large skillet and cook until the butter turns to a nutty brown. Add the pears, cut side down, to the skillet and cook without moving until the undersides are golden; about 3-4 minutes. Turn the pears over and cook until golden again; an additional 3-4 minutes. Pour the maple syrup over the pan and drop in the cinnamon stick. Flip pears to their original position and transfer the skillet to the oven. Bake 12 minutes or until pears are tender.
Transfer the pears to your serving dish, leaving the sauce behind. Place the skillet back on the stovetop and simmer until reduced; about 3-5 minutes, and whisk in the lemon juice.  Spoon the brown butter sauce over the pears.
Serve with:
Mascarpone
Lemon Zest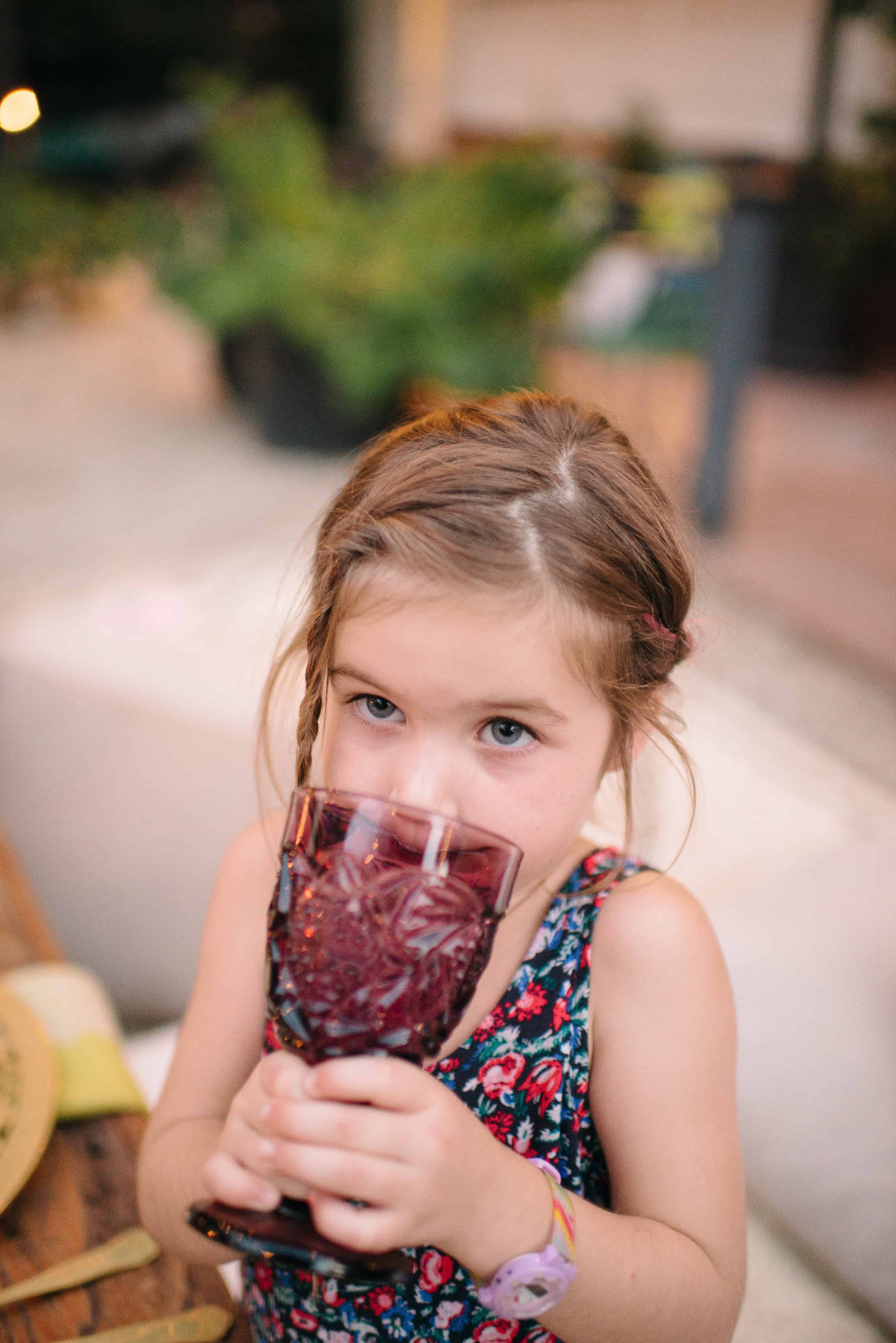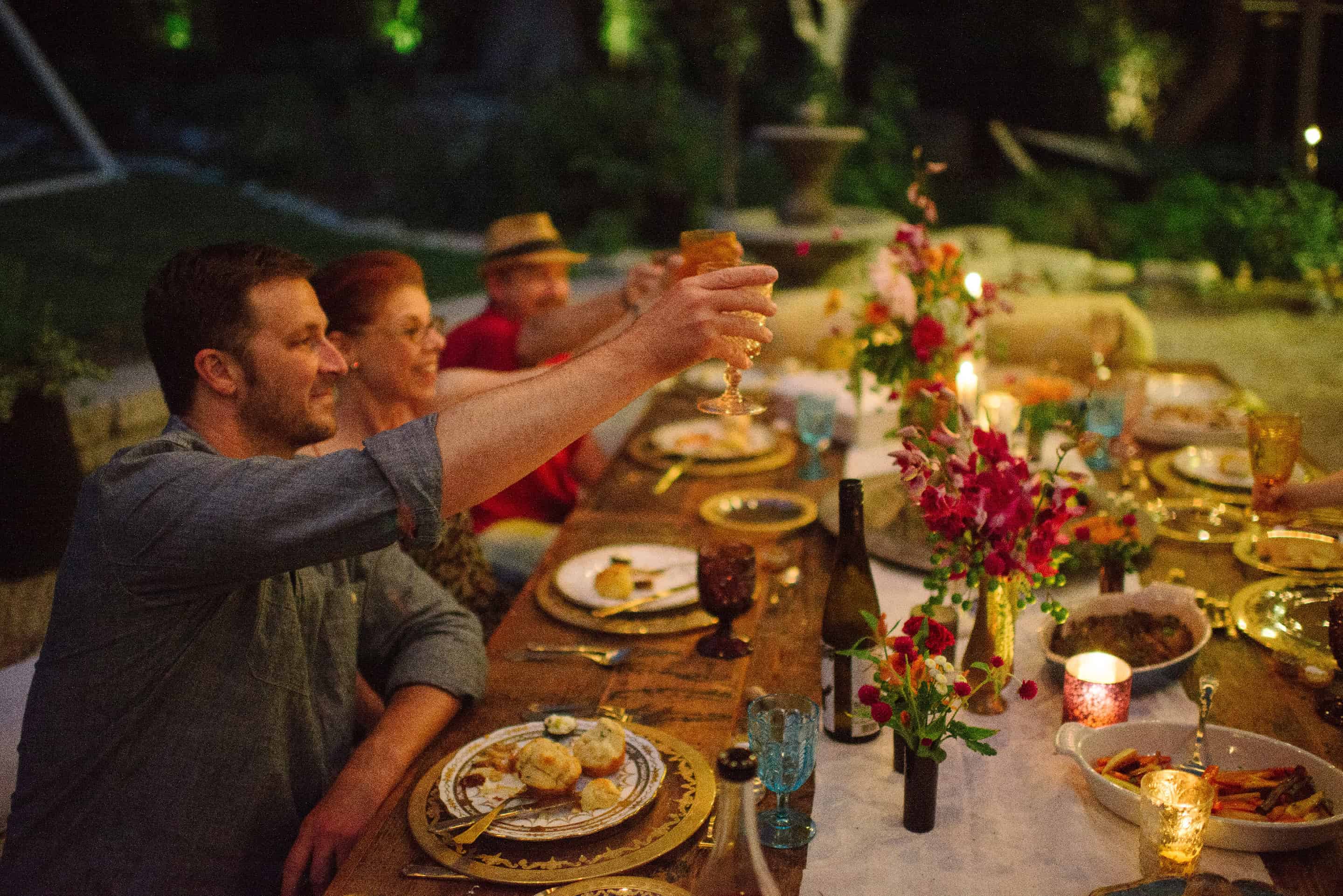 Photos by Rebecca Sanabria. A very special thank you to Casa De Perrin for the gorgeous table setting and to Found for the beautiful vintage table and accessories!