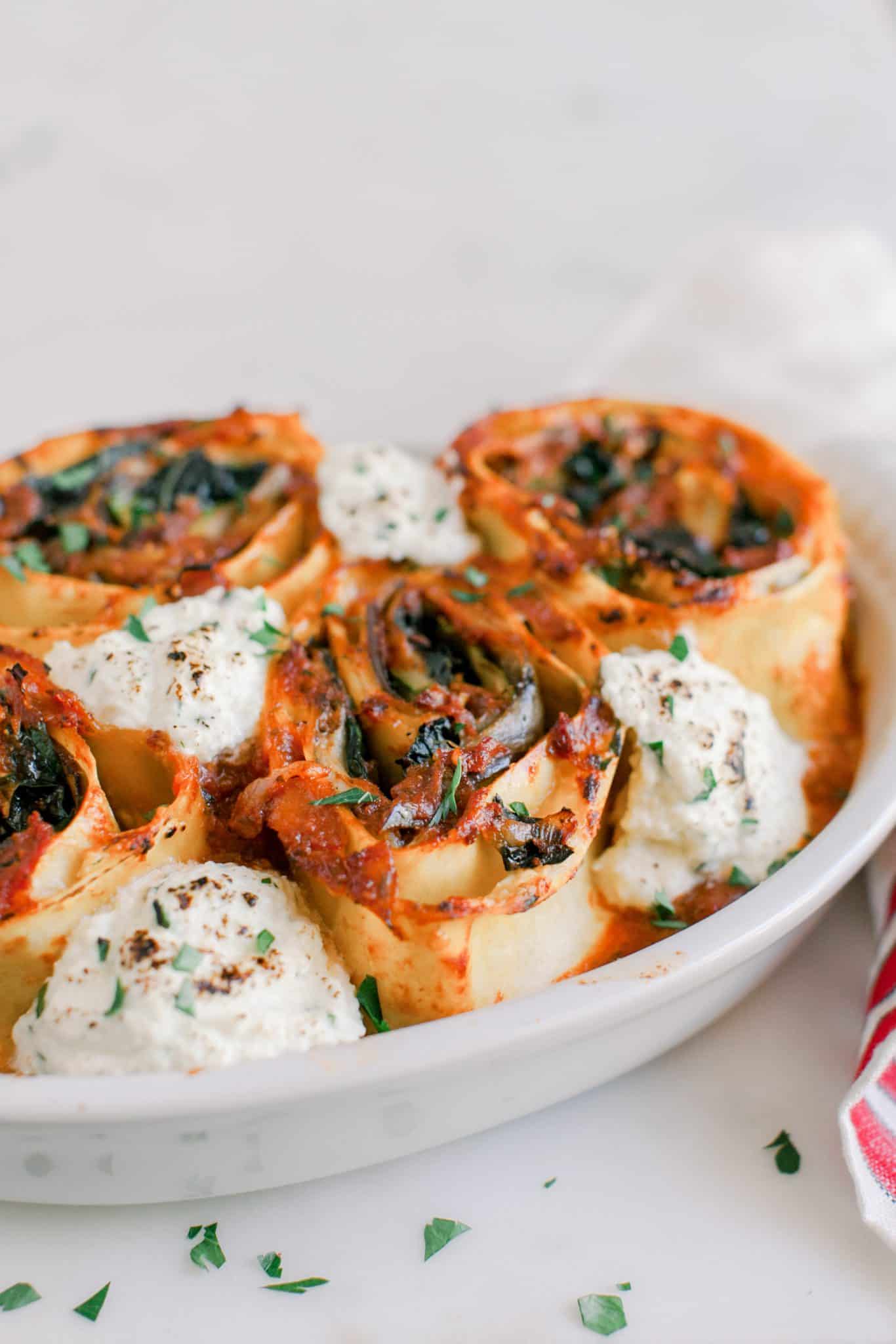 Roasted Vegetable Lasagna
Recipe courtesy of Tiffani Thiessen
Ingredients:
3 zucchini, sliced lengthwise into 1/4-inch planks
1 large eggplant, sliced lengthwise into 1/4-inch planks
2 tablespoons extra-virgin olive oil, plus more for drizzling
Kosher salt and freshly ground black pepper
2 cups ricotta
2 tablespoons chopped fresh parsley
1 egg
One 32-ounce jar marinara sauce
4 fresh lasagna sheets, cooked and drained
2 cups shredded mozzarella
1 cup grated Parmesan
Preheat the oven to 400 degrees F; place two baking sheets in the oven to preheat.
Drizzle the zucchini and eggplant slices on both sides with olive oil to coat. Carefully add the vegetables to the hot baking sheets – they should sizzle. Sprinkle with salt and pepper.
Roast until the vegetables are tender, 12 minutes, flipping halfway through. Remove from the oven and let cool.
In a bowl, whisk together ricotta, parsley, egg and a big pinch of salt and pepper. Reserve 1 cup in the fridge.
Lay one pasta sheet flat on a clean surface. Spread a thin layer of ricotta mixture evenly across the pasta sheet. Sprinkle half the parmesan followed by half the mozzarella leaving about 2 inches at the top with only the ricotta. This will act as the glue. Place another pasta sheet on top of the cheese mixture and gently push down. Spread ricotta mixture on just the top 2 inches. Lay one layer of zucchini followed by one layer of eggplant on the pasta sheet. Spoon 1 cup of sauce over the vegetables, keeping off the ricotta on the top. Starting opposite from the ricotta, gently tuck and roll the lasagna into a log. Repeat with remaining two pasta sheets for the second log. Cover and refrigerate overnight.
In a large baking dish, pour 2 cups of tomato sauce and spread evenly over the bottom. Slice each lasagna log into 3 inch size pinwheels; you will get about 4 pinwheels per log. Place the lasagna logs on top of the tomato sauce with the cut sides facing up. Note; You can also split lasagna into two smaller size casserole dishes, using 4 pinwheels each.
Place in the oven and bake for about 20 minutes or until pasta edges start to turn golden brown. Add dollops of remaining ricotta cheese in between the pinwheels. Bake for an additional 5 minutes. Garnish with chopped parsley and serve.