Here are some great recipes and ideas to pull off a breakfast or brunch. This can be for a fun weekend with friends or a beautiful Easter brunch with your family even. Breakfast is the most important meal of the day right? I say so. (Dinnerware donated by my sweet assistant Vicki. So thankful she has such great taste and let's me borrow these when needed). Photos by Rebecca Sanabria.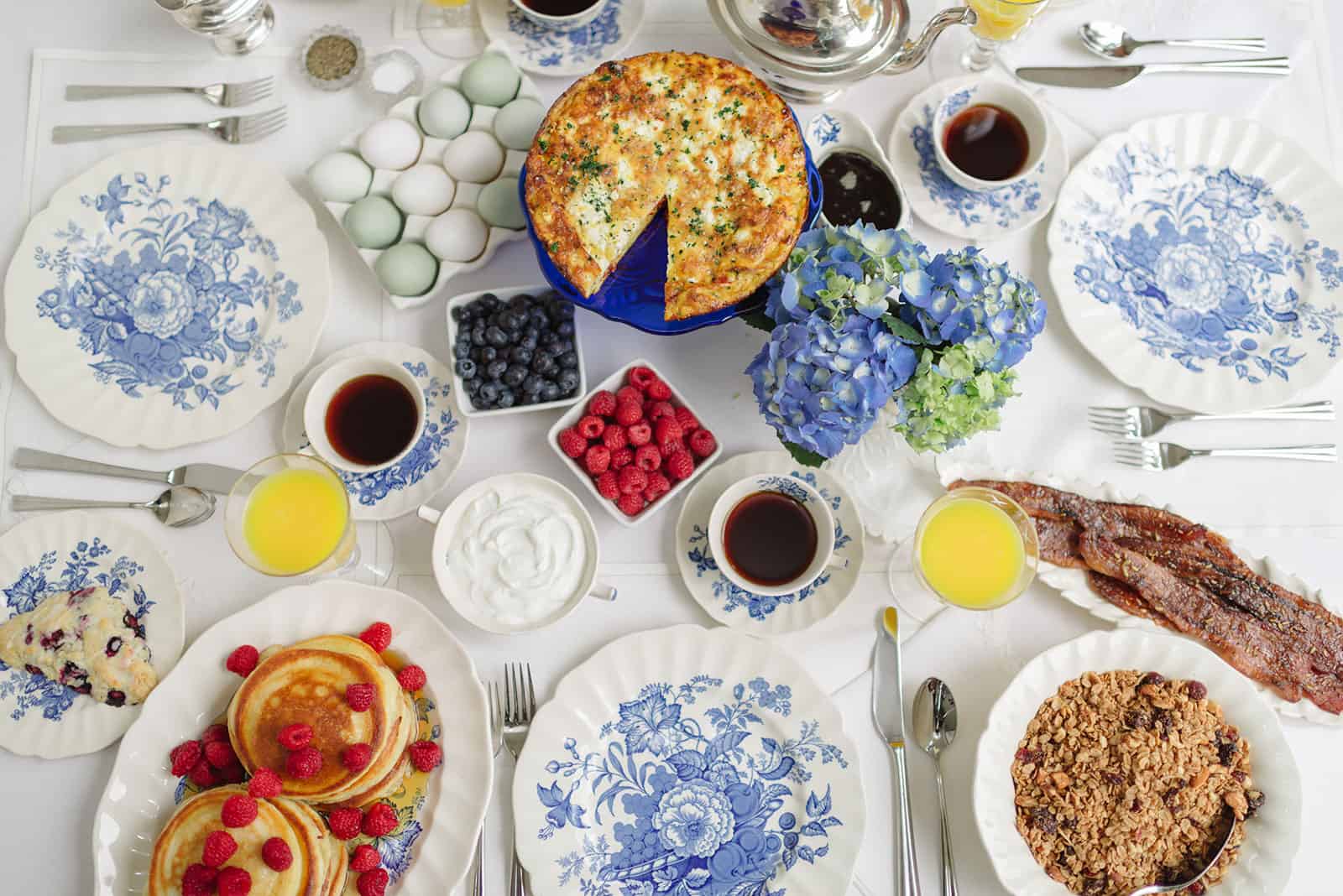 Yogurt Pancakes
Recipe courtesy of Tiffani Thiessen
Ingredients
1 cup all purpose flour
½ cup almond flour
2 teaspoons baking powder
2 tablespoons sugar
½ teaspoon salt
2 tablespoons oil
2 eggs
1 teaspoon vanilla
¾ cup Greek yogurt
¾ milk
Directions
Preheat griddle on medium heat. Whisk together flour, baking powder, sugar and salt in one bowl. In another bowl mix together oil, eggs, vanilla and Greek yogurt. Then add wet ingredients to dry ingredients and stir. Stir in milk until combined but don't over mix. Some lumps are okay. Grease griddle and pour 1/3 cup of the batter onto the hot griddle. Cook for about 2 minutes or when the batter starts to bubble. Use a spatula and flip the pancake over and cook for an additional minute. Continue to cook all batter. Serve pancakes warm with your favorite toppings.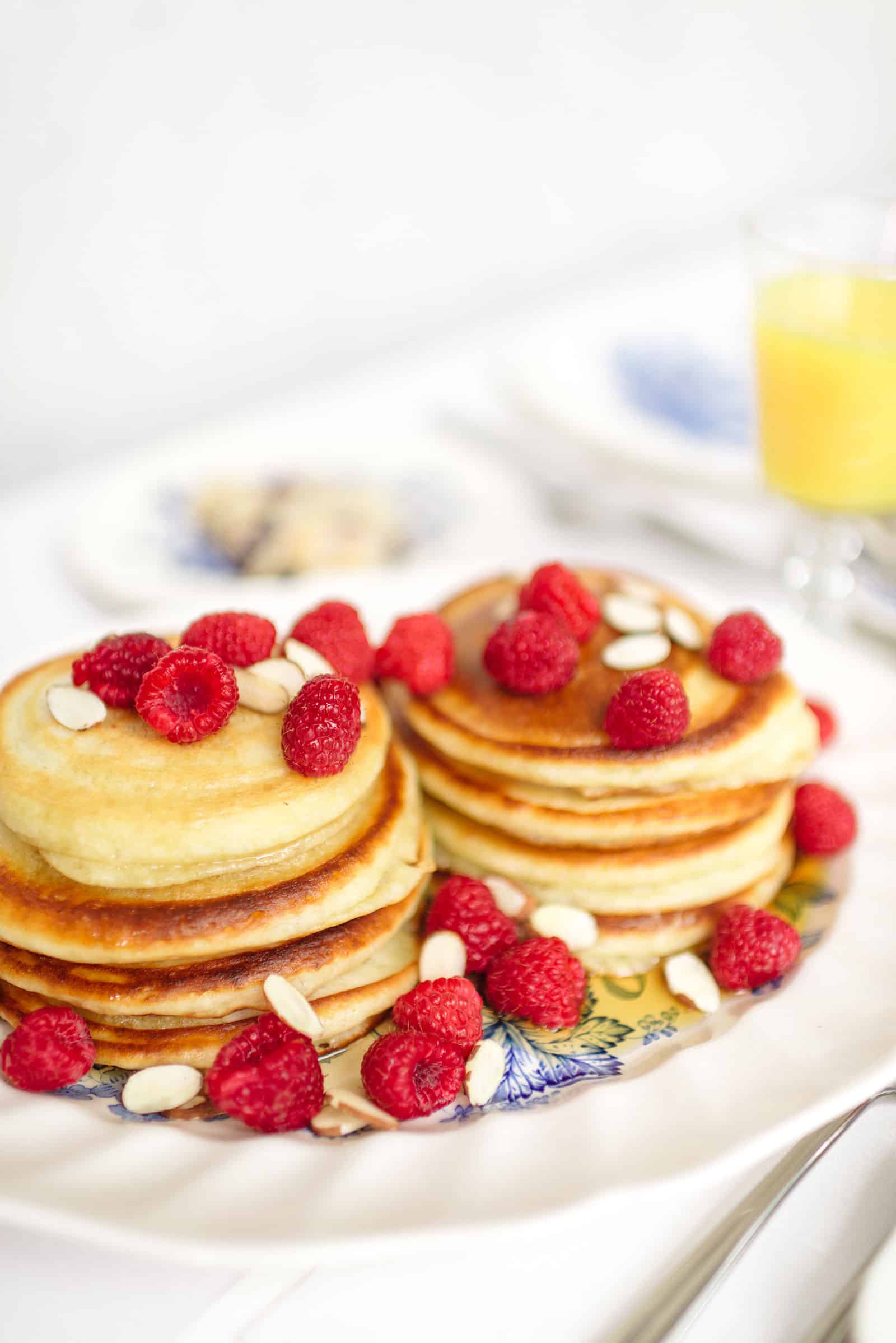 Goat Cheese & Sun Dried Tomato Frittata
Recipe courtesy of Tiffani Thiessen
Ingredients
10 large Eggs
1 cup chopped sun dried tomatoes
1/4 pound fresh crumbles Goat Cheese
1/3 cup fresh grated Parmesan Cheese
2 finely chopped Shallots
4 tablespoons Olive Oil
1/2 teaspoon dried Thyme
1/2 teaspoon dried Oregano
3 tablespoons Heavy Cream
1/4 teaspoon Salt
1/3 teaspoon Pepper
Directions
In large pan over heat 1 tablespoon of olive oil over medium heat. Add shallots, sun dried tomatoes, thyme, oregano with a little salt and pepper and sauté for about 5-7 minutes. Remove from heat. In bowl, beat eggs, cream and salt and pepper. Add the vegetables and mix and set aside. In fry pan, (can be same one), heat the remaining oil on medium heat. Pour egg mixture spreading the vegetables evenly over the pan. As the eggs set around the side of the pan lift the edges with a spatula allowing more egg mixture to run underneath. Cook till eggs are done except for the center is still a little runny which is about 10-15 minutes. Sprinkle parmesan and goat cheese over the top and place in broiler till the top is golden brown. About 2 minutes. Carefully remove pan from broiler and loosen edges of frittata with spatula and carefully slide it onto a serving platter. Cool for about 10-15 minutes. Garnish with fresh parsley and serve warm.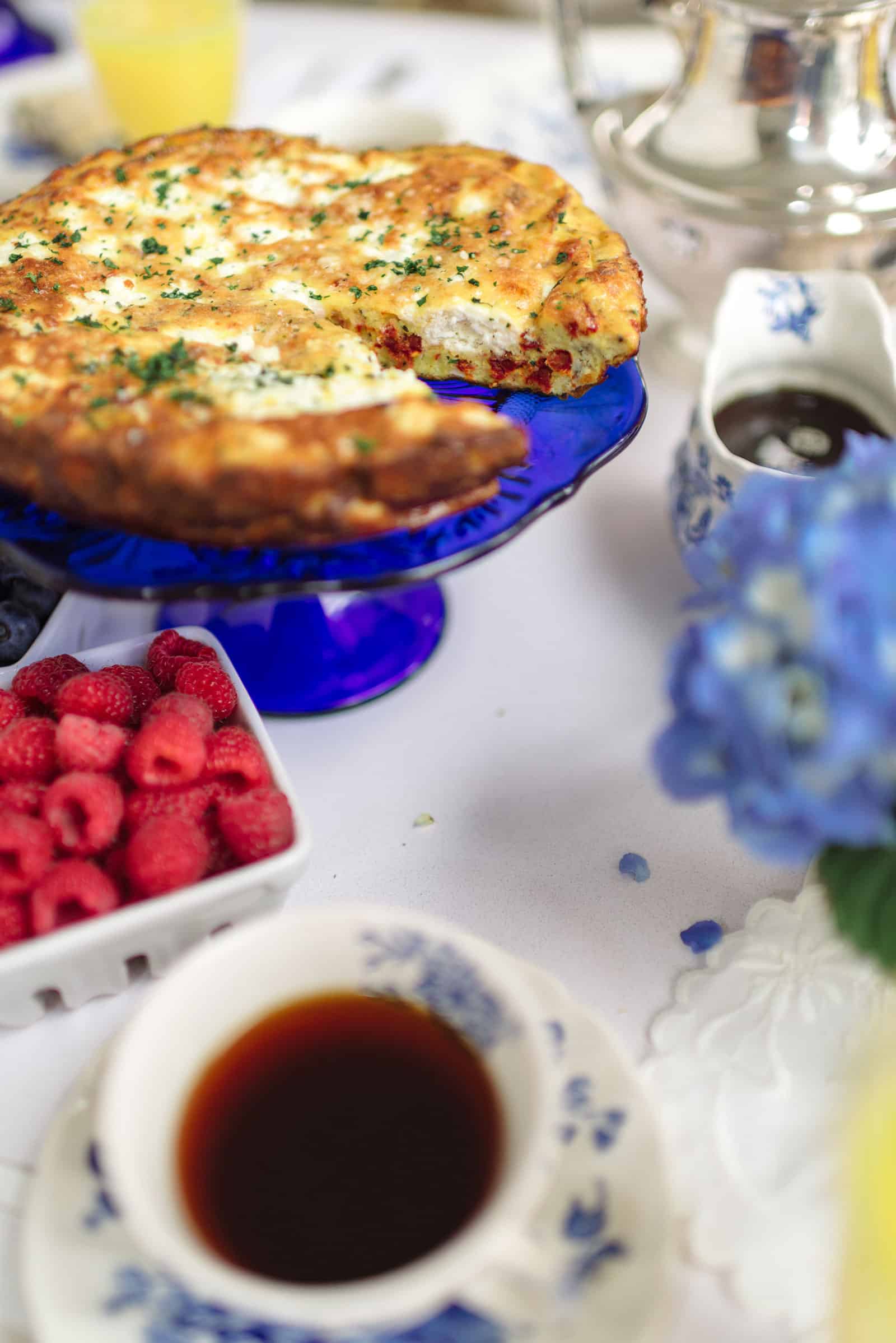 Blueberry Lemon Scones
Recipe courtesy of Tiffani Thiessen
Ingredients
Scones
2 cups flour
¼ cup sugar
1 tablespoon baking powder
½ teaspoon salt
6 tablespoon butter
 (cold)
½ cup milk (I use skim)
¼ cup fresh lemon juice
2 tablespoon lemon zest
Dash of Vanilla
1 cup fresh blueberries
Glaze
½ cup powder sugar
1 tablespoon lemon juice
Pinch of lemon zest
Directions
Preheat oven to 400 degrees.
In your stand mixer combine flour, sugar, baking powder, and salt. Cut the cold butter into smaller pieces and put on top of the dry ingredients.
Using your paddle attachment, mix the butter and dry ingredients together. Work your way to medium speed. Mix till the butter breaks into small pieces. The stir in the milk, lemon juice and lemon zest until moistened.
Pat the dough out on a floured surface and fold the washed and dry blueberries into the dough. Be careful not to break the blueberries. Then by hand form the dough into a long rectangle about an inch thick. You can cut and shape how you like but I cut down the middle, dividing the dough into two squares. Then, cut diagonally for a criss cross with both of those squares. Should give you 8 pieces.
Place scones two inches apart onto a parchment lined cookie sheet and bake for about 17 minutes or until golden brown. Cool then drizzle with glaze.
To make the glaze you combine all ingredients in a small bowl.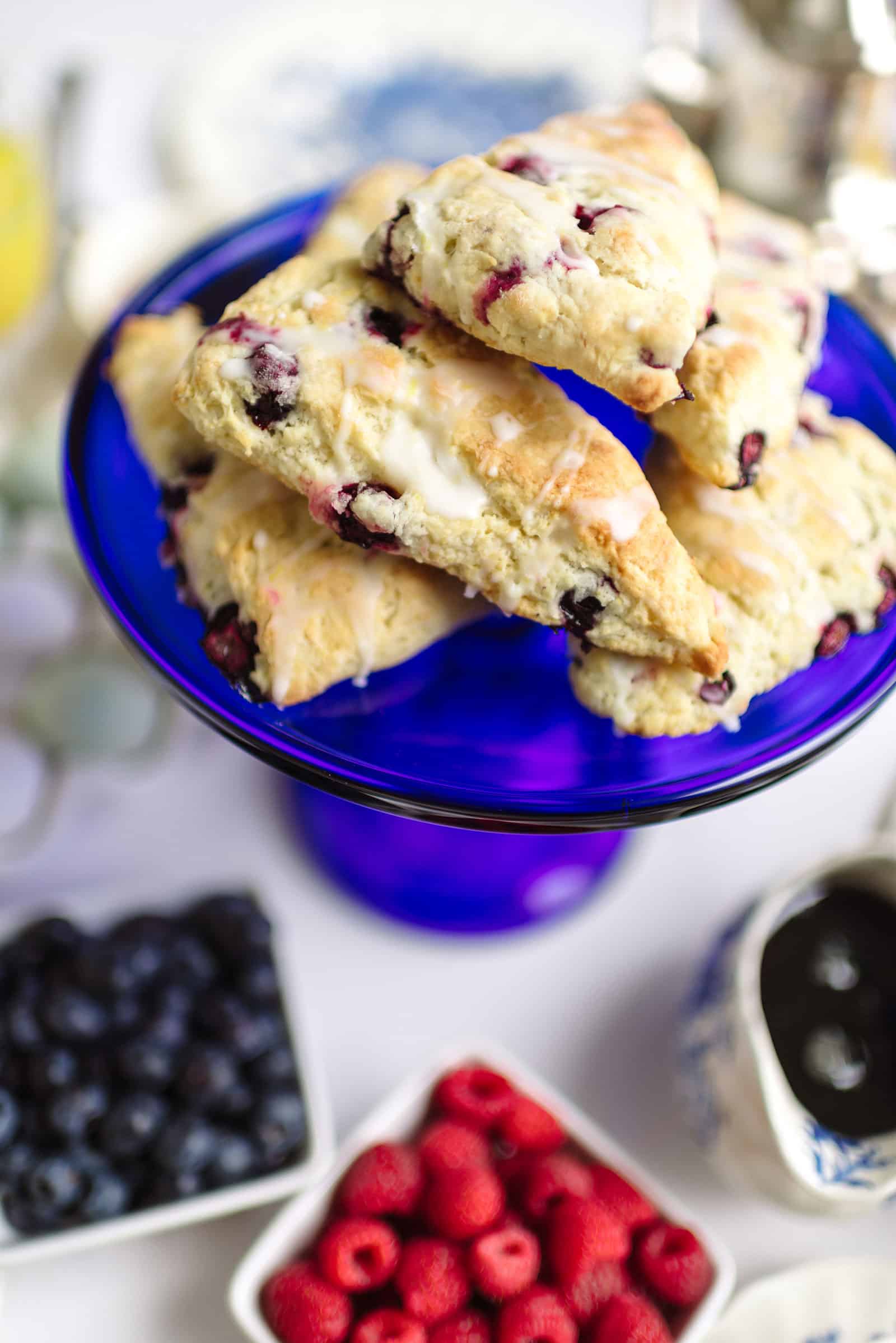 Granola
Recipe courtesy of Tiffani Thiessen
Ingredients
3 cups rolled oats
1 cup coarsely chopped almonds
1 cup coarsely chopped cashews
½ cup shredded coconut
½ cup dried cranberries
½ cup dried cherries
½ cup maple syrup
½ cup coconut oil (melted)
2 tablespoons cinnamon
¼ teaspoon sea salt
1 teaspoon vanilla
Directions
Preheat oven 300 degrees
Combine rolled oats, nuts and spices into bowl. Mix well. Combine maple syrup, melted coconut oil and vanilla in a separate bowl then add to the dry mixture. Mix together using a wooden spoon. Then add shredded coconut and dried cranberries and cherries, toss together. Spread mixture onto a large cookie sheet and place in oven. Bake for about 35 minutes turning every 8-10 minutes with a spatula.
Remove from oven. Let it cool before serving or placing in storage container.
Maple Fennel Bacon
Recipe courtesy of Tiffani Thiessen
Ingredients
3 tablespoons pure maple syrup
1 tablespoons dark brown sugar
12 slices thick cut bacon
2 teaspoons fennel seeds, crushed
Freshly ground black pepper
Yield: 4 servings
Prep Time: 10 minutes
Cook Time: 25 minutes
Inactive Prep Time: 30 minutes
Ease of preparation: easy
Active Time: 10 minutes
Total Time: 40 minutes
Directions
Preheat the oven to 375 degrees F.
Mix together in a small bowl, the maple syrup and dark brown sugar and set aside. Place a rack over a baking sheet (lined with aluminum foil for easier clean up). Lay the bacon out in a single layer, not touching. Brush the syrup onto each strip of bacon and then sprinkle a few fennel seeds over the bacon (fennel is a strong spice so use sparingly). Season with black pepper. Bake in a preheated oven until brown and crisp, 20 to 25 minutes. Take out and loosen off the rack so it does not stick and let cool for 5 minutes before serving.